How Can I Remove Tongue Warts?
Tongue warts are caused by a type of sexually transmitted disease known as the human papilloma virus, more commonly referred to as HPV, and should always be treated by a doctor. Attempting to treat these warts at home may cause them to rupture and spread the virus further or cause serious damage to the sensitive tissues of the mouth. Topical ointments and antiviral medications may be used to treat warts on the tongue, although more invasive treatment methods are often required. Cryotherapy, laser surgery, or the use of chemical injections are among the most common treatment methods. Any specific questions or concerns about the most appropriate treatment options for tongue warts in an individual situation should be discussed with a doctor or other medical professional.
In some cases, if the warts do not cause any bothersome symptoms, the supervising physician may decide against medical treatment. Instead, the condition may be monitored in order to see if the warts disappear on their own, as they sometimes do. If pain or other symptoms develop, the doctor will then discuss treatment options with the patient. Occasionally, an antiviral medication may be prescribed in an attempt to lessen the severity of the symptoms.
Milder cases of tongue warts may be treated with topical ointments and pain relievers. This method of treatment is typically used temporarily until a more invasive method of treatment can be scheduled. It is difficult to treat areas of the mouth with topical agents because of the natural moisture in the mouth, which prevents the symptom relief from lasting as long as is generally needed.
Cryotherapy is perhaps the most commonly used method of removal for tongue warts. Liquid nitrogen is used to freeze the warts and cause a reduction in size. This treatment may have to be repeated on several occasions because the liquid nitrogen tends to remove one layer of the wart at a time. Even with proper treatment, oral warts have a high rate of recurrence.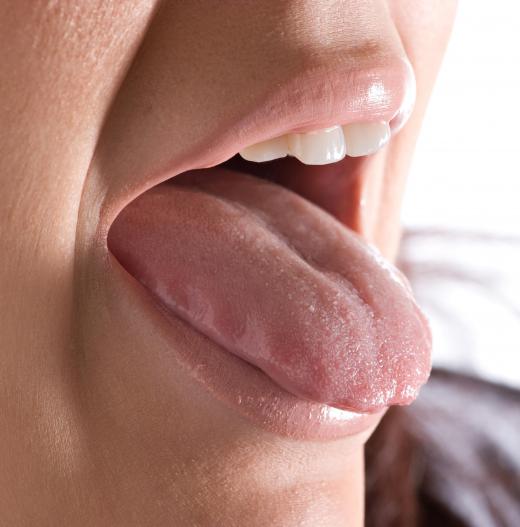 Laser surgery or chemical injections may be used to remove tongue warts in some situations. The laser surgery can cause a bit of discomfort and may need to be repeated. Chemical injections may be used in an effort to reduce the size of the tongue warts and relieve painful symptoms. As is the case with other methods of treatment, these injections often need to be repeated at varying intervals. On rare occasions, temporary or permanent nerve damage may occur following an injection.
AS FEATURED ON:
AS FEATURED ON:

By: Katrina Brown

Tongue warts should always be treated by a doctor.

By: markara

Liquid nitrogen may be used to freeze tongue warts.

By: ArenaCreative

Topical ointments may help treat tongue warts.

By: Monkey Business

Many doctors advise against treatment to remove tongue warts in otherwise healthy patients unless the growth is causing discomfort.

By: pio3

Tongue warts are caused by HPV, which is a sexually transmitted disease.