Should I Take Alfalfa Supplements?
Some studies on alfalfa supplements conducted on animals suggest that alfalfa may slightly lower blood sugar and cholesterol. These sound like excellent qualities in a natural drug, but questions remain as to whether they are beneficial to humans. Further, taking any over the counter medication or herbal supplement should be done with consideration to possible side effects, drug interactions, and potentially harmful consequences when mixed with certain medical conditions. It is always sound to discuss any type of supplement with a doctor prior to using it.
Animal studies suggest that people with high cholesterol or with diabetes may derive some help from alfalfa supplements. With people who are insulin dependent, these supplements may actually help insulin work more effectively. When used with cholesterol reducing medications, or in addition to a modified diet, alfalfa may lower cholesterol to acceptable levels.
Some people who suffer from high cholesterol or diabetes also take other medications with which alfalfa supplements can interfere. These supplements are a mild diuretic, and if used with other diuretics, may cause the body to shed too much water and overwork the kidneys. Medications that are used to reduce blood clotting can become less effective when used with alfalfa pills because of the high levels of potassium in alfalfa seeds. People taking aspirin, warfarin, or heparin should not take alfalfa-based products.
Alfalfa supplements contain natural plant estrogens, which might be helpful in reducing the effects of early menopause. Women who take birth control pills should avoid them because they could interfere with birth control mechanisms and increase the risk of pregnancy. Women who are pregnant should never take these supplements since they may cause the uterus to contract, resulting in miscarriage or early labor.
People who take immune suppressants or corticosteroids may have trouble with alfalfa supplements. Anyone who is on transplant rejection medications should avoid the herbal supplement since it has been linked to greater immune response in the body. This could negate the effects of drugs meant to reduce the response of the immune system so that a transplant will not be rejected.
Alfalfa seeds may be harmful to people with medical conditions that are frequently treated with steroids, like lupus and rheumatoid arthritis. Immune response may be heightened and cause adverse reactions in people with these conditions. People with peanut allergies shouldn't take alfalfa since it derives from the same family as peanuts and soybeans and suggests the possibility of allergic reactions.
All people who take alfalfa supplements should monitor side effects and take only the amount approved by a physician. Higher doses of alfalfa seeds have induced conditions like thrombocytopenia, which results in inadequate production of both red and white blood cells. Symptoms include easy bruising, fatigue, and greater susceptibility to viruses and infections.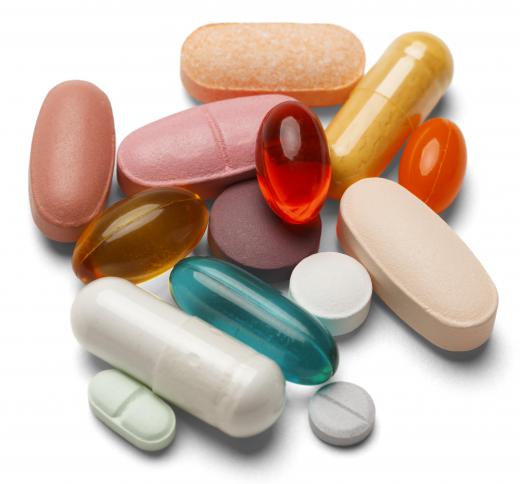 Other herbal supplements may affect blood-clotting ability and should not be taken with alfalfa supplements. These include danshen, devil's claw, eleuthero, garlic supplements, and high amounts of ginger. Also you should avoid ginkgo, horse chestnut, ginseng, papain, saw palmetto and red clover. In several instances, alfalfa has become infected with bacteria, and people have gotten sick from eating alfalfa sprouts. If after taking alfalfa supplements you note extreme vomiting, diarrhea or fever, you should see a doctor to rule out bacterial infection of the intestines.
AS FEATURED ON:
AS FEATURED ON:

By: Sea Wave

Alfalfa plants.

By: voraorn

Sprouted alfalfa seeds.

By: Lev

Alfalfa sprouts.

By: Louella Folsom

Alfalfa seeds.

By: Schlierner

Garlic supplements, which can affect blood-clotting ability, should not be taken with alfalfa supplements.

By: pixelrobot

Alfalfa is one of many natural supplements that can help lower cholesterol.

By: PeJo

High doses of alfalfa seeds may lead to easy bruising.

By: Kimberly Reinick

Alfalfa supplements can interfere with the effectiveness of birth control pills.