What are High Protein Fish?
High protein fish are healthful for getting needed nutrients to the body without the added fats of some meats. Tuna and salmon often are listed among those fish with the highest protein count, but most fish contain ample proteins to aid in having a well-balanced diet. Protein is available in meats, eggs, nuts, and other foods, but high protein fish generally are recommended as a lower fat and healthy alternative for supplying essential amino acids.
Many types of fish are meaty and fleshy white or pink. Some are small and contain less fatty pieces but may be very high in protein. Meatier high protein fish typically are halibut, haddock, sole, and cod, among others. Salmon and tuna are in this group as well. Anchovies and sardines are small but usually protein-powerful diet additions. Tilapia, trout, and catfish can typically be found in markets and offer excellent nutrients as well.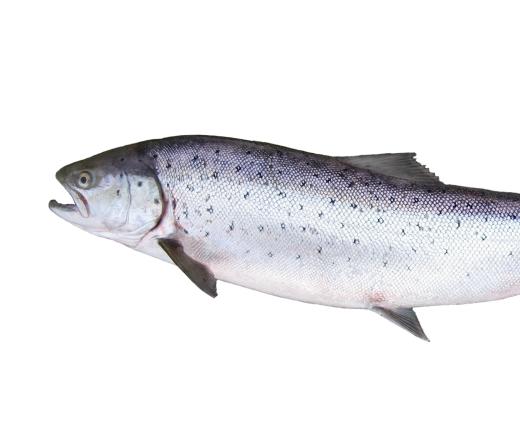 Shellfish can be included among high protein fish. Lobster, shrimp, and crabmeat can provide a richness of texture and flavor while delivering nutrients and healthy fats. Clams may have a less buttery or rich flavor than some shellfish, but they carry similar protein rich benefits.
While fish is recommended by many health professionals for meeting daily nutrition needs, the recommendation most often includes guidelines for food preparation. A fresh or frozen filet of yellow tuna may have the potential for being a healthy addition to a diet, but if it is cooked in heavy cream or fried in copious amounts of butter it becomes high in fat. Many of the source nutrients may be minimally effective overall if cooked in unhealthy fats.
Preparing high protein fish in a healthy way can often mean cooking it simply. Grilling a fish steak with a light coat of oil to prevent sticking is one method. Broiling whole fish in the oven can provide a crispy outer texture with a moist inside. Steaming and poaching with water can keep fish and shellfish tender and white while enhancing its flavor.
Canned or jarred fish and shellfish can be convenient sources for adding protein to a diet. Tuna, salmon, shrimp, and crab meat are some of the more common canned varieties of high protein fish. As with cooking methods, though, prepared fish can be less healthful if floating in oils or prepared with heavy mayonnaise. For those adding protein to their diets using fish, tasting the freshly and lightly prepared versions of fish may help to adjust the palate toward the natural, often buttery and nutty flavors of the fish itself and away from unhealthy preparations.
AS FEATURED ON:
AS FEATURED ON:

By: Witold Krasowski

Salmon are among the fish with the highest protein count.

By: boguslaw

Catfish, which are high in protein.

By: Bill

High protein fish give the benefits of nutrients without the added fat, as with meat.

By: PhotoSG

Tuna is high in protein.

By: dulsita

Salmon is high in protein.

By: nito

Sardines might be small, but they pack a good amount of protein.

By: Picture Partners

Sardines -- a type of small fish in the herring family -- are rich in protein, calcium and other minerals, vitamin D, and omega-3 fatty acids.