Painkillers are medications designed specifically to ease pain. Usually painkillers are created and sold by pharmaceutical companies. While some painkillers have specific healthcare purposes, like certain migraine formulations, most painkillers are general purpose.
There are several ways that painkillers are categorized. One method is to divide them into over the counter (OTC) painkillers—those that can be purchased by the consumer without a prescription—and those that require a prescription for a legal purchase.
A second way to categorize painkillers is by their chemical type. Painkillers include opiates—also called narcotics: conventional or non-selective, semi-selective, and selective nonsteroidal anti-inflammatory drugs (NSAIDs); painkillers that do not fit in any of those categories; and combination painkillers. Two things to be aware of: the Food and Drug Administration does not report on semi-selective NSAIDs,and selective NSAIDs are also called COX-2 inhibitors. Here are some of the most familiar painkillers in each category:
| | |
| --- | --- |
| Opiates | codeine, morphine, oxycodone, hydrocodone |
| non-selective NSAIDS | aspirin, ibuprofen, naproxen |
| selective NSAIDS | Celebrex® and Vioxx® |
| none of the above | acetaminophen |
| opiate + aspirin | Endodan® and Percodan® |
| opiate + acetaminophen | Percocet® and Vicodin® |
| opiate + ibuprofen | Combunox® |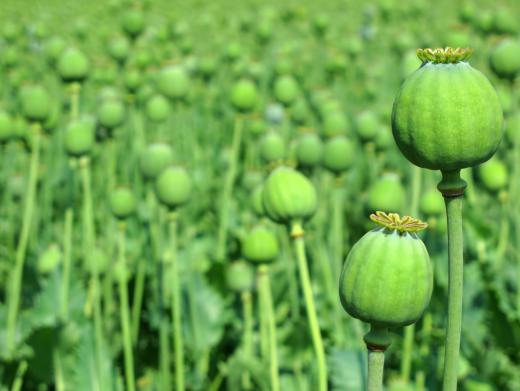 The opiates were among the first painkillers to be discovered. Opium was being grown by Assyrians, Babylonians, Egyptians, and Sumerians by about 3400 B.C. It was being used in 5th century B.C. Greece by the physician Hippocrates, along with salacin from willow bark, which is precursor of aspirin, which was created by a German chemist, Felix Hoffman, in 1897. Nineteenth century Germany was the location for the discovery of acetaminophen. In 1889, Karl Morner, a German scientist, discovered that acetaminophen is made by the human body as it metabolized phenacetin, a French painkiller discovery.
But it was not until the twentieth centuries that the NSAIDS were discovered. Indomethacin, the first NSAID to be found, was found in the 1960s by US chemist Tsung-Ying Shen. The COX-2 inhibitors were discovered by US professor W. L. Xie and colleagues in 1991.
AS FEATURED ON:
AS FEATURED ON:

By: ksena32@ukrpost.ua

A packet of naproxen sodium pills, a type of pain killer.

By: peteri

Opiates were among the first painkillers discovered, with opium being grown and used in ancient times.

By: pogonici

Aspirin is a pain reliever that also limits inflammation and has anti-clotting properties.

By: kmiragaya

Some painkillers, known as narcotics, can be highly addictive.