What Are Some High Fiber Fruits?
A high fiber diet is considered healthy, as it helps the body digest foods properly. Eating foods that are good sources of fiber such as whole grains, vegetables and fruits can also help a person feel full without having to consume a lot of calories or fat. Many fruits have the added advantage of having a sweet taste; most people trying to lose weight find that they can forgo sugary, fatty desserts such as cookies and cakes more easily if they can substitute fresh fruit. For the least amount of calories and the maximum amount of fiber, fruits should be eaten raw rather than consumed peeled, cooked, canned or as juice. High fiber fruits include apples, bananas, berries, dried fruit, grapefruits, guavas, kiwis, oranges, papayas, peaches, pears and watermelon.
Watermelon can be removed from its non-edible rind, cut into cubes and stored in a covered container in the refrigerator. Its refreshing coolness is welcome on hot summer days; having it already cut up and ready makes it easy to access for snacks or sweet, healthy desserts. Pears are high fiber and are mostly associated with autumn. Pear skins tend to be very thin, but after being well-cleaned, pears should be eaten with the skins on as it increases their fiber amount.
Peaches are another of the high fiber fruits that should be eaten with their skins left on, if possible. Some people don't care to eat the fuzzy peach skin, but it considerably increases the amount of fiber consumed. Papayas are another fruit that are a good source of fiber. The red-orange skin of a papaya is not usually considered edible, as it tends to harden as the fruit ripens, but some people do eat it.
Oranges are a popular high fiber fruit high in vitamin C. They aren't as sweet as many other high fiber fruits. Rather than having orange juice with breakfast, a person can increase his or her fiber intake by eating the peeled, whole fruit instead. Kiwis, guavas and grapefruits may be more sour-tasting than most oranges, but they're all high in fiber and can add interest as well as vitamins to the diet.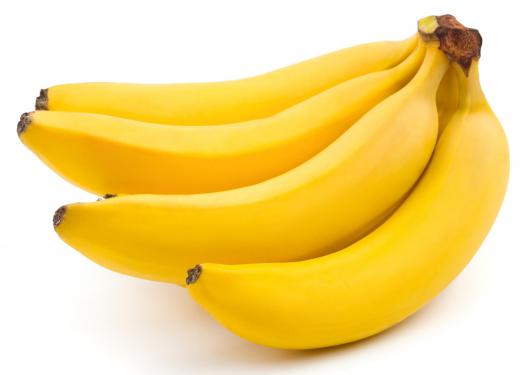 Since dried fruits have most of their moisture content removed, they are packed with fiber. They also contain a lot of natural sugar, so diabetics or others watching their carbohydrate intake should eat small servings of dried fruits such as raisins, prunes, apricots, figs and dates. All berries are high in fiber. Raspberries, strawberries, blackberries, blueberries and cranberries can be consumed as high fiber fruits in the diet, depending on which ones are in season. Bananas are a popular high fiber fruit; they're easy to take on the go for snacks or to slice into cereal for breakfast.


Prunes are high in fiber.

By: PHB.cz

Figs are high in fiber.

Kiwis are high in fiber.

By: tesgro

Apples are a good source of dietary fiber.

By: Nikolai Sorokin

Bananas are high in fiber.

By: Anna Kucherova

Peaches are high in fiber.

By: Dionisvera

Raisins are a good source of fiber.

By: oksun70

Watermelon is high in fiber.

By: Lana Langlois

Pears are a good source of fiber.

By: Malyshchyts Viktar

Apricots can be dried to provide a good source of fiber.

By: tashka2000

Papaya is a source of fiber.

By: Yong Hian Lim

Guavas are high in fiber.

By: Brian Jackson

Blueberries are a good summer option for high fiber fruits.

By: volff

Oranges are high in fiber and also rich in vitamin C.

By: volgariver

Watermelon can easily be cut from its rind and stored in a fridge, making it an easy fruit to consume as a snack.

By: Photographee.eu

Fruits and vegetables are typically high in fiber and can help a person feel full without having to eat a lot of calories or fat.