What are the Different Types of Ginseng Tea?
The different types of ginseng tea include versions made with different ginseng varietals, tea blends, and teas intended to treat specific conditions. Health food stores and some supermarkets may carry ginseng tea, usually offering several options for their customers, and people can also order it directly through catalogs and other suppliers. People who live in regions where ginseng grows can also harvest their own and make tea blends at home for their own use.
One way to divide different types of ginseng tea is by what kind of ginseng is used. American, wild, Asian, and red ginseng are all different varietals believed to have different properties. Some teas contain a blend of varietals for balance, while others may only feature one ingredient. Roots, stems, and leaves can all be used. Plain ginseng tea is usually designed to be steeped for around five minutes before use but some companies make instant teas and tea mixes with ginseng for people who are on the go.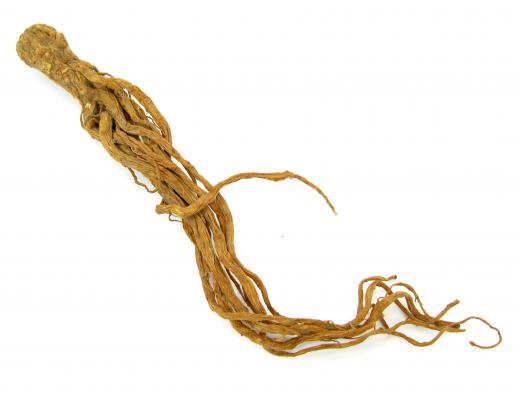 Other types of ginseng tea can be classified by the additional ingredients used. Some companies make a variety of herbal tea products intended to treat specific ingredients and they may sell ginseng blended with other ingredients to do everything from settling stomachs to helping people feel more energized. Ginseng may also be added to black teas for more energy or included in a generic tea blend intended to promote immune function and general health.
Ginseng teas can also be classified by how they are sold and packaged. Teas are available in looseleaf, bag, and instant crystal formats. Some companies sell teas that are already brewed and intended to be consumed cold, and ginseng can also be added to packaged energy drinks. The packaging format can be an important consideration when purchasing ginseng tea, as each method is intended to be used and consumed differently. Some tea stores also allow people to develop custom ingredient blends using bulk ingredients that they blend by hand, and this can be an option for ginseng tea as well.
Before using ginseng tea, people should be aware that this herb can interact with some medications that may be prescribed by a doctor. It is advisable to ask a doctor or pharmacist about any potential interactions with herbal teas and supplements to reduce the risk of a harmful drug interaction. Ginseng contains a number of potent compounds, some of which have not been fully studied, and people should take note of any signs of a strange drug interaction while on ginseng and other medications so that the interaction can be reported to their physicians.
AS FEATURED ON:
AS FEATURED ON:

By: Uros Petrovic

Ginseng root has been used for medicinal purposes for thousands or years.

By: thongsee

Roots, stems, and leaves can all be used to make ginseng tea.

By: Fisher Photostudio

Red ginseng tea is typically more expensive than other types of tea.