What are the Health Benefits of Mangosteen?
Mangosteen is a superfruit that contains a rich nutrient base along with the potential impact for lowering risk against various diseases. Long used in Southeast Asia for its health benefits, the tropical fruit is native to areas of Cambodia, China, Indonesia, Malaysia, Philippines, Singapore, Thailand and Vietnam.
It is similar in size to a tangerine or mandarin orange, with a dark purple/reddish rind and white flesh. Like other tropical fruits, it is multi-segmented. The taste of the fruit is sweet, similar to a plum.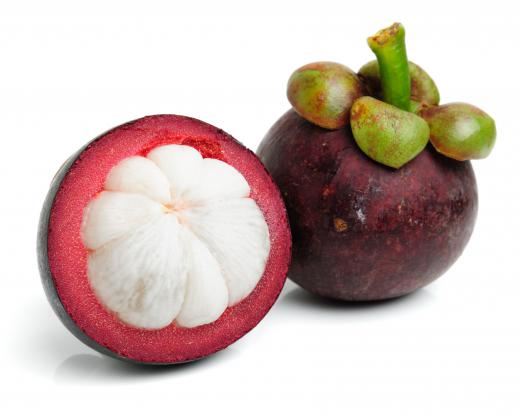 However, instead of peeling the fruit like a tangerine, you should twist or press the fruit until it breaks apart. Uses of the fruit in folk medicine include cures from skin disorders to dysentery. The rind is also used for several health conditions including diarrhea, bladder infections, gonorrhea and skin rashes. It is thought to have cooling properties, or yin.
A unique fact about mangosteens is that each contains a type of scar at one end, representative of the flower. Not only will this scar indicate how many segments the fruit contains, but also indicates the amount of seeds. Those with the most segments have fewer seeds.
Because the rind of mangosteen contains various compounds, it is considered to be an antioxidant. In laboratory studies, the fruit has been fount to contain xanthones, which, when studied in test tubes, have anti-cancer effects. Other health benefits may include anti-inflammatory, antimicrobial, antifungal, and antiseptic properties in test tube studies. However, there is no proof that these xanthones have the same effect when taken orally as when tested in a laboratory setting.
The potential side effects include the possibility that it may interfere with normal blood-clotting. It's also possible that higher does of xanthones may cause sedation, especially when combined with other herbs or medication.
Because mangosteens have not been allowed to be imported legally into North America, except for Canada and Hawaii, the sale of mangosteen in the U.S. is restricted to juices which contain the fruit's extract. The ban was due to the possibility of fruit fly infiltration. However, as of 2007, the United States Food and Drug Administration lifted the ban to allow imports of irradiated mangosteens.
When choosing a mangosteen, look for those that are dark purple or reddish purple, but not blue or black in color. Once purchased, store the fruit at room temperature and eat within a few days. Do not freeze the fruit.
AS FEATURED ON:
AS FEATURED ON:

Whole and cut mangosteen.

Mangosteens.

Unripe fruit growing on a mangosteen tree.

By: tashka2000

The sale of mangosteen in the United States is restricted to juices.

By: Ivan Montero

Mangosteen has been used to treat gonorrhea, a sexually transmitted disease.

By: Eléonore H

Higher doses of xanthones may cause sedation.