What are the Health Benefits of Yogurt?
There are many different health benefits of yogurt, but some are conditional on the type of yogurt being eaten. For example, there are many benefits to eating probiotic yogurt that are not true of pasteurized yogurt. Also, the vitamin content of yogurt differs by brand, and eating yogurt that has been highly processed may not be as beneficial as eating yogurt that has experienced minimal processing. The benefits of yogurt can include simple things like providing the body with calcium, but can also be as complex as reducing bloating and preventing high blood pressure.
Among the many health benefits of yogurt, some of the most popular qualities relate to the probiotic qualities of yogurt. This type of yogurt includes live cultures of beneficial bacteria that can help aid digestion and reduce bloating. The bacteria work by killing off undesirable bacteria in one's body. Probiotics are increasingly easy to find in yogurt made with raw milk, but there are also brands that offer yogurt that is pasteurized but still include bacteria.
Calcium is one of the most popular health benefits of yogurt, but the amount of calcium in yogurt varies among brands. This is partially due to the other things in the yogurt container, such as fruit, not the yogurt itself. Also, while vitamin D does not naturally occur in yogurt, it is typically added by manufacturers because it helps with calcium absorption. These features of yogurt can help prevent bone disorders and keep the body healthy.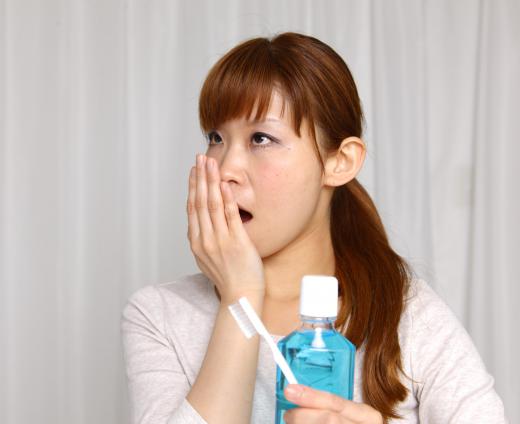 The vitamin and protein content of yogurt means that most people think of it as a generally healthy food. There have been claims that eating yogurt can help aid recovery after a workout or may speed weight loss, particularly when targeting fat around one's abdomen. Yogurt also contains potassium, which is thought to help reduce blood pressure by getting rid of excess sodium in the body. Additionally, there is some evidence that yogurt can help keep teeth strong and free of halitosis-causing bacteria. Certainly, any food eaten in excess loses any health benefits it may have, but a reasonable amount of yogurt is usually considered a healthy and filling snack when compared to other quick options.
There are a number of less well-defined health benefits of yogurt as well. Many people claim that yogurt lengthens life, improves immune function, and makes the body feel energized. These claims are fairly subjective, which makes them difficult to verify. In the very least, it is reasonable to say that people who enjoy yogurt and believe in its powers feel much better when eating yogurt regularly.
AS FEATURED ON:
AS FEATURED ON:

By: NilsZ

Yogurt.

By: carla9

Some evidence suggests that yogurt can help prevent halitosis.

By: Anton Maltsev

Eating yogurt can help prevent bone disease the keep the body healthy.

By: Brent Hofacker

Many manufacturers add vitamin D to their yogurt to enhance its calcium benefits.