What Causes Dermatitis of the Penis?
Dermatitis of the penis is a painful and extremely irritating condition, but it is not life threatening. Allergic contact dermatitis commonly occurs after a sexual encounter where the penis comes in contact with an allergen on the skin of another person, or skin inflammation may be due to prolonged moisture around the genitalia. Other causes of dermatitis of the penis may occur as the result of using or coming in contact with certain personal lubricant products, feminine deodorants, harsh soaps or spermicidal products, as well as common household detergents that may trigger an allergic reaction in individuals prone to skin allergies. Dermatitis of the penis is also sometimes caused by an allergic reaction to the latex in condoms or may even be due to excessive friction causing damage to the skin's surface. A male who urinates outdoors may experience dermatitis of the genitals if contact with poison ivy or the Manchineel tree is made.
Contact dermatitis can occur quickly after exposure to an irritating substance or allergen. Symptoms usually occur within one hour to two days of original contact with whatever originally caused the inflammation. Commonly referred to as a penis rash, dermatitis of the penis is characterized by skin inflammation and dry scaly skin on the genitals that often turns red, white or gray, as well as intense penis itching. Males with darker skin tones commonly notice a lightening of the skin in the affected area instead of redness. Some males may also experience blisters, which cause pain during urination or sexual stimulation.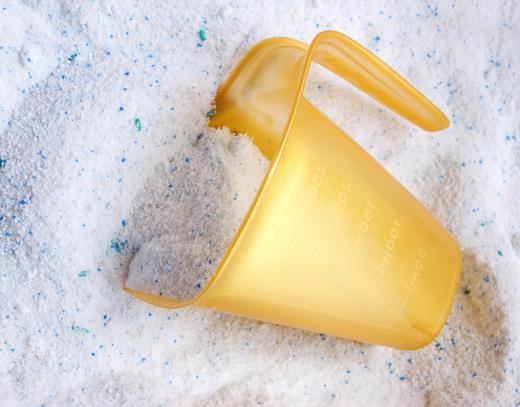 Laundry soaps, fabric softeners and bath soap may also cause dermatitis of the penis. This is particularly true in males with sensitive skin or in cases where residual chemicals remain in garments as the result of incomplete rinsing. For a few men, an allergy to certain fibers, such as nylon used to make underclothing, may also trigger symptoms of dermatitis of the penis.
Treatment of dermatitis of the penis involves identifying the original source of the penis rash and, if possible, eliminating it. A doctor may prescribe medication to help reduce the swelling and soothe the itch. Applying a cold compress to the area also helps relieve itching and reduce inflammation.
Frequently Asked Questions
What is dermatitis of the penis?
A common skin ailment that affects the penis and adjacent areas is dermatitis of the penis. It is brought on by skin inflammation, which can result from several things, including infections, contact with irritants, or allergic reactions. The skin may become red, itchy, burning, or flaky due to penile dermatitis. The skin may occasionally thicken, split, or develop blisters. Typically, oral medication, topical treatment, and avoidance of triggers are used to treat dermatitis of the penis.
What are the most common causes of dermatitis of the penis?
Dermatitis of the penis is most frequently brought on by allergic reactions, coming into contact with irritants, and skin infections. Exposure to several compounds, such as soaps, detergents, and latex, can result in allergic reactions. Detergents, fabric softeners, and perfumes can all irritate the penis and result in dermatitis. Skin infections, such as fungal infections, can also bring on dermatitis of the penis.
Can dermatitis of the penis be contagious?
Penis dermatitis typically does not spread. Dermatitis can occur if brought on by a skin infection, such as a fungal infection. To stop the infection from spreading, it's critical to maintain essential cleanliness when treating penile dermatitis.
Are there any home remedies for dermatitis of the penis?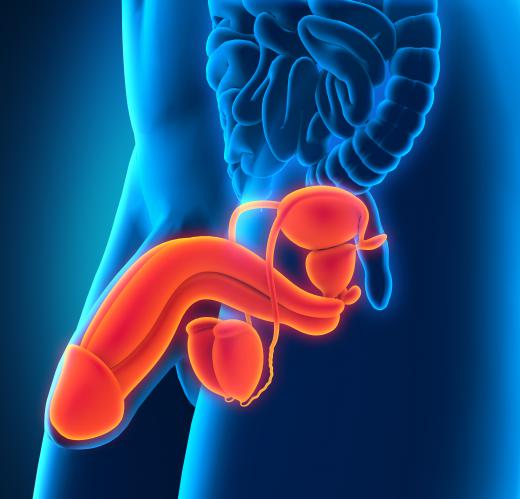 Yes, several natural therapies can aid in the relief of dermatitis of the penis. Wearing loose-fitting clothing, avoiding recognized triggers like specific soaps or detergents, and maintaining a clean, dry environment are a few examples. Applying cold compresses or taking oatmeal baths can also help reduce the burning and itching brought on by penile dermatitis.
When should I see a doctor for dermatitis of the penis?
If your dermatitis is accompanied by symptoms like redness, itching, burning, or flaking, you should visit a doctor. Your doctor will determine the cause of the dermatitis and recommend the best course of treatment. A doctor may also recommend drugs to help treat the infection if a skin infection brings on dermatitis.
AS FEATURED ON:
AS FEATURED ON:

By: Sinisa Botas

Certain laundry soaps may cause penis dermatitis.

By: rimglow

A cold compress may offer relief for itching and pain.

By: picsfive

Dermatitis may be the result of the type of bath soap used during bathing.

By: quayside

An allergic reaction can cause dermatitis.

By: nerthuz

Allergies or reactions to soaps or lotions can cause dermatitis of the penis.

By: Burlingham

A doctor may prescribe medication to help reduce swelling and itching associated with dermatitis of the penis.

By: Monkey Business

Dermatitis os the penis may cause pain during urination or sexual stimulation.