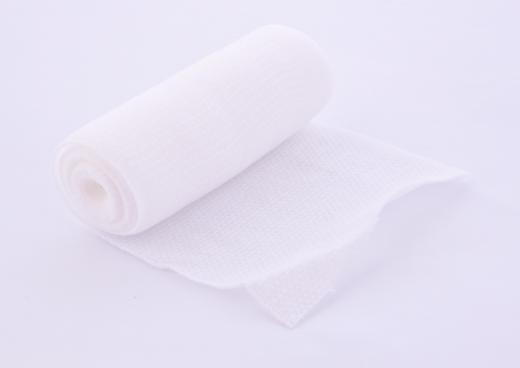 A gauze bandage is a thin, woven fabric material that is placed over a wound to keep it clean while allowing air to penetrate and promote healing. It can be used to secure a dressing in place, or it can be used directly on a wound. These bandages are the most common type and are available in many sizes. They are good for hard to reach areas that may be difficult to dress.
First aid kits usually contain a roll of gauze bandage, a few single gauze squares, bandage tape, anti-bacterial ointment, and other medical supplies to treat injuries. The bandages are very versatile and can cover a wound on just about any part of the body. They work well on burns, head injuries, and large lacerations that need more than a simple adhesive bandage. At home, one can be used to cover scrapes on the knees or elbows, or cuts on fingers and hands. In the hospital, medical professionals use them to cover surgical sites.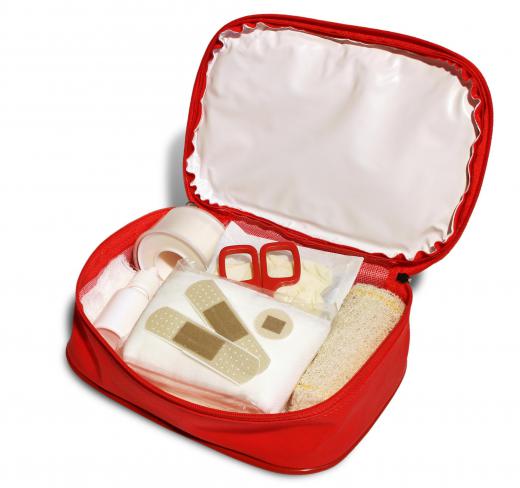 When using a roll of gauze, the end is pulled out and placed over a piece of wound dressing, such as a medicated pad of cotton. The gauze is then wrapped around the location of the wound. The ends of the bandage can be tied together or a piece of bandage tape can be used to secure them and keep the material in place. The bandage can be wrapped and tied tightly when compression is needed to control bleeding.
Individual pieces of gauze are also a common form of gauze bandage. A doctor or nurse may apply medicine to individual pieces before placing them directly onto a wound. When an adhesive bandage is too small to cover the entire laceration or it is in a hard to reach place, this material can be used. In these cases, bandage tape is usually used to keep the gauze in place.
Since a gauze bandage is made of woven fabric, it is air permeable and absorbent. These are good qualities to have in a bandage to promote wound healing. These same qualities can also lead to infections if the bandage is not changed regularly, however. A large, open, or infected wound will require more frequent dressing changes than a smaller, non-infected wound that is farther along in the healing process. The guidelines of a medical professional should be followed as to when and how to change bandages.


By: rikaphoto

Roll of gauze bandage material.

By: picsfive

A gauze square.

By: lucato

First aid kits should contain gauze bandages.

By: Szabolcs Szekeres

Rolled gauze can be used to protect wounds and stem bleeding.

By: casanowe

Gauze bandages are sometimes used to secure sterile gauze pads in place over a wound.