A gauze swab is a common tool used in the medical field and is found in most first aid kits. It is a white, sterile piece of material that is primarily made of cotton and is commonly used along with an antibacterial cream or ointment to clean and cover open cuts or wounds. Gauze is generally distributed in prepackaged singles that frequently contain two sterilized gauze swabs.
Before administering any common first aid kit accessory such as gauze swabs to an injured person, one should assess the severity of the injury. Any moderate-to-severe injuries should be treated by a medical doctor. When applying gauze to a minor wound, one should inspect the gauze package before use to ensure that the package is intact. One should not administer any gauze that has not been stored in a sterilized intact package, because there is a risk of infection.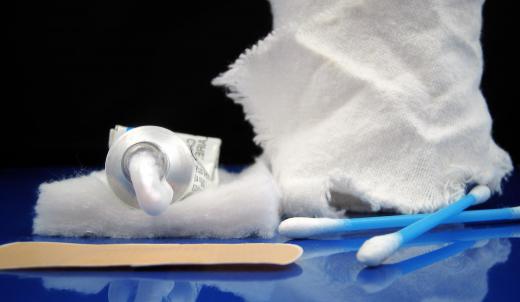 When one is administering gauze, it is essential that the swabs remain uncontaminated while the package is being opened and the swabs are being applied to the wound. Before opening a package of gauze swabs, one should first wash his or her hands thoroughly with soap and water. When opening a package of gauze swabs, one should firmly grasp the corner of the package and tear the corner of the package, ensuring that the corner of the gauze swab is also grasped and simply pull the corner of the package away from the rest while grasping the corner of the gauze between the corner edges of the package. After the gauze has been removed from the package without it being directly touched, it can be then used to clean a small wound or cut. If touching the gauze swab cannot be avoided, only the corner of the swab should be touched, to ensure that the sections making direct contact with the open wound remain germ-free.
Any gauze swabs that are required for the long-term care of an injury should be changed frequently. If a gauze swab appears to be wet or dirty, it is best for it to be replaced with a new sterilized swab. After a swab has been used or contaminated, it should be disposed of in a sanitary fashion.


By: Warren Goldswain

Gauze swabs are often used to clean and cover injuries after a fall.

By: rufar

Gauze swabs may be helpful in treating a minor wound.

By: GVictoria

An antibiotic cream may be applied to a wound before a dressing.

By: Deyan Georgiev

One should wash their hands with soap and water before opening a package of gauze swabs.

By: MarcoBagnoli Elflaco

A gauze swab may be used to cover open wounds.