What is a Herniated Disc?
A herniated disc is a spinal abnormality, frequently the result of wear and tear on the body, or injury. It is referred to my many different names, which tend to be used interchangeably, although they may not be completely accurate. Some of the most common terms used to describe this condition are pinched nerve, ruptured disc, slipped disc and sciatica.
While these terms are widely used, technically, a pinched nerve is not the same as a herniated disc. It is in fact the result of a herniation, which causes the nerve to become pinched. It is therefore important to distinguish the two, in order for the doctor to locate the actual source of the pain and to treat it properly.
The term sciatica is casually used to describe many different types of back pain. However, sciatica really refers to the sciatic nerve, which generally causes lower back pain or pain in the legs. Sciatica, much like other pinched nerves, is often the result of a herniated disc.
While the lumbar spine or lower back is generally the most common site of herniated discs, it can be found anywhere throughout the length of the spine. It infrequently affects the thoracic spine, or upper back, but is common in the cervical spine, or the neck area. A herniated disc in the cervical spine can cause severe tension headaches, dizziness and mild to severe pain in the neck, shoulders and arms.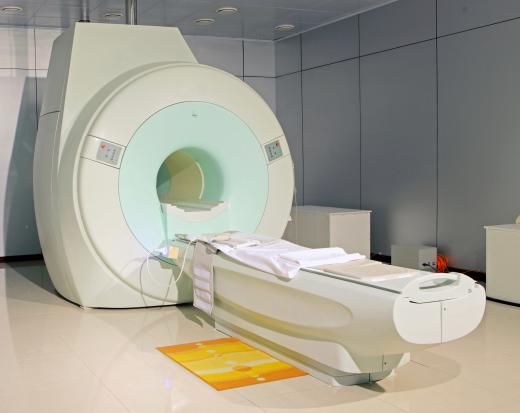 A healthcare provider must determine whether the patient's pain is the result of a pinched nerve or whether it is actual disc pain in order to give the patient true and lasting relief. Many times this will require an extensive study of the patient's medical history along with a physical examination. In some cases, diagnostic imaging is also necessary. An X-ray may not be enough, since it is unable to produce a complete image of a herniated disc, so a CT scan or MRI may be in order.
A herniated disc only requires surgery in the most extreme cases. It can usually be treated with rest, physical therapy, medications such as muscle relaxants, or simple, low impact exercise. In some cases, cortisone injections or other pain medication is indicated, but there are many alternative treatment options available.
AS FEATURED ON:
AS FEATURED ON:

By: mangostock

A spinal disc herniation can cause back spasms.

By: Mikhail Kondrashov

An MRI may be needed to diagnose a herniated disc.

By: Alila Medical Media

The lower back is the most common place for a herniated disc.

By: lightwavemedia

People experiencing herniated disc pain should see a doctor immediately.

By: rob3000

If the sciatic nerve becomes irritated, it can cause pain and numbness down the leg.

By: MediablitzImages

A herniated disc in the cervical spine may cause tension headaches and dizziness.