What is a Subunit Vaccine?
A subunit vaccine is a vaccine that contains isolated proteins from a virus, but lacks viral nucleic acid. These vaccines expose the body to antigens so it can learn to recognize them without exposing the body to the risk of viral replication and subsequent infection. Several influenza vaccines are available in the form of subunit vaccines and numerous drug companies are working on applying the technology to the development of other types of vaccines as well. The primary advantage of using a subunit vaccine is that it is very safe, even in people with compromised immune systems.
To make subunit vaccines, pharmaceutical companies strip away everything but the proteins associated with specific and unique antigens. With the use of genetic engineering, organisms can be manipulated so they will express these proteins in large amounts for vaccine production. The subunit vaccine is not virulent because it does not contain the genetic material from the virus, only the proteins on the exterior of the virus.
When these vaccines are administered, the immune system learns to recognize the antigens and develops specific antibodies. This ensures that when the virus enters the body, the immune system will identify it and target it for destruction before it has an opportunity to begin replicating and causing disease. Because the material in the subunit vaccine is not capable of replicating, the risk of adverse reactions is very low and the vaccines are safe for use in people with poor immune systems.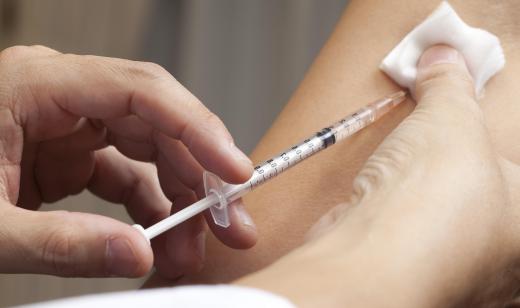 One problem with the subunit vaccine production technique is that sometimes isolating the proteins denatures them, causing them to take on a different shape. The immune system develops antibodies to the denatured proteins, but will not recognize the viral proteins in situ on the coating of a virus. Some researchers have addressed this issue by making recombinant subunit vaccines, where proteins from a dangerous virus are combined with a benign virus for delivery in the form of a vaccine. This prevents the proteins from denaturing and teaches the immune system to recognize the proteins on the surface of a virus.
Isolating specific proteins provides opportunities for vaccinating against multiple strains of a virus, an important characteristic for flu vaccines. Research on vaccines for the human immunodeficiency virus has also involved the development of subunit vaccines that could use specific proteins to teach the body to recognize and eliminate HIV without exposing people to the risk of viral replication and HIV infection.
AS FEATURED ON:
AS FEATURED ON:

By: alexphoto71

A subunit vaccine lacks viral nucleic acid.

By: Tsuboya

A subunit vaccine exposes the body to antigens so it can learn to recognize them without exposing the body to the risk of infection.

By: Remains

Several types of flu immunizations use subunit vaccine technology.

By: Ocskay Bence

Elderly individuals may have special recommendations for immunizations.