What is a Wellness Center?
A wellness center or clinic is a building or facility that is devoted towards the promotion of healthy living as well as the prevention of illness and disease. These centers can be run by any number of physicians who can practice a wide variety of medicine, and can even be run without any staff physicians, in which case the center acts as a health information provider. Some of these practices can include traditional forms of medicine and healing as well as ancient healing arts such as acupuncture, for example. Other wellness clinics cover modern, cutting edge, and even experimental forms of medicine.
There are many different types of wellness centers, each of which can give access to a different group of people. Some, for instance, are based on university campuses and are designed to be utilized by students and faculty of the school. In this case, the centers are often staffed with faculty and students. The goal of these types of facilities is to promote the health and well-being of students and to allow them to be more productive, safe, and health-conscious.
Other centers are programs for large corporations, or provide their services to several businesses for a cost. The advantage of having a wellness center devoted towards employees is the end result of having lower health insurance costs. Often a business-based wellness center will encourage a company's employees to take an active health role by offering weekly or monthly newsletters along with voluntary health programs. These types of centers can even be provided directly by the insurance company.
Many wellness clinics stand alone and welcome people from various insurance companies as well as those who seek advice which the center specializes in. Some centers are simply devoted to providing their patrons with information that they can use to enhance the quality of their health. Many of these are free and even offer access to their help to anyone through media such as newsletters or the Internet.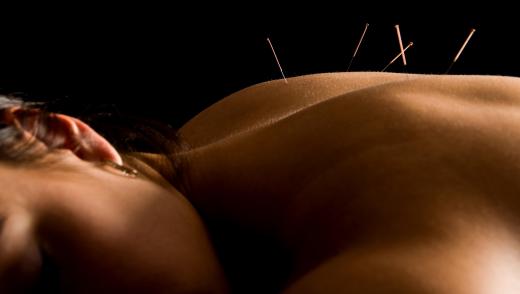 Some of the ways wellness centers promote health are through fitness, dietary needs, psychological aid, and other more direct medical practices. A patron can sometimes talk to a physician directly for a diagnosis of a specific problem, or can arrange for a treatment such as massage from a qualified and trained therapist. Often, a center will also offer educational programs and classes that cover a wide range of health-related topics, such as yoga, meditation, breathing exercises, fitness programs, medical advice and more. If you happen to be seeking a wellness center, it is most beneficial to find one that suits the needs of you and your family since every person has their own needs when it comes to maintaining a healthy lifestyle.
AS FEATURED ON:
AS FEATURED ON:

By: Andrey Kiselev

Exercise classes may be offered at a wellness center.

By: Hemeroskopion

Massage services may be offered at a wellness center.

By: Yanik Chauvin

Acupuncture may be offered at wellness centers and clinics.