What is Degenerative Arthritis?
Degenerative arthritis is a chronic inflammation of the joints which can lead to disability and severe pain. This is the most common type of arthritis, occurring frequently in men over 45 and women over 55, and it also emerges in the wake of injuries to the bones and joints. There is no cure for degenerative arthritis, but a variety of techniques can be used to manage it, and to reduce its impact on the body.
This condition is also known as osteoarthritis (OA) or degenerative joint disease (DJD). It is caused by the gradual breakdown of the cartilage which normally protects the joints of the body. As the cartilage breaks down, the joint starts to wear severely, and it may become eroded with time. Bone spurs and nodules can also emerge as the body tries to cope with the inflammation. The result is a stiffened, painful joint which can be a source of disability.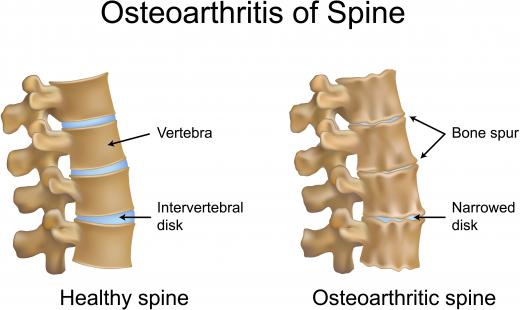 The fingers, knees, hips, and spine are all common locations for arthritis to develop. The condition usually starts with low-grade pain and some mild heat around the joints, and it progresses to severe pain and stiffness. Levels of pain associated with this condition can vary depending on the time of day and the weather. Many patients, for example, experience more pain and stiffness in cold, moist climates. In some cases, the arthritis can become so severe that joints become twisted and deformed, as seen in the hands of some elderly people.
There appears to be a genetic component to degenerative arthritis, as some families seem to be more prone than others. Doctors also believe that the chances of developing this diroder can be reduced by exercising regularly, eating a healthy diet, and possibly by taking supplements such as glucosamine which are intended to support joint health. Physical therapy after traumatic injuries can also reduce the risk of developing arthritis, by promoting strong, healthy joints and a full recovery.
A doctor can often diagnose degenerative arthritis simply by talking to a patient and performing a simple physical exam. Diagnostic tools such as x-rays, joint fluid analysis, and arthroscopy may be used to confirm the diagnosis, and to determine the best course of action for the patient. Medications can be used to manage the pain, along with physical therapy, and sometimes alternative medicine such as acupuncture also helps. In some instances, surgery to replace or repair severely damaged joints may be needed to deal with the disorder.
AS FEATURED ON:
AS FEATURED ON:

By: peterjunaidy

An illustration of a healthy spine and one with spinal osteoarthritis, a form of degenerative arthritis.

By: Alila

A healthy hip and one with osteoarthritis.

By: Denis Pepin

Degenerative arthritis often affects the fingers.

By: Alfred Wekelo

Acupuncture may help relieve the symptoms of degenerative arthritis.

By: Kurhan

The risks of degenerative arthritis may be reduced by exercising regularly.

By: Tracy Whiteside

Levels of pain associated with degenerative arthritis can vary based on the time of day and location.

By: joshya

Osteoarthritis is degenerative condition characterized by a wearing away of the cartilage in the joints.

By: designua

No cure exists for osteoarthritis, which can lead to the severe degradation of cartilage on one or more joints of the body.