Dry gauze is a type of bandage that is often used for open wounds. It may come in rolls, strips, or pads of various sizes so that it can be used for a number of applications. It can be manufactured from cotton or synthetic fibers and may be loosely or tightly woven.
This material may come in rolls that are usually around one to two inches (2.54 to 5.08 cm) wide. They can be up to four yards (3.66 m) in length. This type is typically somewhat stretchy and is often used to wrap around a wrist, elbow, or forearm in order to cover an extensive injury or burn.
Other times, dry gauze can come in smaller strips. These might be one to two inches (2.54 to 5.08 cm) long and are typically attached to the skin with medical tape. This type can be useful whenever there is a small cut or abrasion that needs to be covered. It can normally be cut to the exact size and shape needed for the particular wound it is being applied to.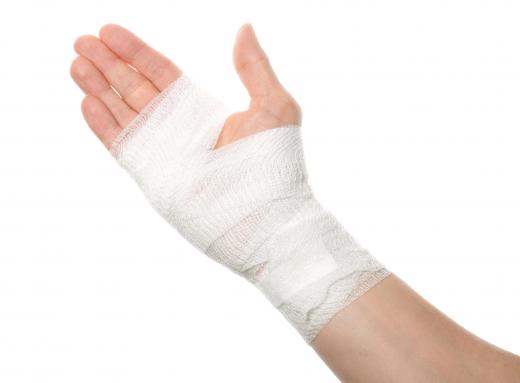 Dry gauze pads can be used on larger areas of the body, such as the back or legs. Small ones are typically around two inches (5.08 cm) long and wide. Larger pads can be approximately four inches (10.16 cm) in length and width. These can sometimes have an adhesive backing, or may also be kept in place with medical tape.
Cotton is the most common material used to manufacture dry gauze, although some types can be made of man-made fabric, such as nylon. The tightness of the weave varies from one brand to the next. Generally speaking, the looser the fibers are, the more air that can be allowed to circulate in the area. Tightly-woven bandages might nonetheless be more effective at keeping out bacteria.
This product is often used in hospitals, nursing homes, and health clinics. It might also be used by veterinarians after they perform surgery on an animal. Many people regularly stock this item as part of a first-aid kit in their homes or cars.
Dry gauze can typically be purchased, relatively inexpensively, at a pharmacy or medical supply store. It can be used in conjunction with antibacterial ointments in order to speed the healing process. This means this product could be considered a necessary item for homes and businesses to keep on hand, in the event a family member or co-worker suffers an unexpected injury.
AS FEATURED ON:
AS FEATURED ON:

By: design56

Dry gauze can come in rolls, used to dress or cover open wounds.

By: Vivian Seefeld

Dry gauze is used to wrap and cover open wounds.

By: picsfive

Dry gauze pads are typically about two inches long and wide.

By: casanowe

Dry gauze rolls are sometimes used to secure a sterile dressing over an open wound.