Hypercapnia is an unusually high concentration of carbon dioxide in the blood which may be accompanied by hypoxemia, in which the oxygen level in the blood is low. This condition occurs as a result of poor gas exchange at the lungs which makes it difficult for people to eliminate carbon dioxide from their bodies. It can be associated with a number of medical problems including sleep apnea, chronic obstructive pulmonary disorder (COPD), and lung disease. Environmental factors such as breathing air with a high concentration of carbon dioxide can also be causes.
When someone has this disorder, symptoms such as elevated blood pressure and heart rate, sweating, and flushing can usually be observed. The central nervous system can become depressed, causing fatigue, confusion, dizziness, and blurred vision, and the pressure inside the skull, known as intercranial pressure, will increase. The patient may also have difficulty breathing and other symptoms related to the underlying cause can also be observed.
If a patient has hypercapnia symptoms and appears to be at risk for this condition, a sample of the blood can be taken to test the carbon dioxide levels. Treating the patient usually starts with stabilization and determination of the cause so that the patient's blood can be cleared while the cause is also addressed to prevent a repeat buildup of carbon dioxide. This may require artificial ventilation to provide the patient with more oxygen and the administration of medications which are designed to address declines in lung function.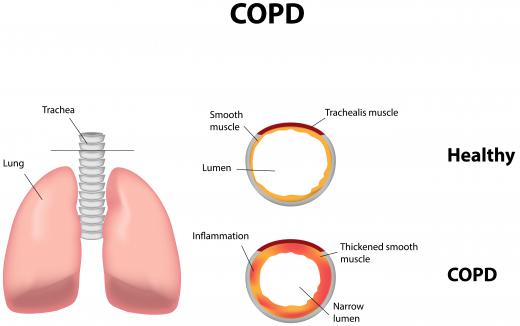 Patients with hypercapnia can develop respiratory acidosis, in which the pH content of the blood drops because of the change in its chemical composition. This leads to a cascading series of reactions which, among other things, can cause the level of carbon dioxide in the blood to accelerate. This known risk is something which a doctor will closely watch for so prompt intervention can be provided if a patient begins to develop acidosis.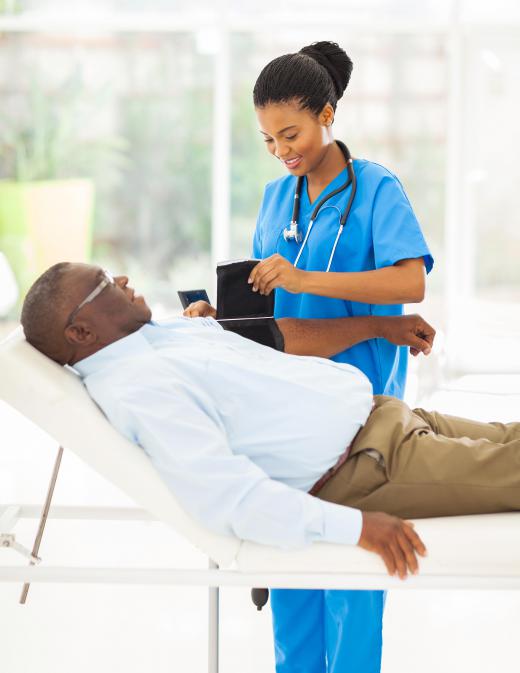 There may be situations in which hypercapnia emerges during the course of medical treatment and it is tolerated as a side effect. The classic example occurs in patients placed on ventilators. Keeping the ventilator on a high setting can cause damage to the lungs, leading doctors to keep the settings lower to reduce risks to the patient, but this in turn can allow carbon dioxide to build up in the blood. A happy medium must be struck between preventing lung damage and avoiding hypercapnia damage in these situations.
AS FEATURED ON:
AS FEATURED ON:

By: Amy Walters

Hypercapnia may be associated with sleep apnea.

By: joshya

Hypercapnia may be associated with COPD.

By: michaeljung

Symptoms of hypercapnia may include elevated blood pressure.

By: Minerva Studio

Symptoms of hypercapnia may include sweating and flushing.

By: Andres Rodriguez

Symptoms of hypercapnia may include fatigue.

By: sudok1

Lower settings on a ventilator can allow carbon dioxide to build up in the blood.

By: unitypix

In some cases, hypercapnia is accompanied by hypoxemia, which occurs when there are insufficient blood oxygen levels in the arterial blood.