Mango extract is derived from the tropical mango fruit and the liquid extract is used in cooking a variety of dishes, including desserts, salads, and poultry. Often used as a substitute for cutting small pieces of mango from the large fruit, it can be a safer alternative to using the often allergenic mango fruit with skin. Mango are known to include a variety of vitamins, and, as a result, the extract is also used in some diet supplements for weight loss.
Mangoes and other fruits give a hint of natural sweetness to a variety of main dishes. Since mangoes are a large fruit to cut down, some cooks prefer to use the liquid extract form instead. The extract of mango can be combined with different oils and sauces to create a marinade for chicken and pork. Certain types of seafood dishes also utilize mango extract to give a hint of tropical flavor.
The versatility of mango extract makes it possible for use in side dishes as well. Mango gives sweetness to salad dressings, as well as certain sauces for pasta. Even if a chef uses chunks of mango in a dish, the liquid extract can complement the fruit and give the entire dish a stronger flavor. Mango extract is also used in desserts, such as pies, cakes, and ice cream.
Mangoes have the reputation of being allergenic, so some consumers are cautious about eating them. The fact is that the skin of the mango might cause an allergic reaction in some people, but the actual fruit is not allergenic. Mango skins can cause itchiness and rashes around the mouth, so they should not be eaten. When looking for a mango extract, consumers can ask the manufacturer if any skins were used during processing to minimize the risk of an allergic reaction.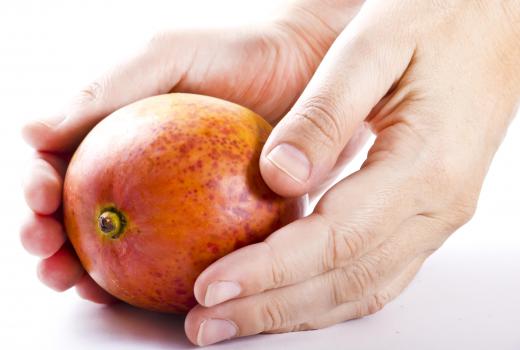 Aside from cooking, mango extracts are also used in the creation of dietary supplements, the most common types being derived from African mangoes. The extract purportedly helps to decrease the appetite and increase the amount of leptin and adiponectin hormones in the body, which may directly correlate to fat loss. A mango extract diet also provides the body with vitamins A, D, and C.
Taking mango extract in the form of a supplement might help with an individual's dieting program, but it generally should not be the primary source of weight loss. Most cultures praise the mango as a healthy food source, but it is also used as a part of a healthy lifestyle. Some extracts might also contain other ingredients not listed on the bottles, so consumers should use caution.
AS FEATURED ON:
AS FEATURED ON:

By: Natika

Mango is a popular tropical fruit.

By: Mariusz Blach

Originating in Southeast Asia, the mango has more than 100 different varieties.

By: sarra22

The skin of a mango can cause an allergic reaction, although the fruit is non allergenic.

By: Ljupco Smokovski

Low adiponectin and leptin levels may contribute to weight gain.

By: msheldrake

Mango extract may be added to salads.

By: SunnyS

Mango can add sweetness to salad dressings and other types of sauces.

By: Melpomene

Mango extract is used in some dietary supplements for weight loss.