What is Optic Nerve Damage?
Optic nerve damage is an injury to the optic nerve leading to permanent vision loss. Depending on the extent of the damage, people may experience partial or total vision loss in the involved eye. This damage is usually not reversible, making it important to be proactive about eye health to prevent injuries to the optic nerve, if possible. Some people are born with optic nerve damage, a result of problems with development, and may have limited or nonexistent vision from birth.
The optic nerve relays information from the retina to the brain and is a part of the central nervous system. It consists of tight bundles of individual nerve cells, very densely clustered to relay extremely detailed information. When optic nerve damage occurs, people may notice problems with the visual field like dimming, spotting, complete darkness in one area, or blind spots. Issues like blurriness and floaters are usually the result of problems in the front of the eye.
One potential cause of optic nerve damage is inflammation, caused by optic neuritis. Consistent untreated inflammation can cause the nerve cells to start breaking down, interfering with their ability to relay information. Glaucoma, a condition people usually associate with high pressure in the eye, can also damage the optic nerve. Tumors may grow on or press against the nerve, causing injuries. Interruptions to the blood supply caused by vascular disease can also be a source of injuries to this nerve.
Blunt force trauma to the head can sometimes cause optic nerve damage. While this nerve is insulated in the skull, penetrating injuries to the eye socket may strike the nerve, or crush injuries to part of the head can compress it, cutting off the blood supply and causing cells to die because they cannot get enough oxygen and nutrients. Optic nerve damage can also be the result of mistakes made during surgery, although care is taken to avoid this nerve if at all possible in surgical procedures.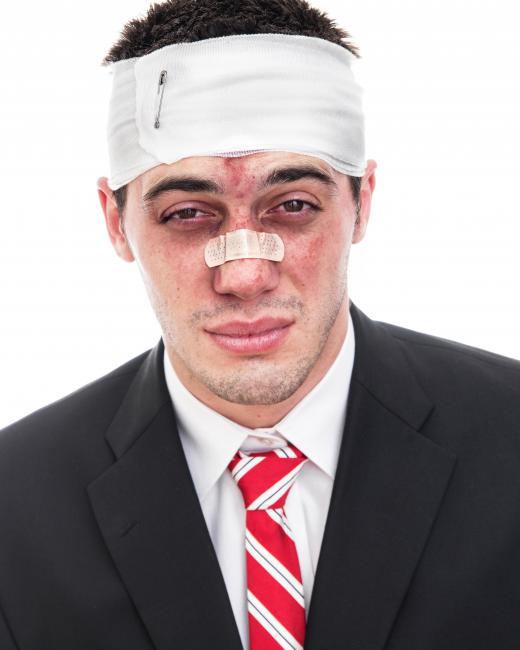 When patients experience problems with their eyesight, a physical examination to check for optic nerve damage is an important step for addressing the tissue. The doctor can determine what is going on inside the eye and start to develop plans for treating the problem and arresting the damage. People with a higher risk of optic nerve damage, such as people with diabetes and high blood pressure, may need to visit the doctor regularly to identify any early warning signs, with the goal of stopping damage as soon as it begins to appear.
AS FEATURED ON:
AS FEATURED ON:

By: kocakayaali

The optic nerve transmits the signals of the eye to the brain and can seriously affect vision if damaged.

By: Kurhan

Prescription eyeglasses can help with vision issues caused by optic nerve damage.

By: Alen-D

Blunt force trauma to the head can sometimes cause optic nerve damage.

By: bellemedia

People with optic nerve damage may notice blurred or double vision in the affected eye.

By: fred goldstein

Periodic vision exams are important, especially for people who notice any changes in vision.

By: FotolEdhar

People who have diabetes or high blood pressure have an increased risk of optic nerve damage.

By: Max Tactic

Optic nerve damage may occur as a result of mistakes made during surgery.