What is Pelvic Reconstructive Surgery?
Pelvic reconstructive surgery is a surgical procedure used to reconstruct pelvic organs and structures. It may be performed to fix damage that has occurred to the organs for various reasons, including disease and side effects of previous surgeries. It may also be used to treat a patient who has suffered damage to the pelvic organs because of cancer. Some of the common types of pelvic reconstruction surgery include vaginoplasty, cystocele repair, and rectocele repair. Labiaplasty is also one of the many pelvic reconstructive surgeries doctors perform.
One type of pelvic reconstructive surgery is referred to as vaginoplasty. This surgical procedure is used to tighten the vagina after the muscles and tissues surrounding it have become lax. This often occurs as a result of childbirth, especially in women who have given birth to several children. In many cases, this surgical procedure also requires surgeons to cut away part of the vaginal tissue lining, as the excess tissue contributes to the overall lack of vaginal tone.
Sometimes doctors take vaginoplasty one step further and not only tighten the muscles and other tissues in the vaginal area, but also use surgical techniques to change the way the labia looks. The cosmetic side of this surgery is often used to give the outside of the vagina an appearance the patient feels is prettier, more acceptable, or closer to the way other women look in the genital area. The resizing of the labia that may be performed in conjunction with vaginoplasty is sometimes referred to as labiaplasty.
Cystocele repair is a type of pelvic reconstructive surgery used to repair a woman's pelvic organs when her bladder protrudes into the vagina or drops into it. Normally, the bladder is kept in its proper place by muscles, ligaments, and other tissues. Sometimes, however, these structures weaken and the bladder falls out of place. Childbirth, aging, menopause, and hormonal deficiencies are among the issues that may lead to bladder prolapse. In most cases, surgeons treat patients by repairing the prolapsed bladder and using surgical techniques to strengthen the wall of the vagina.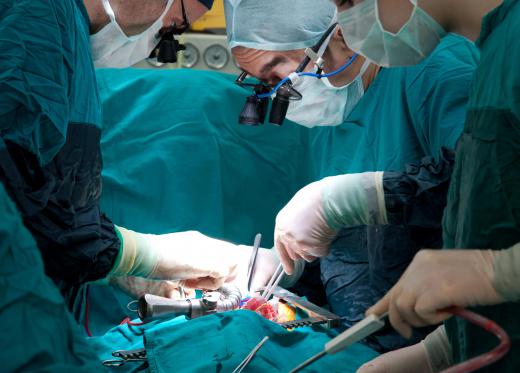 Sometimes surgeons also perform a type of pelvic reconstructive surgery that is referred to as rectocele repair. This surgery is used to treat patients when the rectum has begun to bulge into the vagina. Factors that may contribute to this problem include repeated childbirth, long-term constipation, and chronic coughing. Obesity may contribute to the problem as well. In such a case, surgeons often correct the rectal prolapse and then use mesh or sutures to keep it in its proper place.
AS FEATURED ON:
AS FEATURED ON:

By: Allen Penton

An X-ray of the pelvis.

By: James Steidl

The pelvis is comprised of three bones: the ilium, the ischium, and the pubis.

By: derege

Pelvic reconstructive surgery is used to reconstruct pelvic organs and structures.