Red ginseng, also called Panax ginseng, Korean ginseng or Asian ginseng, is a perennial plant native to the mountains of Korea and China. Red ginseng is related to, but not the same as, American ginseng. Herbalists often use the root of the Panax ginseng plant to counteract fatigue, improve memory and performance, and treat a number of medical conditions ranging from the common cold to diabetes. Panax ginseng has been used in traditional Chinese medicine for more than 5,000 years. Western medical studies verify that the roots of the Panax ginseng plant contain beneficial plant compounds, including antioxidants and ginsenosides, which may offer a number of health benefits. It typically is available at health food stores in tablet, capsule, tea or tincture forms.
Red ginseng is considered an adaptogen, meaning that using it regularly may help to improve mental and physical adaptability. This means that ginseng may improve performance and stamina, memory, reflexes and coordination as well as help increase energy levels and reduce stress. Ginseng is often used traditionally as an aphrodisiac or as a treatment for male erectile dysfunction. It's also said to promote cardiovascular health, support immune function, protect against diabetes, normalize blood pressure and prevent Alzheimer's and cancer.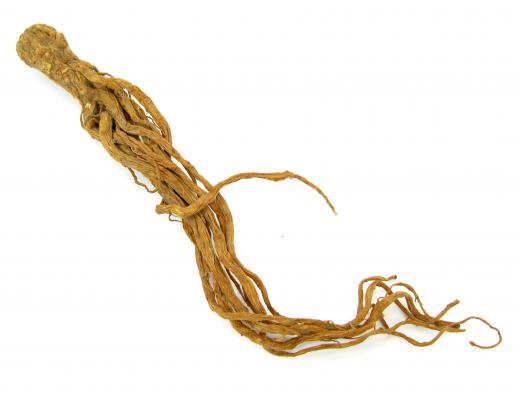 Research into the properties of red ginseng has shown that it may be beneficial in the treatment of coughs, rheumatism, gout, double vision and neuralgia. It may also help with diabetes, anemia insomnia, hypertension and hypotension. Ginseng may also support cardiovascular health by reducing blood clots and lowering cholesterol. Diabetics may find that ginseng can help keep blood glucose levels low. The root may also help the immune system fight viruses, and may have benefits in the treatment of HIV-1 as well as antibiotic properties. The antioxidants in ginseng may help prevent cancer. Ginseng also may help protect the liver and other cells of the body from the damaging effects of radiation, alcohol, drugs and other toxins.
Red ginseng is different from, but related to, American ginseng, or Panax quinquefolium L. American ginseng contains the same antioxidants and ginsenosides found in red ginseng, but is believed to have a cooling effect on the body. In traditional Chinese medicine, Panax ginseng is said to have an opposite, warming effect on the body. Neither plant is at all related to Siberian ginseng, which is not in fact a member of the genus Panax and does not contain ginsenosides, the primary compound found in ginseng.
Research suggests that using red ginseng regularly over the long term may offer the most health benefits. Recommended doses for healthy adults typically range between 500 and 1500 mg per day. Therapeutic doses may be as high as 2000 mg per day.
AS FEATURED ON:
AS FEATURED ON:

By: Uros Petrovic

Ginseng root has been used for a variety of medicinal purposes for thousands or years.

By: bramgino

Red ginseng may help treat anemia insomnia.

By: WavebreakMediaMicro

Red ginseng is a traditional treatment for erectile dysfunction.

By: idmanjoe

Research suggests that ingesting red ginseng for many years may result in significant health benefits.

By: Monkey Business

Red ginseng is purportedly an excellent treatment for lowering blood pressure.

By: abhijith3747

Ginseng may reduce blood clots.

By: danilkorolev

Some believe red ginseng can help fight HIV-1, although doctors recommend all HIV positive patients continue to take their prescribed antiretroviral combination therapy.