What Is the Connection between Sarcoidosis and Vitamin D?
Sarcoidosis is a relatively rare autoimmune disorder characterized by inflammation of bodily tissues. It most often manifests in the lungs, eyes, liver, lymph nodes, and skin. The inflammation is caused by the formation of sarcoid granulomas and excess vitamin D. The relationship between sarcoidosis and vitamin D is found in the granuloma macrophages, which convert vitamin D to 1,2,5-dihdroxy vitamin D, also known as 1,2,5-D. In persons without sarcoidosis, this conversion is limited to the kidneys, which create only what the body needs.
Also called Besnier-Boeck disease, or Besnier-Boeck-Shaumann disease, sarcoidosis results in vitamin D toxicity. Sarcoidosis and vitamin D toxicity are manifested by a widespread feeling of fatigue, illness, and discomfort throughout the body. Other symptoms include joint pain, fever, bloodshot eyes, and eye pain.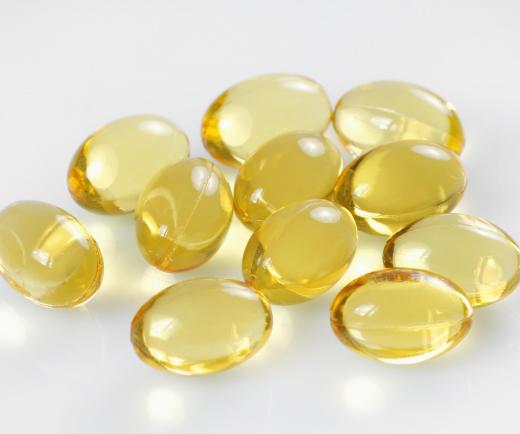 A number of studies have found that one result of the link between sarcoidosis and vitamin D is accelerated granuloma formation in the lungs. Sarcoidosis most often begins in either the lungs or the lymph nodes. The granulomas are believed to contain bacteria that are responsible for the excessive creation of vitamin D. This causes heightened inflammation that leads to increased discomfort.
The cause of this disease is unknown, although the link between sarcoidosis and vitamin D has been well established. What is known about this condition is that most patients exhibit an active phase as well as an inactive phase. Some patients experience much milder symptoms than others, and in some cases, the disease appears to resolve on its own.
During the active phase, symptoms occur as a result of granuloma formation and the subsequent manufacture of excess vitamin D. In some cases, scar tissue develops on the effected organs, exacerbating the problem. In the inactive phase, inflammation is reduced, resulting in fewer or no symptoms.
While sarcoidosis most commonly manifests in the lungs, eyes, skin, lymph nodes, and liver, is has also been known to affect the heart and nervous system, including the brain. In very rare cases, sarcoidosis can also affect the kidneys, reproductive organs, and thyroid. Worsening of the disease occurs slowly, in some cases over the course of years. The cause is unknown, and while treatment can help alleviate symptoms, there is no known cure.
Patients with sarcoidosis and vitamin D toxicity should limit exposure to sunlight, which creates vitamin D in the body. They should also avoid consuming foods that are high in vitamin D, such as milk products. Patients who take vitamins should be careful to avoid those containing vitamin D.
AS FEATURED ON:
AS FEATURED ON:

By: Mara Zemgaliete

Vitamin D supplements.

By: Nitr

Milk is typically fortified with vitamin D.

By: Laurent Hamels

Symptoms of sarcoidosis and vitamin D toxicity may include eye pain.