What is the Sebaceous Gland?
The sebaceous gland is a microscopic gland found in a person's skin. In fact, the skin contains many of these glands, which produce and secrete sebum. Sebum is a yellowish, waxy substance that has an oily feel to it. It helps keep a person's skin and hair from becoming too dry.
Sebaceous glands are attached to the bottom of hair follicles in the skin. Cells within the sebaceous gland have the job of producing sebum. In time, these special cells burst, releasing the sebum to travel through the hair follicle shaft or duct and onto the surface of the skin or scalp. The sebum secreted by the sebaceous gland consists of three different components: wax, fat, and dead cells.
Most of a person's sebaceous glands are on the parts of the body normally covered by the most hair. They are most prevalent in the skin of the scalp and face. These glands are found almost all over the body, however, even in areas with few hair follicles. A person's palms and soles of his feet are the two areas that lack sebaceous glands.
Interestingly, sebaceous glands are also found in parts of the skin that usually lack hair. They are found on a person's eyelids, nose, and nipples. They are also found on parts of the genitals that are entirely devoid of hair. In these places, the sebum doesn't travel through hair ducts. Instead, it moves from the sebaceous gland and through a different type of duct to pores that normally release sweat onto the skin. Sebum is also found in earwax.
The rim of the human eyelid is also home to a special type of sebaceous gland called a meibomian gland. This type of gland works by moving sebum into the tears that form a film or coating on the eye, preventing tear evaporation. The sebum secreted by the meibomian gland also helps to make the seal of a person's closed eyelids tight and stops tears from moving out of the eye and onto the cheeks when an individual isn't crying.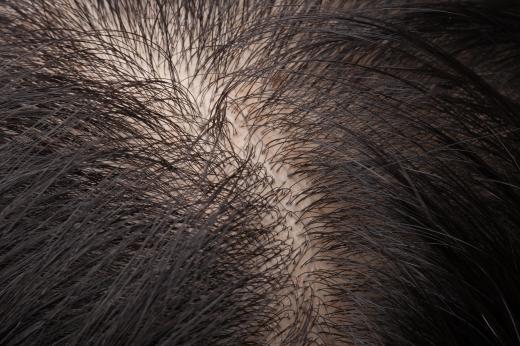 When the sebaceous glands produce sebum, the substance usually lacks any odor. It can produce odor, however, as it begins to break down on the skin. This substance can be responsible for making some people have oily hair, especially if hair washing is done infrequently and during episodes of hot weather.
AS FEATURED ON:
AS FEATURED ON:

By: Delphimages

Sebaceous glands can be found on a person's eyelids.

By: Chepko Danil

Sebaceous glands on the eyelid prevent tears from rolling out of the eye when a person isn't crying.

By: phasinphoto

Sebaceous glands are most prevalent in the skin of the scalp.

By: Ariwasabi

Infrequent hair washing may cause some people to have oily hair.

By: jedi-master

Sebaceous glands expel oil through the same pores used for sweating.