What are Inflammatory Cytokines?
Cytokines are several different types of substances that are produced by cells within the immune system that relay signals between the immune system cells. Sometimes referred to as polypeptide regulators, there are two groups of inflammatory cytokines, each with their own particular characteristics and functions.
One form is known as the pro-inflammatory polypeptide regulators. These types of cytokines are created primarily by immune cells that are engaged in the process of amplifying inflammatory reactions as a means of dealing with some sort of health threat to the body. By relaying messages between the cells, these cytokines help to trigger the immune system's rate of response to whatever threat is present.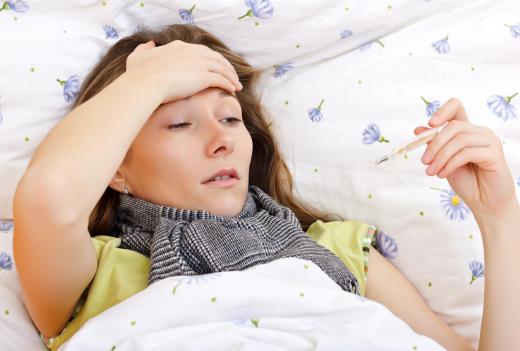 Along with the pro-inflammatory cytokines, there is also anti-inflammatory cytokines. These have the opposite effect, in that they help to limit of inflammation present. This means that both types of cytokines often work to balance each other as they stimulate cell production and effect communication between cells. Because of this close relationship, many researchers tend to downplay the distinction of each type, since both can be simultaneously working on the same cell at any given point in time.
There are several factors that will influence the overall effect of these cytokines. The particular mix of pro and anti-inflammatory cytokines present is one example. The nature of the cells involved in the process is also very important, however, as is the general environment where the cell resides and the types of cells that are in the immediate area. In addition, the actions of the cytokines will also depend on the current growth rate of the cell in question.
A phenomenon involving the function of inflammatory cytokines is sometimes known as a cytokine storm. Essentially, this is a situation where the balance of communication between immune cells and the cytokines present is interrupted. As a result, the rate of production accelerates and can lead to serious health issues.
When the polypeptide regulators are involved in some sort of storm situation, there is a loopback created between both types of cytokines and the immune cells. This results is a runaway production pace that has the effect of exacerbating the ill effects of a condition, rather than helping the immune system deal effectively with whatever is ailing the body. There are several common signs that indicate that a storm is present, including fever, body aches and nausea, along with stronger symptoms that are related directly to the ailment itself. If not corrected, the results can prove fatal.
AS FEATURED ON:
AS FEATURED ON:

By: Ocskay Bence

Fever and body aches may be indicative of a cytokine storm.

By: Ana Blazic Pavlovic

Nausea may be present during a cytokine storm.

By: psdesign1

Cytokine storm is the body's over-reaction to infection.