What Are the Different Types of Hospital Bed Equipment?
There are many different types of hospital bed equipment, each of which is carefully designed to ensure both patient safety and ease of access for medical staff. The most essential components of hospital beds are the frames, mattresses, and side rails. Other types of equipment include accessories such as bed trays, therapeutic extensions such as anti-embolism boots, and the different types of linens or pads used on the bed.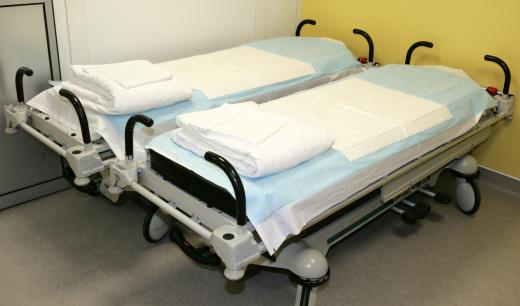 The most important pieces of hospital bed equipment are those that actually make up the bed itself. Sturdy frames with wheels that can be locked are important because they allow patients who cannot be moved from their bed to a gurney or wheelchair to be more easily transported to other locations. Mattresses are designed to withstand frequent soiling without trapping in moisture that can lead to bacterial growth. The rails on the side of the bed must be able to be completely raised and lowered with ease, yet also lock into place to prevent falling accidents.
Bedding is also important to consider when choosing hospital bed equipment. Like the mattresses, sheets and pillowcases must be able to withstand frequent soiling and repeated washing. Mattress pads are often placed under the sheets to further absorb moisture. Unlike pads for home use, these typically do not go around the edges of the mattress, but rather are placed in the middle of the bed so they can easily be removed when necessary.
Bedside trays, which are designed to be pulled across the middle of the bed and adjust to different heights, are another common type of hospital bed equipment. These trays are used for mealtime, and as work surfaces for both patients and medical staff. Many types of trays have small compartments that allow patients to keep essential personal objects, such as glasses or hearing aids, close to their bed.
Therapeutic hospital bed equipment may also be added to a number of beds throughout the hospital. Beds in wards that primarily treat post-operative patients, especially those who will be immobilized for several days, often attach special motorized plastic boots designed to stimulate blood flow and prevent clotting from occurring to the foot of the bed. Many beds also have built in oxygen tank holders that allow patients on oxygen to be more easily transported.
Motorized or electronic hospital bed equipment is used in many hospitals to make adjusting the bed easier on both the patients and the staff. While electronic beds are not essential to the well-being of a patient, older beds featuring hand or foot cranks can be difficult to work. Additional convenience feature include controls for nurse call buttons, lights, and even the television in easy reach of patients on side rail panels.


By: Andrea Arnold

Hospital beds should be sturdy and have electronic controls that assist with patient comfort and safety.

By: Agence DER

A sturdy frame and lockable wheels are the most important components of a hospital bed.

By: MIGUEL GARCIA SAAVED

Mattresses, sheets, pillows and other accessories used for hospital beds must be able to withstand frequent soiling and repeated washing.