What are the Pros and Cons of a Trapeziectomy?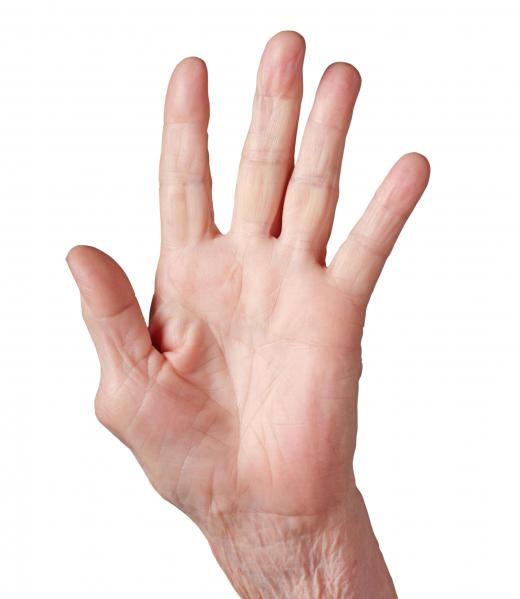 Trapeziectomy is a type of hand surgery used to treat arthritis of the lower end of the thumb. The procedure involves the removal of a bone called the trapezium, which forms the thumb's base. Potential benefits of the operation include improved thumb function and relief from stiffness and pain. Possible negative effects, while uncommon, can include infection, loss of skin sensation and, very rarely, chronic regional pain syndrome, where the hand become severely painful and swollen. Recovering from the surgery takes time, and it could be three to six months before strenuous activities are possible.
The kind of thumb arthritis that is treated with this procedure is known as osteoarthritis. Osteoarthritis generally results from gradual wear and tear affecting joint surfaces. As the thumb is used so frequently in daily activities, osteoarthritis of the thumb is a common condition. Symptoms of stiffness and pain are typically experienced, and the thumb may become deformed. The main benefit of a trapeziectomy is that, when other treatments such as painkillers, splints, and steroid injections fail to work, this surgical procedure may provide relief.
In order to carry out a trapeziectomy, a general anesthetic may be required, although a regional anesthetic, which numbs only the arm, may be used. A cut is made near the thumb's base and the trapezium bone is extracted through it. The resulting space in the joint means that damaged bone surfaces are no longer moving against one another.
A drawback of this surgery is that it is not possible to use the hand normally for a while after the operation. Sometimes, the thumb is held in position using a wire, which sticks out through the skin and is typically removed a few weeks following thumb surgery. A plaster dressing is applied to the thumb for the first few weeks while healing takes place. This is then replaced by a splint, which is worn for about six weeks, and hand exercises are generally carried out under the supervision of a physiotherapist. It may be necessary to wear a softer splint later while recovery continues.
While risks associated with trapeziectomies are low, it is possible that the operation site may become infected, requiring treatment with antibiotic medication. Rarely, bleeding may occur under the skin, or nerves may be damaged leading to numb areas of skin developing over the thumb. Chronic regional pain syndrome, also known as complex regional pain syndrome, is an extremely rare complication that can occur following any type of hand surgery. The hand is affected by extreme pain, swelling, and loss of movement, and it can take several months to treat the condition using a combination of painkilling drugs and physiotherapy.


By: aboikis

A thumb with osteoarthritis.

By: aykuterd

Physical therapy must be used to prevent loss of strength in the arm, and to regain motor control in the hand after a trapeziectomy.

By: joshya

Osteoarthritis generally results from gradual wear and tear affecting joint surfaces.

By: Photographee.eu

An individual may not be able to perform basic activities, such as teeth brushing, for a few weeks following a trapeziectomy.

By: Photographee.eu

Soaking the thumbs in warm water may help sooth arthritic thumbs.