ADHDAdvisor.org Review: Is It Worth The Buzz?
More and more businesses have begun moving online, including mental health services, but how effective is an online diagnosis and treatment, and are they worth your time? In this article, we'll review ADHDAdvisor.org, one of the top ADHD diagnosis and treatment companies to enter the market in recent years.
ADHDAdvisor.org Highlights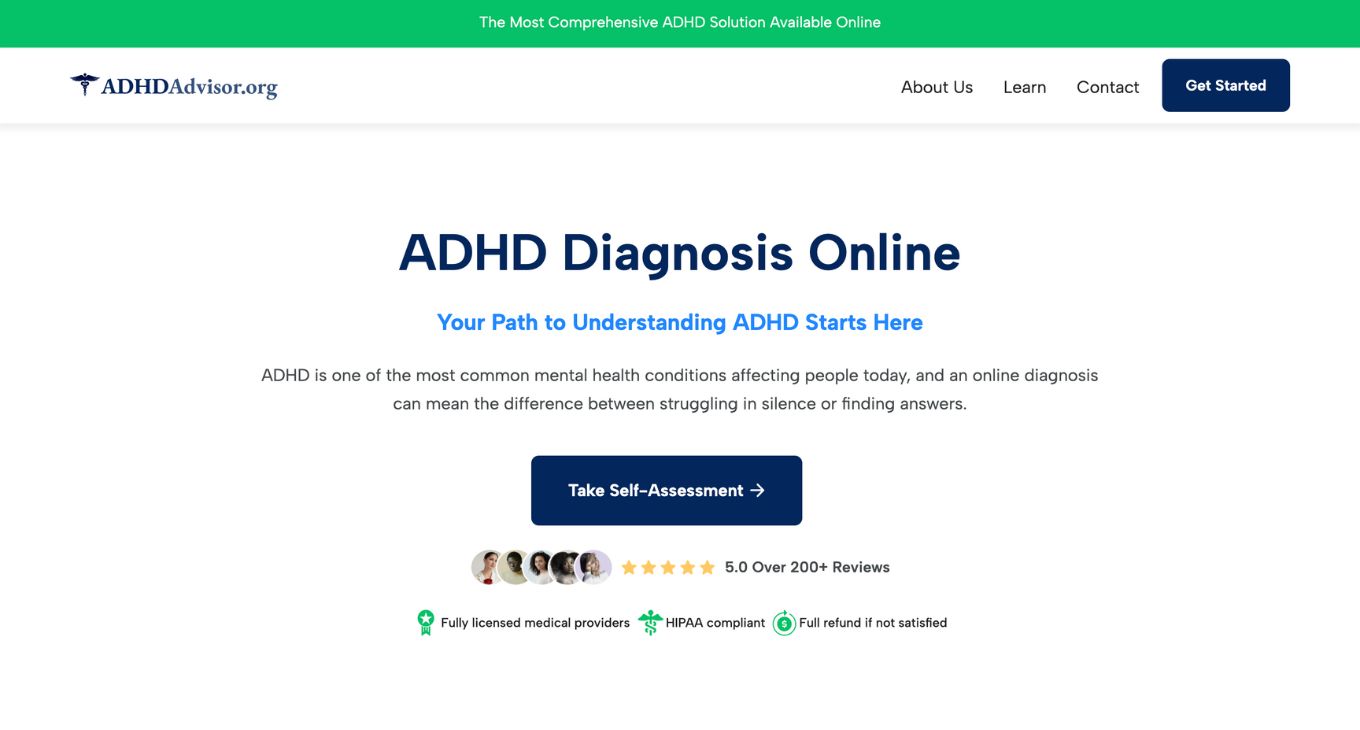 Before going over our more comprehensive ADHDAdvisor.org review, we thought it best to show you the pros, cons, and general impressions we got while testing the service.
Pros
Exceptional standards for therapists and overall care
Personalized treatment plan for each client
Quick, professional online diagnosis
Satisfaction money-back guarantee
Flexible scheduling options
Offers both medication and therapy for treatment options
Cons
May not be available in all states
Cannot prescribe stimulant medications
While ADHDAdvisor.org offers many of the same perks and advantages as other online ADHD companies, it stands out in its ability to provide both medication and therapy sessions, whereas many other companies only have one or the other.
This, on top of its genuinely impressive therapist standards and overall approach to treatment, made it one of our favorite options to diagnose and treat ADHD online.
ADHDAdvisor.org vs. Other Companies
Here's how ADHDAdvisor.org stacks up against some of the other top online ADHD services on the market.
What Is ADHDAdvisor.org?
ADHDAdvisor.org is an online network of licensed mental health professionals specializing in ADHD from all around the United States. By moving their services online, the company circumvents many of the time-consuming necessities of in-person treatment, such as long waiting lists and commutes.
While ADHDAdvisor.org is only one of several such companies available today, the organization seeks to stand out through its personalized approach to treatment, combining several different methods, if necessary, to achieve the best results for its patients.
In addition to its ADHD-related services, ADHDAdvisor.org's mental health network is also experienced in treating anxiety disorders, executive function issues, and other mental health conditions.
How ADHDAdvisor.org Works
While previous attempts at providing online therapy meant spending considerable time navigating paperwork, interviewing with different therapists, and all sorts of other red tape, modern companies like ADHDAdvisor.org have (thankfully) streamlined the process.
In our experience, ADHDAdvisor.org works in five basic steps, during each of which their customer service team is on hand to help with any questions or concerns.
Take the Complimentary Quiz
As is increasingly common with online medical services, ADHDAdvisor.org provides a quick but thorough ADHD symptom quiz to help potential clients decide whether a formal diagnosis appointment is right for them.
For us, this particular quiz took around five minutes, though we took extra time to gauge question quality and the quiz's structure. Also, we took the test multiple times, supplying different answers each time, to see how accurately it changed and adjusted to our responses.
All told, the results ranged from "You probably don't have ADHD, but you can still schedule a diagnosis if you want" to "There's a relatively high likelihood you have ADHD or a related mental condition, so we suggest a diagnostic appointment."
Schedule a Diagnosis Appointment
If your quiz results indicate you should book your ADHD diagnosis (or if you're already convinced you should, regardless of results), ADHDAdvisor.org will immediately get to work finding available therapists licensed in your area.
During this process, the site's matching team uses information from your quiz to compile a list of therapists who might work well with your personality, situation, and preferred therapy style. Once done, you sign off on a therapist, choose a date and time for your diagnosis appointment, and continue on with the other steps.
Set Up Your Patient Portal
In order to better facilitate your treatment plan, ADHDAdvisor.org has each client set up a private patient portal through which they can communicate with their therapist, track sessions, and view any test results. If needed, ADHDAdvisor.org will help guide you through the setup process, but we found it pretty self-explanatory, taking only a few minutes to get running.
Submit Intake Forms
Once you've finished setting up your account, ADHDAdvisor.org will ask for some additional information regarding your potential symptoms or medical history. Usually, this includes additional ADHD self-assessments that will help your matched therapist provide a more detailed diagnosis, so we highly suggest taking the time to fill these out thoroughly and carefully.
For those concerned about privacy, keep in mind that ADHDAdvisor.org is 100% HIPAA-compliant, meaning it offers the same confidentiality that you'd experience with a "normal" trip to the doctor.
Schedule Therapy Sessions
Depending on the results of your diagnosis appointment and how you feel about your matched therapist, you may want to continue therapy with ADHDAdvisor.org. When we tested the service, we chose to stay with our assigned therapist going forward.
Not only did this make scheduling faster and easier, but it also gave a sense of consistency to our treatment that we found very valuable. When scheduling, ADHDAdvisor.org gave us the freedom to select the frequency of our therapy sessions, which also was a point in their favor.
Different Treatment Plans Available
Most online mental health services focus on one type of treatment plan, but ADHDAdvisor.org innovates on this feature of the industry by blending three distinct approaches.
Medication Management
Because we were only testing the service, we opted not to go the route of medication. That said, ADHDAdvisor.org was noticeably different from some other online mental health services we tried in the sense that we never felt pressured or "funneled" toward medication as the solution. While non-stimulants were always on the table if we felt them appropriate, our therapist was more than happy to default to other methods, such as therapy or coaching.
Also, it's important to note that online services are less and less likely to offer prescription stimulants, partially due to the abuse and over-prescribing that took place with other ADHD services in the past. Still, ADHDAdvisor.org will connect with your primary care physician to help coordinate stimulant medications if they're appropriate.
One-on-One Therapy
For most people, the one-on-one therapy sessions offered by ADHDAdvisor.org will likely have the most life-changing effects. During these sessions, you'll work with your paired mental health professional to unpack the effects and ramifications of your ADHD, many of which you may not even recognize until you begin therapy.
Typically, these range from significant problems with self-esteem and self-confidence to learned defense mechanisms in social or professional settings. Therapy sessions like these can span a few months, a few years, or a lifetime and are (in our experience in the mental health space) one of the best investments a person can make.
This type of therapy is especially valuable in adults with undiagnosed or untreated ADHD, many of whom develop related mental health conditions, such as anxiety disorders or depression. By treating your mental health struggles at their source (in this case, ADHD), many people see improvements in far more areas of life than they expected.
Success Coaching
Going into the process, we were unsure how ADHDAdvisor.org's "success coaching" would differ from traditional therapy. To be honest, we were a bit suspicious that it was just an attempt to add buzzwords to their page, but we were willing to be proven wrong. Fortunately, that's exactly what happened.
To put it clearly (and, honestly, ADHDAdvisor.org could do a better job of explaining this on their website), success coaching is much more real-world goal-oriented than therapy. Whereas most therapy sessions aim to undo the harm caused by living with untreated ADHD, such as feelings of frustration or self-doubt, success coaching focuses on skill-building and objective goals.
These goals differ from person to person but could be anything from learning how to build and manage a budget in a way that works with your ADHD to learning better ways to self-regulate in social settings.
Keep in mind, however, that success coaches are not required to be licensed in the same way as therapists, so strict standards (like those from ADHDAdvisor.org) are essential.
Finally, success coaching sessions with ADHDAdvisor.org are substantially cheaper than therapy sessions, though we would probably suggest a mixture of both for most people looking to better manage their ADHD.
The Bottom Line: Would I Recommend ADHDAdvisor.org?
In a word? Yes. While the internet is home to a few reliable therapy companies, few go the extra mile the way ADHDAdvisor.org does. Rather than limiting their services to medications like so many of their competitors, ADHDAdvisor.org combines medication management, therapy sessions, and success coaching to develop a personalized treatment plan to fit each patient's needs.
Even better, with only one quiz, two phone calls, and a couple of minutes setting up an account, we were paired with a more compatible therapist than we would have found on our own, even with months of trial and error.
For those curious about ADHDAdvisor.org and whether a formal ADHD diagnosis might be appropriate for them, we suggest checking out the company's site and seeing for yourself whether they're the right fit. With their money-back guarantee, there's no risk to you, and their matching team can get to work right away to find you the ideal therapist.
For those still on the fence about ADHDAdvisor.org, it might be helpful to see how others have found the platform to be beneficial or lacking. There are several other reviews and recommendations available online that provide different perspectives on the services offered by ADHDAdvisor.org. For instance, a detailed ADHDAdvisor.org review on WiseGeek offers a well-rounded insight into the user experience, while the Scholarship Insitute's review delves into the specifics of online diagnosis through the platform. By exploring these reviews, potential users can garner a better understanding of what to expect and whether ADHDAdvisor.org aligns with their personal needs and expectations.