Vitamin D is a fat-soluble vitamin that is considered to be important to the healthy function of the human body. Several different types of this vitamin have been identified, including ergocalciferol (Vitamin D1) and cholecalciferol (Vitamin D3). These various types help the body to absorb other nutrients in the bloodstream as well as promoting healthy bone formation and maintenance.
Research does offer support for many of the claims for the importance of vitamin D in the diet. Both traditional and alternative medical practitioners make use of the vitamin when dealing with such ailments as alcoholism, constipation, cramps, eye infections, and various types of allergies. One of the reasons for the varied applications of this nutrient has to do with the fact that it helps to regulate the absorption of other vitamins and minerals in the bloodstream.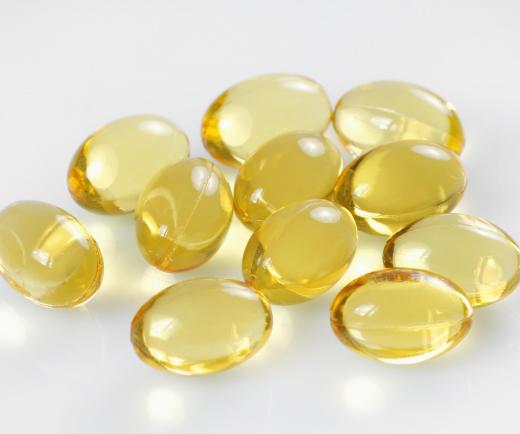 There are a number of food sources for vitamin D, including dairy products, such as milk and butter, egg yolks, and tuna and sardines. Several green leafy vegetables, such as spinach, provide a good source of the vitamin in a single serving. Natural sources are usually most easily absorbed by the body.
Several common herbs are offer this vitamin, including eyebright, alfalfa, and fenugreek. The consumption of these herbs can be an excellent way for people with dairy allergies or who choose to enjoy a vegan diet to still get enough of this nutrient. Vitamin D supplements in capsule and tablet form are also available.
Along with consuming foods or taking supplements, short periods spent in sunlight will also help. Direct contact with a limited amount of natural sunlight helps the body to make its own vitamin D3. The same effect cannot be obtained with the use of artificial light.
Deficiencies in vitamin D can lead to softening of the bones, as well as decreasing the ability of the body to make use of calcium and phosphorus. The body may also not be able to clot blood as well. In some instances, a deficiency can affect the brain and nervous system, reducing the body's ability to respond properly to stress, decreasing the efficiency of the liver, and even triggering heart palpitations. There is also some evidence that a lack of this vitamin can increase a person's risk of developing colon cancer.
AS FEATURED ON:
AS FEATURED ON:

By: Mara Zemgaliete

Vitamin D supplements.

By: Elenathewise

Alfalfa is a good source of vitamin D.

By: jedi-master

Fenugreek is a good source of Vitamin D.

By: kmiragaya

Vitamin D is useful in treating alcoholism.

By: nito

Sardines are a good source of vitamin D.

By: anjelagr

Spinach contains a high level of vitamin D.