Best Weighted Blankets for Hot Sleepers
Blankets with added weight have become quite the rage recently. They "hug" you differently compared to a normal blanket, and people who own them tout impressive benefits like better sleep and reduced anxiety, while helping with a host of other conditions like depression, ADHD, and autism.
That all sounds great, but what if you're a hot sleeper? Well fear not – I've done extensive research on how to get the best benefits of weighted blankets without having to worry about getting overheated, or worse, waking up in a pool of sweat.
Now you can rest easy with this comprehensive list of the best heavy blankets for hot sleepers. Intrigued? Read on.
Our Method Of Selecting These Weighted Blankets
Blankets with added weight come in many sizes, fabrics, and weight options. Choosing a blanket based on all of these factors can be overwhelming, especially when a good night's sleep depends on your choice. Here are the factors that are taken into consideration to develop a list of the best blankets with added weight.
Selecting blankets with added weight
Most blankets with added weights have removable covers, but they don't always have a cooling cover. That's an important factor for people who have a high body temperature when sleeping. Some factors for selecting the right blanket include a blanket's ability to regulate body temperature and whether or not the blanket has a soft cotton shell and moisture-wicking materials. These materials work together to provide anyone with the ability to fall asleep quickly and comfortably.
The blankets listed below were analyzed on all of these factors, resulting in an easy-to-read pros and cons list for each blanket selected. The blankets chosen were analyzed based on the materials used, the comfort of the weighted materials, the effectiveness of stress-relieving properties, and the blanket's use of breathable fabrics for a well-rounded product. The blankets listed below were also analyzed for the properties that make them best for people who sleep warm.
After extensive searching and researching medically reviewed sources, I selected the best blankets that came highly recommended and also have stellar Amazon customer reviews. Other weighted blankets won't compare to these top ten cooling weighted blankets. I kept an eye out for key features, such as even weight distribution and the use of cooling fabric. If you tend to sleep on the warmer side and are looking for a cooling weighted blanket, this is the list for you.
The 10 Best Weighted Blankets for Hot Sleepers
CoolZen Ultra-Cooling Weighted Blanket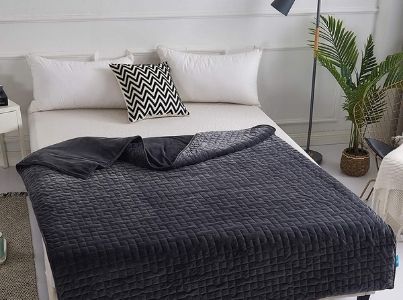 Overall Best Weighted Blanket for Hot Sleepers
The CoolZen blanket is the optimal choice for those who tend to get hot at night.
Designed with a unique blend of fabrics, it excels in breathability and cooling properties. It also comes with a duvet that's plush and warm – giving you options for every season of the year. The duvet has 12 attachment points to connect with the blanket, all easily concealable when not in use – so the blanket still looks sleek and cozy on its own.
Another favorite feature of CoolZen's blanket is the masterful way it's designed to keep the weight distribution even through the blanket. The weight comes from fine glass beads (that's right, no plastic), so the blanket moves quietly and with ease. It's made with small stitching and a 7-layer construction to keep all the beads contained and prevent leaking.
It also features a unique chevron patterned quilting. Most blankets with added weight have square pockets to keep the weight spread out evenly. But these often cause beads to pool in corners, causing the blanket to feel somewhat bunchy and lumpy. With the chevron pattern, when beads shift to the corners, that weight is distributed to the middle of the neighboring chevron, leaving you with an evenly spread snuggly hug feeling throughout the blanket.
How CoolZen Feels
CoolZen ultra-cooling material is, as the name suggests, ultra-cooling. The blanket itself is made of 100% cotton, making it extremely breathable and soft, even with the extra weight. It comes pre-washed but can be hand-washed or dry cleaned as needed.
For cooler nights, you can attach the plush minky duvet for extra warmth. This is machine-washable and retains its super-softness even after several washes. It also has a heavy-duty zipper that doesn't snag and is sure to last you a long time.
Bottom Line:
A durable, cozy blanket with cooling fabric for warmer months, and a warm duvet for cooler seasons. With a masterful design that evenly spreads weight, this is the perfect "cocoon" to snuggle up in and relieve the stress of daily life.
LUNA Weighted Blanket
Weighted Blanket for Hot Sleepers With the Most Choices
LUNA offers its blankets with added weight in several sizes, weights, colors, and patterns. They even include sizes and weights appropriate for kids (though it's generally recommended that children not use heavy blankets until they are at least 5 years old).
The blanket itself must be washed cold, on a gentle setting or hand-washed, and is recommended to be hung out to dry (though it can be tumble dried on low heat, if necessary). To ease the laundering process, you can purchase a duvet separately to cover the blanket using its 8 attachment points.
How LUNA Feels
LUNA's hypoallergenic blanket is 100% cotton, making it cooling and breathable. And at 400 thread count, it's super soft, too. The glass-bead filling is held in place with double-stitched seams and a square quilted pattern that keeps the weight evenly distributed throughout the blanket. Though the square pattern may not be as effective as chevron in spreading the weight, LUNA's blanket manages the job pretty well.
Bottom Line:
LUNA is a quality, cozy, breathable blanket that offers plenty of choices for weight, size, color, and pattern, so it can benefit anyone seeking the benefits of a weighted blanket.
Gravity Cooling Blanket
Best High-End Weighted Blanket for Hot Sleepers
If you want to splurge on something high-end, Gravity's Cooling Weighted Blanket is a great option. Gravity is a well-known company in the blanket industry. In fact, though blankets with added weight existed before them, their original Kickstarter drew more eyes to the blankets with added weight trend.
Gravity's blanket has cooling effects and comes in multiple weights, but it only comes in one throw blanket size. While the blanket itself must be hand washed and air dried, the cover is machine washable and comes in gray, navy, and white.
How Gravity Feels
Gravity's blanket is made of cotton, while the cover is a moisture-wicking material that draws the heat away from your body during the night. While some reviewers do say the fabric feels stiff, most agree it feels cool and sleek. The blanket also contains glass beads for filler, which allow for better temperature control than cheaper plastic pellets.
The square quilt pattern helps to keep the weighted beads evenly distributed throughout the blanket. The blanket also stays evenly spread inside the duvet with 4 dual button and tie fasteners and a zipper to close it off.
Bottom Line:
Gravity Cooling Weighted Blanket is a wonderful high-end option for hot sleepers. It comes complete with a moisture-wicking cover that's easy to care for and comfy to cuddle up and sleep with.
YnM Bamboo Weighted Blanket
Best Bamboo Weighted Blanket Option for Hot Sleepers
A favorite budget-friendly option, YnM Bamboo's Blanket is made of 100% viscose from bamboo, making it a cooling option for hot sleepers to enjoy. Bamboo is known as being an extremely breathable fabric, said to be 1-3 degrees cooler than 100% cotton.
YnM's bamboo blanket also comes in a variety of sizes, weights, patterns, and colors, giving you plenty of options to choose from. Though a cover must be bought separately, the blanket has 8 hooks for connecting to a duvet. The blanket itself can be machine-washed from time to time, but hand washing is preferable to keep up its long life.
How YnM Feels
The YnM blanket's bamboo material makes it smooth and silky to the touch. It also has fine stitching and smaller squares in its quilted pattern, to keep the glass beads locked in place for more even weight distribution. It also contains more beads and less fiber fill to keep the blanket nice and cool.
Bottom Line:
YnM is a favorite among hot sleepers, especially those looking for a budget-friendly option. The bamboo blanket is cool, breathable, and soft, with even weight distribution and plenty of options for size, weight, color, and pattern.
Baloo Weighted Blanket
Best Hot-Sleeper Weighted Blanket Aesthetic Without Cover
The Baloo Blanket comes in a variety of size and weight options, including a nice 12-pound throw that can be used decoratively. This quality blanket comes only in white, looking clean and lovely against any backdrop. Its unique quilted design features squares and piping bordering the squares.
Not only is Baloo's blanket aesthetically pleasing, but it's also conveniently machine washable. It just needs to be run through with cold water on a gentle cycle. It also dries quickly, with no need for dry cleaning.
How Baloo Feels
The Baloo blanket contains glass microbeads for better temperature control. The seams are double-stitched to keep all the weight securely in place. The unique square quilt design not only looks beautiful, but it also spreads the weighted beads out evenly across the blanket. And, of course, with 100% cotton fabric, it's cooling and breathable.
While the blanket itself doesn't come with a cover, you can buy a linen duvet from Baloo separately and attach to the blanket with 6 tie hooks. However, given that the blanket is machine-washable on its own, it may be easier to care for on its own – without a protective cover.
Bottom Line:
Baloo blanket is a lovely option not only for hot sleepers but for those looking to keep a clean, pleasant, peaceful look in the bedroom or living room. It's easy to care for, stays evenly spread, and keeps you cool through the night.
Luxome 100% Bamboo Cooling Weighted Blanket
Best Weighted Blanket for Hot Sleepers with Double-Sided Cover Option
Luxome's Cooling Blanket has duvet options in bamboo, minky, or a double-sided option featuring both minky and bamboo. You can sleep with the bamboo side against your skin in the warmer months and then flip it to the plush side for cooler months for those who prefer this style.
The blanket has extra ties to attach to the cover so it doesn't bunch. The cover also has a hidden zipper within the seam, so it's inconspicuous. The cover is machine-washable, as usual, but the blanket itself is quite durable and can be machine washed and dried, as well, which adds to its convenience.
How Luxome Feels
For the bamboo duvet, Luxome only uses only 300 thread count lyocell (or organic) bamboo, which is softer and safer than the cheaper alternative, viscose bamboo. The blanket itself is made of 100% percale cotton, another cooling material. Though some reviewers still comment that it's too hot, most seem to find the blanket quite breathable.
Though a more expensive choice, Luxome strives to use only the highest quality fabrics that are durable, cooling, and soft, so they can use fewer layers and avoid adding extra heat. The glass beads within the blanket stay evenly spread throughout, giving you a nice, even cuddled feeling.
Bottom Line:
Luxome blanket is all about offering choices for coolness, warmth, or a bit of both for the indecisive. They use organic materials to construct their blankets and duvets, so it's better-quality and more sustainable.
Syrinx Cooling Weighted Blanket
Best Budget Weighted Blanket for Hot Sleepers
Syrinx Blanket with cooling effects is one of the most affordable options out there – and definitely one of the best quality out of the lower-budget choices. It offers a good range of size and weight varieties in which to order the blanket, as well.
One thing to keep in mind, though, is that the blanket can't be machine-washed – only spot or dry cleaned. While a duvet can make cleaning and caring easier, the Syrinx doesn't come with one included (though it does feature 8 loops to tie to one). So if you know you'd prefer a duvet, consider the fact that buying one separately may total your overall purchase to be less budget-friendly.
How Syrinx Feels
Syrinx is made with a breathable fabric (though it's not entirely clear if it's 100% cotton). The six layers of quilting help keep the glass beads distributed evenly throughout the square pockets. The beads stay quiet as you shift around. One of the layers is polyester, which sometimes has been known to add heat – so that's something to keep in mind.
Bottom Line:
Syrinx is a great choice for those looking for an affordable option or perhaps trying out a stress-relieving blanket with added weight for the first time and deciding if it's worth the investment.
ZonLi Cooling Weighted Blanket
Best (Less-Expensive) Bamboo Weighted Blanket for Hot Sleepers
ZonLi Cooling Blanket provides an additional, less-expensive bamboo blanket option. Bamboo fabric can be quite cooling. It comes in a handful of size and weight choices, and this blanket is available in many colors.
ZonLi's blanket can technically be washed in a machine on a cold, gentle cycle, though it's not recommended. To make maintenance easier, you can purchase a cover separately and secure to the blanket with the 8 loops sewn around the border.
How ZonLi Feels
This blanket is 100% viscose from bamboo. While this isn't quite as high-quality as the organic lyocell bamboo mentioned earlier, it still has a soft, breathable feel to it. It contains glass material (more cooling than some other fillers), which are kept in place with a small square pattern and tight stitching to prevent bead leakage (although some reviewers mentioned beads spilling out).
Bottom Line:
The ZonLi blanket offers a cheaper alternative for those looking for something made with cooling bamboo material. Choose from their size and weight options, and consider adding a cover for easier care.
Degrees of Comfort Cooling Weighted Blanket
Best Weighted Blanket for Hot Sleepers with Seasonal Options
Degrees of Comfort Weighted Blanket comes with two duvet options included with a purchase of the blanket. One is Coolmax, made of cooling, moisture-wicking material. The other is a minky plush Cozyheat. Both covers are machine washable (though the blanket itself is not).
Degrees of Comfort blanket is available in a variety of choices for sizes, weights, and different duvets. The blanket has 10 anchor points for fastening to a cover, so it's sure to stay in place.
How Degrees of Comfort Feels
Besides being a wonderful heavy blanket option for year-round use, with insightful inclusions of both cool and warm covers, Degrees of Comfort also has a unique filling.
Rather than using glass pellets, it uses nano-ceramic beads, which the company says feel smoother and less clumpy within the blanket. They also say these beads are more durable than plastic yet more comfortable than glass. They're denser, too, so the blanket requires less filling for the same weight.
The beads are kept in place with small square quilted pockets throughout the blanket. This helps keep the weight distributed evenly, keeping it comfortable and minimizing frustration.
Bottom Line:
Degrees of Comfort blanket is an affordable option for hot sleepers and for warm sleepers. It's made for all seasons of the year, and you get everything you need with just one purchase.
CuteKing Cooling Weighted Blanket
Largest Weighted Blanket Option for Hot Sleepers
CuteKing Cooling Blanket comes in a range of sizes and weights. But they boast the largest cooling heavy blanket out there – 104 x 88 inches – which can easily fit on a king bed, or even California King, and be used by two people at once.
CuteKing's blanket is technically machine-washable on a gentle setting, but is recommended to be dry cleaned or hand washed instead. It also doesn't include a cover, so you must purchase one separately and fasten together the six attachment ties.
How CuteKing Feels
Made of 100% durable, breathable cotton, CuteKing is filled with more glass microbeads and less fiber (which adds to its cooling capability). It features a square pattern to help with weight distribution and 7 layers to lock in beads and help with temperature control. One of these layers is polyester, which could potentially add to the heat it holds in, so it may not be best for warmer climates.
Bottom Line:
CuteKing Cooling Blanket is a great option for a hot sleeper looking for something large enough to share with a partner and/or fit across a king-sized bed.
What Is A Weighted Blanket?
A weighted blanket is a blanket with added weight to it – typically ranging from 5-30 pounds. Typically, the blanket is filled with micro-glass beads or plastic pellets to add to their weight, though some brands use other methods.
The idea behind a blanket with added weight is that the extra weight feels like a hug, helping those with sensory challenges, anxiety, or insomnia to feel safe and secure at night. Many say they toss and turn less at night when using a heavy blanket, which helps them to sleep more deeply.
How Do Weighted Blankets Work?
Heavy blankets are filled with weight which is often locked in place with some type of quilted pattern, to avoid filler and weight all shifting to one spot within the blanket. They use deep touch stimulation to mimic the feeling of a hug or snuggling, which can help the body release oxytocin and serotonin and can lower cortisol. All of which helps one to feel calm and peaceful.
How To Choose A Weighted Blanket For Hot Sleepers
One of the biggest hindrances for people interested in blankets with added weight is that the added weight tends to add heat, as well. For hot sleepers, that is not desirable. A cooling weighted blanket works wonders for a person's sleep. But there are features to look for that can help combat this issue.
What To Consider When Purchasing A Weighted Blanket For Hot Sleepers
Price
Blankets with added weight tend to run between $100-$300, but there are many affordable options under $100, as well. Keep in mind, the price you are willing to pay may also determine the quality of materials and design that you pay for.
Weight
It's typically recommended to choose a blanket with added weight that's about 10% of your body weight. But you need to factor in your personal preference, too. Anything between 5-12% of your weight could work, and ultimately testing blankets out is the only way to know the weight that feels best for you.
Materials
The breathability of a weighted, heavy blanket is significantly impacted by the fabric used to make the blanket (and the cover, if you use one). Cotton and bamboo are cooling fabrics, while polyester and other synthetics often trap body heat. Some companies create a special blend of fabrics that can cool or even wick the moisture away from your body, so you stay cool and dry.
Filling
Not all blanket fillers with added weight are created equal, and some tend to trap heat more than others. For example, plastic pellets tend to be warmer, while evenly distributed glass beads make a blanket more breathable.
Cleaning and Care
Most of the time, heavy blankets cannot be machine washed, and can only be hand washed and air dried, spot cleaned, or dry cleaned. That's why it's highly recommended to use a cover along with your blanket, as these are generally much easier to run through a washing and drying machine at home. Some blankets with added weight, however, can hold up through a laundering cycle at home.
What Are The Benefits Of Weighted Blankets?
There are many benefits of using weighted blankets, including, but not limited to the following:
Weighted Blankets Can Improve Your Sleep
Heavy blankets have been found to help those who have anxiety or insomnia to calm down for sleep, as it increases dopamine and reduces cortisol. One study from the Journal of Sleep Medicine and Disorders showed that it helped the user to lie still, thus getting a deeper, more restful sleep. This is especially helpful for those who suffer from restless leg syndrome. The deep touch pressure stimulation a heavy blanket can offer has been shown to increase melatonin and serotonin, which also help to improve peaceful sleep.
Weighted Blankets Can Have a Calming Effect
Heavy blankets simulate the feeling of a hug, which releases oxytocin, or the "cuddle hormone." This hormone helps lower your blood pressure and feel calm, secure, and loved. This is why blankets with added weight can be so helpful for those with anxiety, OCD, PTSD, depression, or bipolar disorder.
Weighted Blankets Can Help Calm Those with Autism, ADHD, or Sensory Issues
A blanket with added weight can help those with sensory sensitivities, because it can help desensitize them to the feeling of being touched, with the deep touch pressure it gives. It can help offer a feeling of safety and security, which can help the user to relax and focus.
How Do You Clean A Weighted Blanket?
How to clean a blanket with added weight depends entirely on the brand and style itself. The durability and various materials that make up the inside and outside of the blanket may lend themselves better to one style of washing or another. It's important with any blanket you choose to carefully read and follow the included instructions for cleaning and maintenance. A removable cover can help keep your blanket clean, much like a removable duvet cover.
The cleaning instructions for weight blankets tend to fall into one of these methods:
Spot Clean or Dry Clean Only
These weighted blankets can only be spot or dry cleaned and should not be machine washed or dried at all, as this could damage them.
Machine Wash and Dry Cover Only
Some blankets with added weight cannot wash the inner layer in a machine, but the duvet or cover can easily be washed and dried in a machine at home.
Machine Wash, Air Dry Blanket
Some multi-layered blankets allow the inner layer itself to be machine washed (often on a cold, gentle cycle). However, some blankets cannot withstand the harsh drying of a machine and must be air-dried, instead.
Machine Wash and Dry Blanket
Finally, some blankets with added weight are able to be both machine-washed and machine-dried. And in that case, that goes for both the cover and the inner layer itself. These styles of blankets typically will include washing instructions so that the blanket can be properly cleaned without ruining it.
What Size Weighted Blanket Should I Get?
One thing to keep in mind with weighted blanket sizing is that they generally run smaller than typical comforters that hang off the edge of the bed. Instead, they are made to fit only over your body. This is intentional because the weight is meant to cocoon the user, not to hang off the bed and drag you down.
Because of this, blankets with added weight are typically meant to be used by a single person and not shared. This is because the weight needs to suit the person using it and distribute over the body evenly. When you add another person of a different weight to the equation, it can complicate things. This is why the most common sizes for blankets with extra weight are twin-sized and queen-sized.
That said, some companies do make larger blankets of heavier weight that are meant to be used by two people. Just keep in mind that the weight may not evenly spread over the two people the way they might need it. But ultimately, this is all up to your preference.
How Heavy Should A Weighted Blanket Be?
It's typically recommended to use a blanket with added weight that's roughly 5-12% of the weight of your body, the optimal percentage being 10%. This is another area where you can decide based on personal preference which weight would feel best for your body.
The Science of Weighted Blankets
Weighted blankets work because they offer something called deep touch therapy, also called deep touch stimulation. This is a firm but gentle type of pressure that calms the nervous system.
Deep touch therapy first rose to fame thanks to Temple Grandin. A scientist and autism advocate, among other things, Grandin discovered as a child that while she hated gentle touch but craved firmer touch. At the age of 18, she created her squeeze machine. This machine essentially hugs the user, and the user can control the amount of pressure applied and the amount of time the pressure is applied for.
Though she found great success in managing her sensory processing issues with her squeeze machine, the scientific community was harder to convince. However, further studies showed the immense effect that deep touch therapy can provide for people and even animals.
The nervous system is divided into three parts: the sympathetic nervous system, parasympathetic nervous system, and the enteric (gastrointestinal) nervous system. The sympathetic nervous system is the "go" system. It's responsible for managing your body when you're doing physical activity. The parasympathetic nervous system is the "rest" system that promotes relaxation and also activates some metabolic processes. 
The sympathetic nervous system is also responsible for the fight or flight response, and sometimes it takes charge when it shouldn't. This can result in panic attacks or prolonged feelings of stress and anxiety. Deep touch therapy activates the parasympathetic nervous system, forcing the sympathetic nervous system to take a backseat.
Deep touch, like that offered by a hug or massage, can affect certain hormones, leading to a state of calm and relaxation. These hormones include:
Serotonin - Deep touch therapy increases serotonin, the "feel good hormone."
Oxytocin - Deep touch therapy increases oxytocin, the "love hormone" that can relieve pain and stress.
Cortisol - Deep touch therapy reduces cortisol, the "stress hormone."
Because of the shift in these hormones, weighted blankets and deep touch therapy have been shown to help with chronic pain as well.
Weighted Blankets for Chronic Pain
Because of the way that deep touch therapy and weighted blankets soothe the nervous system and release oxytocin, they can also reduce pain levels in chronic pain patients. Weighted blankets have been shown to help patients with:
Joint Pain
Chronic joint pain, and conditions like arthritis, can be caused by many factors, and some types of pain can be lessened by using a weighted blanket.
Fibromyalgia
Fibromyalgia primarily causes body-wide musculoskeletal pain. This pain is accompanied by other symptoms, including brain fog, fatigue, insomnia, and irritability. Science still doesn't know what causes fibromyalgia; it is in many ways a mystery diagnosis. Despite this, it is known particular therapies help relieve symptoms.
The leading theory is that fibromyalgia is caused by an error in the way your nervous system processes pain signals. As a result, therapies that can soothe the nervous system, such as using weighted blankets, are proven helpful.
Restless Leg Syndrome
Restless leg syndrome (RLS) is a condition that causes pain and discomfort in the legs. This condition often presents as an uncontrollable urge to move the legs but may also include feelings of throbbing, aching, crawling, and pulling. These symptoms typically occur at night, when the person tries to sleep while their legs are still.
Walking around or moving the legs in some way is the best way to relieve the sensations of restless leg syndrome. However, when you're trying to fall asleep, that's not always a good option. 
In many cases, the cause of restless leg syndrome is unidentifiable. There are theories that it may be due to dopamine or hormonal imbalance. Whatever the reason, many people have found weighted blankets and the deep touch therapy they provide to help reduce their symptoms of restless leg syndrome.
How to Incorporate a Weighted Blanket Into Your Sleep Routine
If you've decided to try a weighted blanket, you may still have questions about how to use it and what's considered safe. Here are some tips on how to get started with using a weighted blanket:
If you struggle with poor circulation or respiratory issues, check with your doctor before using a weighted blanket.
Choose a blanket that's about 10% of your body weight.
Sleeping on your back will allow the weight of the blanket to be more evenly distributed, but sleep however you're most comfortable.
If you're having trouble adjusting to sleeping with a weighted blanket, try sleeping with it only on your lower half for a few nights.
It may take a week, or two, to get used to sleeping with a weighted blanket.
For most people, it is safe to sleep with a blanket as often as you like.
Commonly Asked Questions About Weighted Blankets
Do blankets with added weight work for hot sleepers?
Yes, but it's important to select blankets made with the right materials. Materials like cotton or bamboo are more breathable than other fabrics. A breathable cotton cover or bamboo cover can help regulate body temperature for hot sleepers. These materials make cooling weighted blankets which help improve a person's sleep.
Are heavy blankets good for night sweats?
Night sweats occur for a variety of reasons, sometimes including hormone imbalance. A heavy blanket can provide pressure relief for people who suffer from a hormone imbalance or stress-induced anxiety. In these cases, a heavy blanket with added weight can prevent nightly sweating.
What type of blanket is best for hot sleepers?
A blanket made with high-quality materials is best for hot sleepers. A blanket made with a breathable cotton cover or bamboo shell can help hot sleepers regulate temperature. Other fabrics are known to absorb body heat rather than release body heat. Cooling weighted blankets made with bamboo or cotton are an excellent choice for hot sleepers.
Can a blanket with added weight really be cooling?
A blanket with added weight can help reduce stress-induced anxiety and provide pressure relief for people who suffer from irregular hormones. These conditions can both lead to night sweats, and a blanket with added weight can help people who suffer from these conditions by providing pressure relief and reducing stress-induced anxiety. Cooling weighted blankets can improve a night's sleep for anyone struggling with these conditions.
What is the purpose of a weighted blanket?
Blankets with added weight can serve many benefits, including improved sleep, reduced anxiety, and help with sensory issues. The added weight can serve as deep pressure stimulation, which is thought to help increase oxytocin, serotonin, and melatonin while reducing cortisol.
Do weighted blankets help you sleep?
Many proponents of most weighted blankets cite their improved sleep as one of the main reasons that they love the product. Most weighted blankets can help you stay more still throughout the night, which can help you enter a deeper, more restful sleep.
What are weighted blankets made of?
A variety of materials can be used to construct weighted blankets. Some of the most typical fabrics used for the outer layer include cotton, bamboo, minky plush, cotton-polyester blends, and other blends specifically formulated to draw heat away from the body.
The weighted filling is most often made of glass beads, poly pellets, or other materials, such as nano-ceramic beads or ball bearings.
How much should a weighted blanket weigh?
A weighted blanket should weigh somewhere between 5-12% of your body weight, with most sources citing 10% as the ideal.
Can a weighted blanket be too heavy?
It is possible for a blanket to be too heavy. A blanket that's too heavy to be extremely uncomfortable, and makes it difficult to move around as needed. If this is the case, or if it is too heavy to lift off yourself, you need a lighter blanket.
Are weighted blankets good for hot sleepers?
Hot sleepers may feel wary of using a blanket with added weight because of the feeling of compression and accompanying heat. However, with the right research and insights, you can find a blanket that's been designed with hot sleepers in mind. The best cooling weighted blankets keep sleepers cool throughout the night.
Is there a weighted blanket that keeps you cool?
Many cooling blankets with added weight are made with outer fabric and inner filling that are light, cool, and breathable, including the 10 mentioned in this article. Generally 100% cotton or 100% bamboo fabrics do this job well. In addition, fabric blends specifically made to draw heat away from the body are great cooling options.
What is the best blanket for hot sleepers?
While there are many cooling blankets with added weight to choose from, CoolZen is one of the best cooling weighted blankets for hot sleepers on the market. With a price point that's affordable, but high enough to pay for quality materials, this option gives the best of both worlds.
It's made with 100% cotton that's cooling and breathable and comes with a super soft, minky duvet for cooler months. Its chevron pattern sets it apart from other weighted blankets with its ability to keep the glass bead filler distributed evenly across the blanket. CoolZen Ultra-Cooling Weighted Blanket was made with hot sleepers in mind.
Do weighted blankets make you hot?
The extra weight of a blanket can make it feel hot if the blanket is not specifically designed to combat this problem. With a carefully constructed blanket with added weight, most people should feel cool and cozy throughout the night.
Who should not use a weighted blanket?
There are some people who should avoid using a blanket with extra weight. For instance, a heavy blanket can be unsafe to use if you have joint issues, are unable to lift the blanket off yourself, have respiratory problems, or have sleep apnea.
If you do have health conditions, it's a good idea to consult your doctor before purchasing a heavy blanket.
Where can I buy a weighted blanket?
Weighted blankets can be found in most major retail sites, like Amazon or Walmart. They are also sold by many independent companies that develop sleep aid products.
Can you use a weighted blanket when pregnant?
While there is not sufficient evidence to definitively say whether or not weighted blankets are safe to use during pregnancy, most sources affirm that it is quite safe. Comfortable sleep can be hard to come by during pregnancy. For some, a blanket with extra weight may help in this. For others, it could make it more difficult.
If you are pregnant and considering using a blanket with added weight, be sure to consult your doctor before making a decision.
Are weighted blankets bad for circulation?
In general, weighted blankets are not bad for circulation. However, those with circulation problems should probably avoid them, to be safe – or at least consult a doctor before use.
Are weighted blankets safe for kids?
Weighted blankets are generally considered safe for kids at least 5 years old or at least 50 pounds. Be sure to get a blanket weight that's appropriate for your child's body weight. It may be best to ask your child's pediatrician before purchasing a heavy blanket for your child.