How can I Care for an Infected Body Piercing?
An infected piercing can result in a great deal of pain and irritation. In extreme cases, if left untreated, it can also lead to a serious systemic infection. Caring for an infection is a multiple step process, starting with following aftercare directions. In some cases, it may also require professional medical attention. If possible, try to find a body piercing friendly healthcare provider to ensure the best possible care.
Caring for a piercing starts with going to a reputable piercer and a clean shop. All piercers have specific recommendations for aftercare that they find work well for themselves and clients. Follow the aftercare directions given to you by your piercer, and do not be afraid to contact him or her if the piercing is not healing well. Piercers want their clients to have beautiful, clean, healthy piercings and will usually assist those who are having difficulties.
Following your aftercare instructions and common sense should prevent an infection. Make sure to avoid contact with the piercing while it is healing. Keep clothing and bedding that might come in contact with the piercing clean, and in the case of oral piercings, be careful about what you eat and drink. The human body is very good at healing itself when given the tools to do so, and the healthier the lifestyle you live, the more quickly your piercing will heal.
Sometimes, a piercing becomes infected despite careful aftercare. An infected piercing may be red, irritated, hot, swollen, or weepy. If you catch an infection in the early stages, you can usually eliminate it by cleaning the piercing well with antimicrobial soap and flushing it with warm water. After cleaning, the piercing should be soaked in a sea salt solution. Several daily sea salt soaks will greatly improve the healing process, and if the infection is minor, it should disappear in one to two days.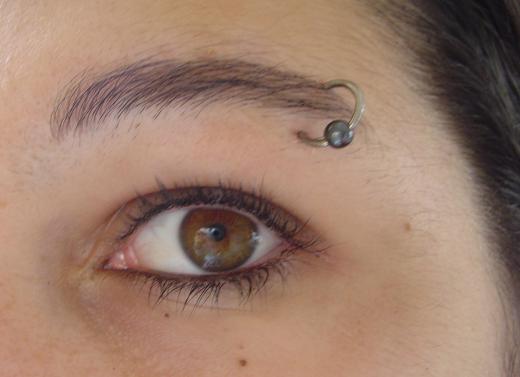 More serious infections can occur, however. It is important to seek medical attention if you feel other physical symptoms such as nausea, dizziness, or high fever. Tell the medical professional who you see that the piercing should not be removed from the infection site. The piercing will seal up if the jewelry is taken out, and could potentially create an abscess. Left in, the jewelry can act as a drain, allowing pus to flow out instead of accumulating in the wound. The jewelry may need to be sized down, but it should not be taken out.
A healthcare provider may prescribe antibiotics for a severe infection. You can also care for your infected piercing by keeping the site clean, minimizing handling of the jewelry, and supporting a healthy immune system. Eat a balanced diet, get plenty of rest, refrain from smoking, and minimize your alcohol consumption. Be scrupulous about caring for your piercings throughout their lifetime, not just during the healing process, to prevent infection.
AS FEATURED ON:
AS FEATURED ON:

By: Viktor

Placing infected piercings in a sea salt soak can help speed up the healing process.

A woman with two earlobe piercings.

By: Concept web Studio

Piercers want their clients to have beautiful, clean, healthy piercings.

By: Alliance

A doctor may need to prescribe a course of antibiotics for a patient with an infected body piercing.

By: kmiragaya

Symptoms of an infected body piercing may include fever.