How Can I Remove Scalp Warts?
Scalp warts do not usually pose a significant health risk unless they are accidentally scraped or cut and develop an infection. Home remedies such as apple cider vinegar or tea tree oil may successfully remove warts on the scalp, but a doctor should be consulted first to make sure the abnormal growth is actually a wart. Medical procedures such as cryosurgery or laser treatments are often used to remove scalp warts. Any specific questions or concerns about the removal of scalp warts in an individual situation should be discussed with a doctor or other medical professional.
Tea tree oil and apple cider vinegar are among the most popular ways to remove scalp warts at home. Each of these products is prone to causing skin irritation when used full strength, so dilution is usually recommended. A few drops of apple cider vinegar or tea tree oil can be added to a favorite shampoo and allowed to sit on the scalp for at least 15 minutes before rinsing. Alternately, these products can be added to water or carrier oils such as olive or almond oil and applied to the scalp two or three times daily with a cotton swab. It may take several weeks to notice a reduction in the size of the warts when using these home remedies.
While most home remedies commonly used to treat scalp warts are considered to be relatively safe for most people, it is important to consult a doctor before attempting to treat any medical condition. What appears to be warts may sometimes be something else, such as skin cancer or another disorder. Obtaining an accurate diagnosis is the first step in finding an appropriate treatment program for the individual situation.
Cryosurgery is one of the most common methods used by doctors in the removal of scalp warts. Liquid nitrogen is applied to the warts to freeze the tissue, and then the warts are carefully removed with the use of a scalpel. The entire procedure takes only a few minutes and can be performed in a doctor's office. In some cases, the liquid nitrogen is used alone to freeze off the wart, but the process can be painful and may require multiple treatments.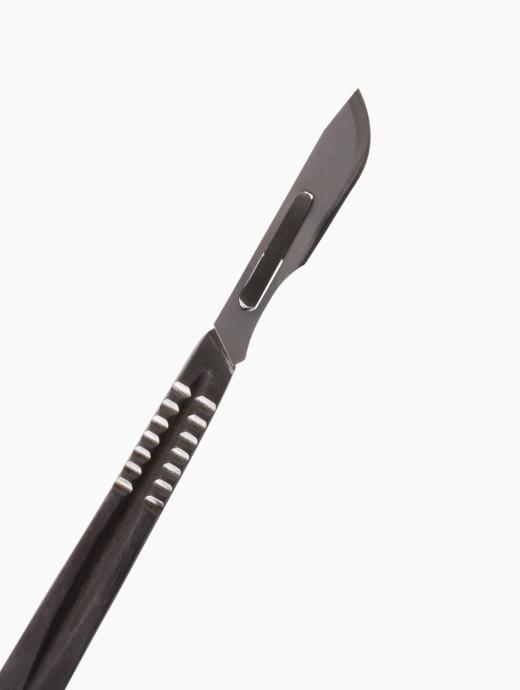 Laser surgery works in much the same way as cryosurgery, except lasers are used to burn off the scalp warts. As is the case with liquid nitrogen, this procedure often requires several treatments. This method is also quite a bit more expensive than most other treatment options and is not covered under many insurance plans.
AS FEATURED ON:
AS FEATURED ON:

By: Lucie Říhová

Tea tree oil may be used to remove warts.

By: Comugnero Silvana

Apple cider vinegar might be helpful with removing warts.

By: iofoto

Warts can be removed with a scalpel.

By: Shakzu

A doctor should be consulted to determine if an abnormal growth is indeed a wart.

By: Gordon Lau

Warts can be removed by using liquid nitrogen.

By: JPC-PROD

Questions about the removal of scalp warts should be discussed with a doctor.