How Can I Treat a Clindamycin Rash?
The best treatment for a clindamycin rash is usually to discontinue the medication. If this is not possible, or the rash appears to be relatively mild, some topical medications can control the outbreak and make the patient more comfortable. Sometimes a drug rash is accompanied by headaches, blistering, and severe nausea, in which case the patient may be having a serious drug reaction. These patients may require hospitalization to manage the reaction. A doctor or medical professional can perform an evaluation to determine the best option.
Some patients who take the antibiotic clindamycin develop skin eruptions. These may start with rough, reddened skin which can become dry, flaky, or blistered. In patients who are not on any other medications, it is easy to pinpoint clindamycin as the culprit. The doctor may recommend stopping the drug and switching to a different antibiotic. Within three to five days, the clindamycin rash should clear up.
While recovering after withdrawal of the medication, some patients may use topical hydrocortisone or antihistamines to reduce itching. Moisturizers can also help during this period. It is important to avoid scratching at the rash, even if it is itchy or painful, as this can create lesions in the skin. These may make the patient prone to infection and can potentially cause scarring.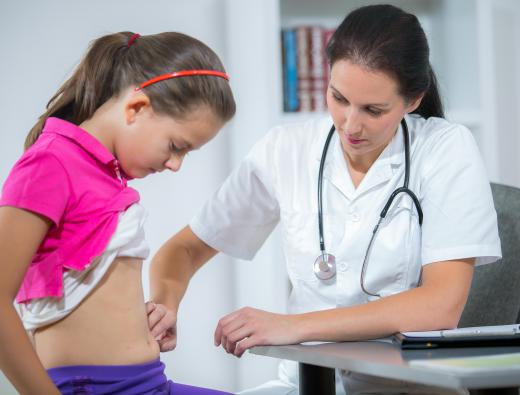 In cases of mild clindamycin rash, the doctor may recommend keeping the patient on the medication, especially if the course is almost over. These patients may use topical medications to manage the rash and must monitor it for signs of progression. If the clindamycin rash gets worse or the patient develops secondary symptoms indicative of a severe reaction, including difficulty breathing, fatigue, and headaches, it may be necessary to stop the drug. Patients should report changes in their condition to a doctor or medical professional, who can determine if they are at risk of severe reactions.
After a history of clindamycin rash, it may be necessary to avoid the medication in the future. Patients can discuss alternatives to this antibiotic in the event they need prescriptions, to determine if a better drug is available. Allergic reactions like rashes can grow worse with future exposure and there is a risk of severe complications. While these are rare, if a different medication is available as an alternative, it may be recommended to keep the patient safer and healthier. It may also be advisable to ask if there is a risk of adverse reactions to related medications, and whether these should be avoided as well.
AS FEATURED ON:
AS FEATURED ON:

By: Piotr Marcinski

Some patients taking the antibiotic clindamycin may experience a dry, flaky, or blistery rash.

By: jovanmandic

A doctor can perform an evaluation to determine the best treatment for a clindamycin rash.

By: ognianmed

Clindamycin was developed to combat common infections caused by anaerobic bacteria.

By: beltsazar

A doctor should be consulted if headache accompanies a clindamycin rash.

By: Igor Normann

Side effects of clindamycin may include fatigue.