How Do I Choose the Best Cream for Rashes?
Rashes generally fall into one of three categories, specifically, bacterial, fungal, and viral. They can also be caused by allergy or skin irritants. There are several different types of rash creams available, including antibiotic, antifungal, and anti-itch. Choosing the best cream for rashes is therefore a matter of determining what type of rash you are dealing with.
All rashes are basically inflammations of the skin. Fungal rashes can appear scaly and red with tiny blisters. They usually occur on the parts of your body that tend to sweat or become moist, such as the armpits or between the toes. If you suspect this type of skin irritation, the best cream for rashes of this nature are ones that contain anti-fungal ingredients. Look for creams that contain one percent terbinafine or one percent clotrimazole, both of which are potent anti-fungal medications.
People often confuse bacterial rashes with fungal rashes because they are similar in appearance. If you are treating a rash as fungal, but it is not responding to the medication, you might have a bacterial rash. When that is the case, the best cream for a bacterial rash contain antibiotic ingredients such as bacitracin zinc and neomycin. However, these creams may not be strong enough to get rid of the infection. If your rash does not get any better or appears to get worse after applying the cream for a couple of days, you may need a prescription-strength cream that contains a stronger medication such as mupirocin.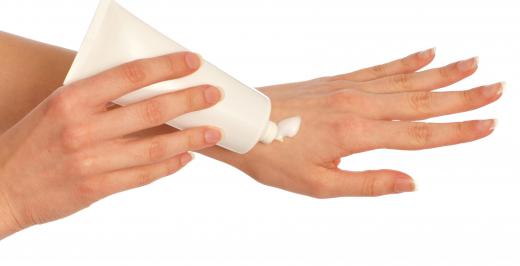 Certain types of viruses can also cause rashes. Sometimes, if the rash is from a viral infection of the skin, such as shingles or herpes, it is localized. Other viral rashes are widespread over the body and might be accompanied by other viral symptoms, such as sneezing, coughing, or fever. The best cream for rashes that stem from viral infections are ones that treat the symptoms and help alleviate the discomfort. For instance, ointments that contain steroids such as hydrocortisone can help relieve the itching, while lotions that contain aloe vera might help soothe any burning sensations.
Allergies and skin irritations can also cause rashes, often recognized as hives. As with viral rashes, the best cream for rashes that are allergy related are designed to treat the symptoms. Usually, the symptoms include severe itching and burning, and creams that contain camphor, menthol, or aloe vera can help ease those reactions. Also, creams that contain a mild steroid such as hydrocortisone can help reduce inflammation that may accompany these types of rashes.
If your rash is caused by skin irritation, it might also be helpful to use a rash cream that has a skin protectant, such as petrolatum or zinc oxide. These ingredients will create a protective barrier on the skin, helping to soothe the discomfort and protect against further irritation. As with any rash, however, if the symptoms don't improve after a few days, or the appear to get worse, you should have it evaluated by a health care professional.
AS FEATURED ON:
AS FEATURED ON:

By: ptnphotof

Allergic reactions or skin irritations, to things like laundry soap, may cause rashes.

By: April Cat

A woman applying an anti-itch cream to her hands.

By: cedrov

The aloe vera plant can be used to treat itching and inflammation caused by rashes.

By: Angel Simon

The shingles virus causes a painful rash on the skin.

By: librakv

Topical hydrocortisone can be used to treat poison ivy rashes.

By: agephotography

Antifungal creams such as clotrimazole are typically applied to the skin on the feet, hands or groin or to the nails to kill fungus.

By: jovanmandic

Prescription antibiotic cream can be used to treat some types of rashes.