How Do I Choose the Best Therapy Couches?
Choosing the best therapy couches depends on the role of the furniture in the room and the intended use of the couch. The traditional therapy couch is a derivative of Freud's original couch, and most current incarnations are designed so that a single patient can sit or lie down comfortably on the couch. Many therapists no longer advocate conducting free association or other therapy while lying down, so for these people the couch serves primarily as a place to sit. It is important to consider the comfort of the couch as well as its aesthetic qualities, as even the furniture in a therapy office can affect how a patient feels. There are also therapy couches for other professions, such as massage therapy or physical therapy, and these must often have special qualities that make them suitable for these physical practices.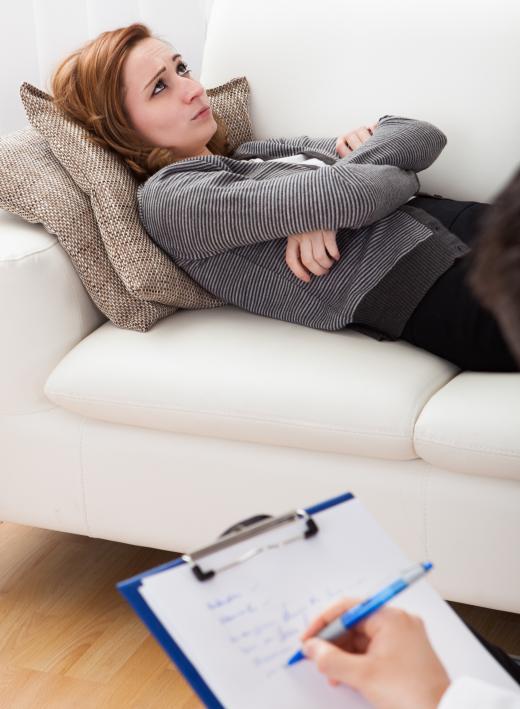 The first thing to consider when choosing the best therapy couches is how the couches will function in the room. If this furniture will be the primary place where patients sit, then the piece must be able to fit in an appropriate location. It must also be comfortable. Therapists who treat multiple patients at once must consider the maximum number of people the couch must comfortably fit. Most of the time, pragmatic considerations will be obvious, but it is still important to think about how the couch will be used.
Appearance is also a major consideration when choosing therapy couches, particularly from the perspective of the therapist. While many people believe a couch is merely a piece of furniture, it can also be looked at as a statement of personality. A cold, hard couch might suggest to patients that the therapist is unwelcoming, while a Victorian couch might say that the therapist is old fashioned. Even the color of the couch and its placement in the room can affect the patient's interpretation of the situation. It is not always possible to find out how these issues actually affect patients, but therapists who have been trained to see these issues often worry about them excessively.
Other therapy professions involve couches as well, although these are not usually the first type of furniture that comes to mind when talking about therapy couches. Spa and massage therapists, for example, sometimes refer to the tables on which they work as couches. Additionally, there are all the couches outside of the therapy treatment space to be considered. In general, the best thing to keep in mind is that, while comfort is important, it is the quality of treatment that truly defines how the therapy couch will be perceived by patients.


Sigmund Freud, the founder of psychoanalysis, is often linked to the idea of the therapy couch.

By: apops

Furniture in a therapy office can affect how comfortable a patient feels.

By: saap585

The comfort of a couch is important for a couch going in a therapist's office.