How do I Choose the Best Wheatgrass Supplements?
Wheatgrass is a green food with a long list of possible health benefits and no known side effects. Regardless of the type of wheatgrass supplement you choose, you could find that it boosts your immune system. This is due to the fact that the word "green" in the term green food results from high doses of chlorophyll, which delivers a powerful dose of vitamins, minerals and amino acids. These supplements are commonly found in three forms: juice, powder and pills or tablets. Depending on your personal preferences, one type of supplement may work better than another.
Those who include green foods in their daily diet and endorse the usage of wheatgrass supplements tend to believe that fresh juice made from living blades of the grass have the most health benefits of all types of this supplement. While no conclusive studies prove this belief, green foods tend to include a large number of various types of enzymes. Enzymes can be more numerous and powerful when still living, which accounts for the belief that fresh juice is the most healthful choice of supplement.
Many call the natural taste of wheatgrass juice sweet, though a chaser such as fruit or vegetable juice is commonly consumed directly after the juice—it is often referred to as a shot because it usually comes in small doses. Though the juice may have added benefits and many people like the taste, it is probably the most difficult supplement to procure. You can choose to cultivate the grass on your own. This option, however, requires that you buy a special juicer; furthermore, some consumers admit that growing the wheatgrass, juicing it and using it all before it dies can be a hard task. The other option is to buy wheatgrass shots from juice or health food stores, but this choice may be inconvenient and could get expensive.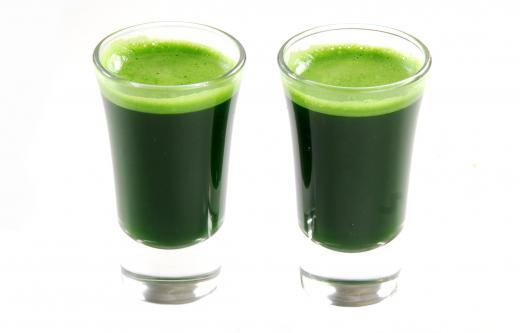 Wheatgrass supplements are also available in powder form. When the grass is grown, processed and stored under certain conditions, the powder is supposed to maintain all of the healthful enzymes, vitamins and minerals of fresh wheatgrass. Since the powder is dried, this type of supplement can be purchased in bulk, usually at cheaper prices than juice would cost. The powder also lasts longer than juice, which can go bad in a relatively short period of time. Those who often make smoothies or do not mind the taste of wheatgrass powder added to a glass of juice or water might find wheatgrass powder their best option.
If you do not enjoy the taste of wheatgrass or do not want to drink juice or smoothies, pills or tablets might be your top choice. Pills are often the cheapest and most convenient form of this supplement, as they are easy to transport at mealtime. Tablets are also said to have no taste or aftertaste. Whichever form of wheatgrass supplements you consider, a doctor or nutritionist may help answer any additional questions you may have.
AS FEATURED ON:
AS FEATURED ON:

By: Marek

Wheatgrass may be available in powder form.

By: MSPhotographic

Wheatgrass shots.

By: Monkey Business

Health food stores might be an expensive option for wheatgrass supplements.

By: Johan Larson

A healthy green breakfast smoothie may feature spinach or kale in addition to wheatgrass.

By: Serghei Velusceac

Wheatgrass can be added to many types of vegetable salads.

By: George Dolgikh

It may be helpful to read reviews about wheatgrass juice powder before making any purchasing decisions.