How Do I Get Rid of Armpit Warts?
The sight of armpit warts can be disturbing, but fortunately, there are a number of removal methods, some of which require surgery but others which can be handled with simpler solutions. A contagious virus causes warts but you can get rid of them by using duct tape, hot water, and having some patience. Another way to remove armpit warts is by using salicylic acid. In more extreme cases, surgery may be warranted. Surgical options include the use of lasers or liquid nitrogen.
Armpit warts occur because of the human papillomavirus virus (HPV), which is contagious and is transmitted from one person to another via physical contact. It should be noted that warts in the armpit are not dangerous, they are merely unpleasant to look at. Although the armpit is not usually visible to others, removing these warts is important for many people who dislike looking at them in the mirror and feeling them on their skin.
There are many non-surgical methods of removing these kind of warts. One of the simplest involves shaving your armpit, placing duct tape over the wart and leaving the tape on for about a week. Once the time has elapsed, you should take a warm bath for a few minutes, making sure the wart remains underwater for the duration. You should then use a nail file or pumice stone to file off the armpit wart tissue which will have become loose after the bath. This process can then be repeated until the wart has been removed.
Salicylic acid is another solution and can be found in medication which does not require a prescription. Warts are generally filled with keratin, which is a type of protein, and salicylic acid is known to break down keratin. Application of medication containing salicylic acid can help remove the external wart tissue. You should follow the medication instructions and keep applying the product until the wart is successfully removed.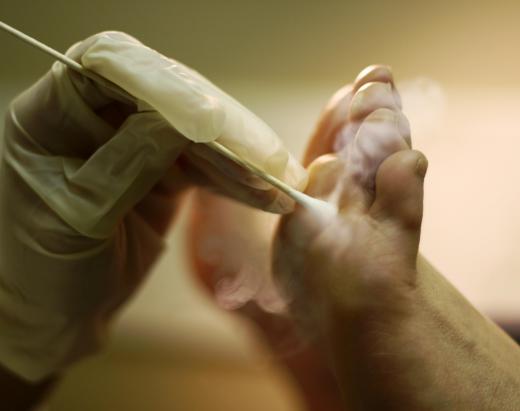 If you have stubborn armpit warts, a surgical procedure may be the only effective method of removal. Freezing warts with liquid nitrogen will often remove them. The liquid nitrogen produces a blister underneath the wart. Eventually, the blister will fall off and the wart will come off along with the skin. Laser surgery, which employs a carbon dioxide laser to burn off the armpit warts is also available if other treatments are unsuccessful.
Similar Skin Growths To Armpit Warts
Bodies are in a constant cycle of flux. As a result, they sometimes produce lesions or growths that can be unsightly albeit harmless.
Armpit warts are a common occurrence. Differentiating them from other skin growths like harmless skin tags or infectious molluscum contagiosum is essential before applying any removal remedies without the guidance of a healthcare professional.
What is Molluscum Contagiosum? 
Molluscum contagiosum is another skin infection caused by a virus. These round, firm, painless bumps can range in size, with patients often reporting either pinhead-sized protrusions or larger growths.
The bumps are usually flesh-colored, but they can also be pink, white, or tan. Molluscum contagiosum often occurs in clusters, and the nodes can appear anywhere on the body. 
However, they're prominent on the face, neck, chest, and back. Though the bumps aren't painful or itchy, they can be unsightly. They're not common in the armpit.
In addition, an infection can spread if you scratch or further injure the bumps.
Molluscum contagiosum spreads through person-to-person contact and contact with infected objects. The virus is also transmittable through sexual activity.
Molluscum contagiosum is most common in children. However, most adults with weakened immune systems, in particular, can also develop the infection. 
In most cases, molluscum contagiosum vanishes without treatment within 6-12 months. 
However, it can take longer for the infection to resolve in adults and people with weakened immune systems.
What Are Skin Tags? 
Skin tags are small, noncancerous growths that often are the same tone as the rest of your skin. Though, sometimes they can be darker and have the appearance of a raised mole. Most skin tags can be as 1-5 mm in size or grow to be a few centimeters, though it is not as common. 
The cause of skin tags is unknown. However, experts believe they result from friction or skin-to-skin contact. They're prevalent in areas where your skin rubs against clothing or other skin, such as the neck, armpits, and groin.
Research on acrochordons estimates that most adults will experience having a skin tag at some point in their life. 
Your health is not affected by skin tags, but they can be unsightly. If they are bothersome, you can have them removed by a doctor.
The difference between warts and skin tags lies in that warts are caused by a contagious virus.
Treatment Options for Molluscum Contagiosum
Although molluscum is prevalent in children, it can spread to delicate body areas through contact in adults.
If lesions occur in the genital area, it's best to visit your healthcare provider. In addition, molluscum may be a link to other diseases spread by sexual contact. 
Though in children, this is not necessarily a cause for alarm.
Be aware that treatment options differ from armpit wart treatments. Armpit wart treatments are more likely to cause scars. Though it can happen, medicine or removal of molluscum contagiosum should not cause scarring.
The most common treatment for molluscum contagiosum is Cantharidin. Application treatment by your healthcare provider may prevent permanent scarring. It can be very effective but can also be painful in sensitive areas.
Other treatment options for molluscum contagiosum include: freezing the lesion with liquid nitrogen (cryotherapy), burning the lesion with an electrical current (electrocautery), laser surgery, and applying medications that help the lesion go away (such as imiquimod). 
These methods are similar to wart treatments.
You should talk to your healthcare provider to determine what condition you have. Only then can you decide which treatment option is best for you. Internet remedies may cause more harm.
Treatment Options for Skin Tags
Acrochordons, or skin tags, are small, flesh-colored growths that can appear on the skin. They are typically benign, meaning they're not cancerous.
However, people choose to have them removed for cosmetic reasons. There are a few different treatment options for acrochordons, but it is important to note that these growths are not the same as armpit warts. 
Remember, a virus causes armpit warts. Warts often require a different treatment approach to avoid skin damage and further infection.
Over-the-counter products may contain harsh chemicals that can cause irritation or even burns. It is always best to talk to a healthcare provider for advice.
Frequently Asked Questions
What are armpit warts?
Verruca vulgaris, a form of skin disorder that results in armpit warts, is brought on by a virus. The human papillomavirus (HPV) is the culprit behind these tender, fleshy lumps, which are often itchy and uncomfortable. They may occur in areas of the body outside the armpits, however, they are often innocuous.
How can I prevent armpit warts?
Maintaining proper hygiene and avoiding contact with those who are infected are the two greatest ways to prevent armpit warts. Moreover, avoiding tight clothes and dressing loosely may help lower the likelihood of getting armpit warts. Moreover, utilizing barrier protection, such as gloves, while coming into touch with an infected region may lower the risk.
What are the remedies for warts in the armpit?
Cryotherapy, electrosurgery, laser therapy, and topical medications like salicylic acid are some of the therapies for armpit warts. Moreover, certain drugs could be administered to treat symptoms. Before attempting these remedies, you should speak with a doctor.
Are armpit warts contagious?
Yes. Skin-to-skin contact may spread armpit warts. Observing good hygiene habits like routine hand washing and avoiding contact with sick people may help lower the chance of viral transmission.
Is it okay for me to remove my own armpit warts?
It is not advised to attempt self-treatment for armpit wart removal. They could be difficult to remove and need medical attention. Self-removal attempts could aggravate the ailment or spread infection. Before beginning any therapy, a doctor's consultation is important.
AS FEATURED ON:
AS FEATURED ON:

By: terex

A nail file may be used to remove armpit warts after soaking in a warm bath.

By: Kimberly Reinick

Duct tape can be used to remove armpit warts.

By: Gordon Lau

Warts can be also removed by using liquid nitrogen.

By: F.C.G.

Freezing warts, whether on the face or elsewhere on the body, with liquid nitrogen often causes blisters to form where the treatment was performed.

By: Valua Vitaly

Shaving one's armpit is one step involved with removing an armpit wart.