How do I Reduce Vasectomy Swelling?
Vasectomy swelling is a common side effect from a vasectomy, which is an outpatient birth control procedure for men that severs the vasa deferntia and stops sperm from leaving the body through ejaculation. To alleviate swelling from a, the scrotum should be wrapped tight with a wrap, and ice should be applied to the area. Over-the-counter pain medication can be taken and should manage the pain on its own.
To aid in recovery and to eliminate vasectomy swelling, jockey shorts are recommended for the first week or so following the procedure. A scrotal supportive undergarment could also be worn to help with sore testicles. It is important to inform the doctor of any increasing pain or swelling as this could be a sign of infection.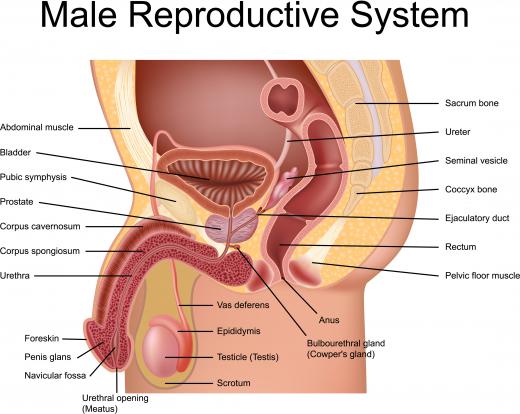 Vasectomy swelling is common after the procedure; however, it typically only lasts for a few days. Ibuprofen should not be taken to reduce pain as it also could promote bleeding. It is very important to avoid sexual activity during the first two weeks following the procedure as swelling could increase from movement.
Many doctors recommend staying in bed for the first 24 hours to reduce vasectomy swelling. Heavy lifting should be avoided for at least one week. Most men, however, are able to return to work after two or three days. Once sexual activity has returned, the couple should practice an alternative birth control method for six to eight weeks as the sperm can often survive in the semen for many weeks following the procedure.
The doctor will complete a follow up examination to check for post-vasectomy swelling after four or six weeks and to check for live sperm three months after the procedure. It is important to ejaculate 20 to 25 times prior to this examination in order to remove any live sperm still in the semen. Some minor swelling may occur in the first couple of weeks. This is normal and should not be alarming.
A vasectomy can sometimes be reversed; however, it is not guaranteed and the procedure is very costly. It is imperative to be sure that this procedure is wanted prior to having it done. It should be considered permanent.
Typically, this procedure is routinely accomplished without incident. The vasectomy swelling is gone within the first few days and the healing is complete in a matter of weeks. While the male testicles continue to produce live sperm for the remainder of the man's life, none are released from the body following the vasectomy procedure.
AS FEATURED ON:
AS FEATURED ON:

By: peterjunaidy

After a vasectomy, it may be necessary to wear a scrotal support undergarment to help with sore testicles.

By: vgstudio

Vasectomy swelling typically only lasts a few days.

By: Dani Simmonds

An ice pack can reduce swelling.

By: ndoeljindoel

Heavy lifting should be avoided for at least a week after a vasectomy.

By: Peter Atkins

Although a vasectomy may prevent pregnancy, condoms should be worn to prevent sexually transmitted disease.

By: Photographee.eu

Vasectomy is a common surgical procedure, chosen by millions of men as an inexpensive, safe and reliable form of birth control.

By: Sherry Yates

You should not take ibuprofen following a vasectomy.

By: Michael Flippo

Men should not engage in heavy lifting following a vasectomy.