How do I Relieve Muscle Pain?
Almost everyone will have some type of muscle pain at some point in their life. It may be caused by overstretching the muscle and slightly tearing the muscle fibers. It may also be caused from overuse. There are several ways to help relieve muscle aches when they do occur.
Apply ice to the sore muscle as soon as it starts hurting. The ice can help reduce swelling and inflammation and may reduce pain. Ice works best if it is applied within the first twenty-fours hours of the onset of the muscle ache. Don't put the ice directly on the skin, but instead wrap an ice pack in a towel and place that on the muscle. Ice can be applied three or four times a day, for ten to 20 minutes at a time.
Heat may also help relieve pain. Take a warm bath or apply a heating pad. The heat can help increase blood flow to the painful muscle. If pain is caused by a muscle spasm, heat may help relax the muscle and can reduce pain. Apply heat for about 20 minutes at a time, a few times a day.
Depending on the cause of the painful muscle massage may help. Massage can increase circulation and reduce tension in the muscle. There are various types of massages which may help, including deep tissue and massage with essential oils. Lavender and chamomile essential oils are thought to reduce pain. Lavender may promote relaxation, which can reduce muscle spasms and chamomile may help reduce inflammation.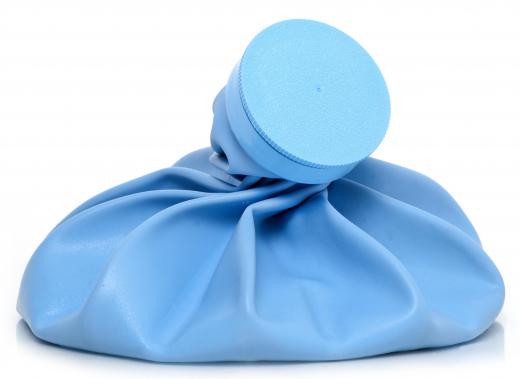 If natural methods of muscle pain relief don't work, medication may help. The type of medication needed may depend on the cause of the muscle ache. For example, anti-inflammatory medications may work best on pain caused from overuse. Muscle relaxants are another option and work best for pain caused by muscle spasms. Topical ointments to relieve muscle soreness are also available.
Muscle pain often goes away after a few days to a week. However, there are times the pain may last longer. It may be necessary to see a doctor if pain persists for more than a week and either becomes worse or limits mobility to a large extent.
Although every muscle pain can't be prevented, there are a few things which may reduce the frequency of pain. Always warm up prior to exercise and increase intensity gradually. Stretch muscles slowly after a workout. Drink plenty of water to prevent spasms from dehydration.
AS FEATURED ON:
AS FEATURED ON:

By: Tinga

Topical ointments are often used to treat muscle pain.

By: Kimberly Reinick

An ice pack can help with muscle pain.

By: Kimberly Reinick

Lavender is thought to promote relaxation and may help with muscle pain.

By: guysagne

Anti-inflammatory medications are used to relieve muscle pain.

By: Lisa F. Young

A massage can reduce muscle pain.

By: lily

Chamomile tea can encourage muscle relaxation and inflammation.

By: nito

A heating pad can help soothe muscle pain.

By: iceteastock

A warm bath can help relieve muscle pain.