How do I Tell if I Have an Allergy to Mosquito Bites?
An allergy to mosquito bites is a common condition, although it may be difficult to tell if specific symptoms qualify as an actual allergic reaction. A lot of people will develop mild swelling and itching after being bitten by a mosquito, and this technically does constitute a mild allergic reaction. In order to be considered to have a true allergy to mosquito bites, these symptoms must be a bit more severe than what is considered a normal reaction to mosquito bites. Symptoms of a true allergy involves more severe swelling around the site of the bite and may sometimes lead to the development of a widespread rash, hives, or difficulty breathing.
It is only female mosquitoes that have a biological need to feed off of human blood. When the mosquito bites, a small amount of saliva from the mosquito is injected into the affected person. This saliva contains proteins that prevent the human blood from clotting as well as proteins that allow the blood to flow into the mouth of the mosquito. These foreign proteins are attacked by the immune system of the person who has been bitten, and this process may lead to a variety of physical symptoms.
In some cases, a person may be bitten by a mosquito and not experience any negative side effects. In the vast majority of cases, however, mild swelling and itching may develop. A person who has an allergy to mosquito bites may develop a variety of more serious symptoms.
Some of the possible symptoms indicating an allergy to mosquito bites include dramatic redness and swelling around the area of the bite. A large area of skin surrounding the bite may develop a rash, and in some cases blisters may develop in the area surrounding the rash. These blisters often hurt and itch at the same time. Occasionally, a widespread rash may develop all over the body.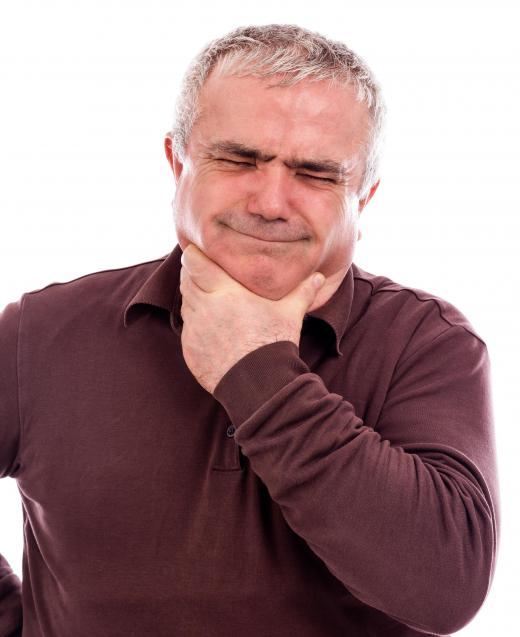 In rare cases, a severe allergic reaction known as anaphylaxis may occur. This is a medical emergency, and immediate medical care is urgent in order to prevent a potentially life-threatening situation. Symptoms may include swelling, hives, and difficulty breathing. Some patients may experience dizziness, confusion, or a complete loss of consciousness. Following this type of severe allergic reaction, the patient will usually need to carry an injectable medication at all times in the event that this situation happens again.
AS FEATURED ON:
AS FEATURED ON:

By: Rob Byron

An allergy to mosquito bites may involve the development of hives.

By: jinga80

Facial or throat swelling after a mosquito bite may be anaphylaxis, and emergency medical care is required.

By: claffra

Mosquito bites can lead to the infection of West Nile encephalitis, Western equine encephalitis, Eastern equine encephalitis, St. Louis encephalitis, La Crosse encephalitis and Japanese encephalitis.

By: Tatyana Gladskih

Consulting 911 can be helpful in suspected cases of a severe allergic reaction.

By: Ljupco Smokovski

Signs of an allergic reaction to mosquito bites may include difficulty breathing.