How do I Treat a Bruised Ankle?
If you have bruised your ankle, then you need to take immediate steps to stop the bruising and swelling. Healing a bruised ankle is not difficult, though it will take a bit of patience. Before you can rest your ankle, you will need to gather an ice pack wrapped in a towel, a medical bandage, and a bottle of ibuprofen.
Once you have the aforementioned items, place your foot upon a stack of pillows in order to elevate the affected area. Then, place the towel-wrapped ice pack on the ankle for twenty minutes — repeat this action every two hours. Next, wrap your foot in a medical bandage, and keep your foot elevated. Then, take one ibuprofen every four hours, or as directed on the bottle, and make sure to keep your foot elevated as much as possible. Putting pressure on the ankle is not a good idea, so try and stay off of your ankle for at least one day.
After you have gone through the steps mentioned above, take note of the pain that you are feeling in your ankle. If you begin to experience stabbing pains, deformation, or intense swelling, then it is important to seek medical help. Sometimes, a bruised ankle may be an indication of another problem. Bone fractures, anticoagulant medications, and other ankle injuries can all lead to a bruised ankle. Frequently, a bruised ankle is misdiagnosed, which is why it's important to seek medical attention if ankle pain persists.
If you do not have immediate access to a bandage, ice pack, or ibuprofen, there are other items that will work just as well. Cold water and a strip of any material can replace an ice pack and a medical bandage. No matter where you happen to be, the most important thing to remember is to keep pressure off of your foot. Ankle bruises can cause additional problems if this type of injury is not treated properly.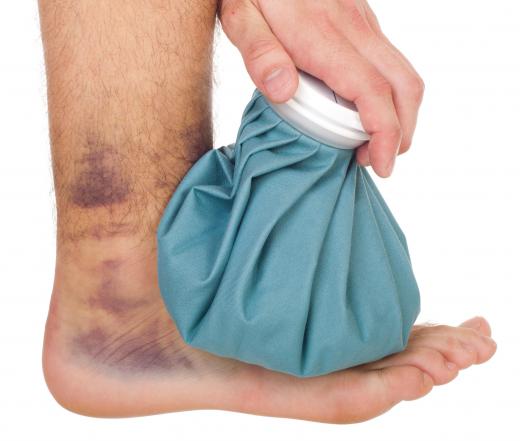 Before beginning any sports or other physical activities, make sure that your ankle has completely healed. Otherwise, you may risk injuring your ankle further. Children are particularly susceptible to additional ankle injuries when a bruise does not have time to heal, since a child's bones tend to be particularly fragile, so special care should be taken to ensure that a child does not further aggravate the injured ankle. In any instance, seeking medical attention is a wise choice. This way, you can determine whether you have truly bruised your ankle, or if you have caused additional damage.
AS FEATURED ON:
AS FEATURED ON:

By: uwimages

A bruised ankle should be wrapped in a medical bandage and kept elevated.

By: Patryssia

Children are susceptible to ankle injuries.

By: Luis Santos

Regularly apply ice soon after injuring an ankle.

By: Geo Martinez

Ibuprofen can be used to relieve pain from a bruised ankle.

By: Luis Santos

Ankle bruises can cause additional problems if they're not treated properly.

By: lightwavemedia

Persistent ankle pain should be treated by a medical professional.