How Do I Treat a Bruised Back?
There are several possible ways to treat a bruised back, depending on the extent of the damage and any other physical injuries that may be present. Over-the-counter or prescription medications are frequently used in conjunction with hot or cold compresses. Supportive devices such as back braces or crutches may be recommended by a doctor during the healing process. Rest is important while recovering from the injury, although mild exercise should begin as soon as possible in order to prevent the muscles from losing strength. In rare cases, a blood clot may develop, which could require surgical intervention, so it is important to have the bruised back evaluated by a doctor.
Over-the-counter pain relievers such as ibuprofen or acetaminophen are frequently used to treat the discomfort caused by a bruised back. If the damage is severe, stronger pain medications or muscle relaxants may be prescribed by a doctor. These medications should be used exactly as prescribed in order to prevent possible complications from the drugs.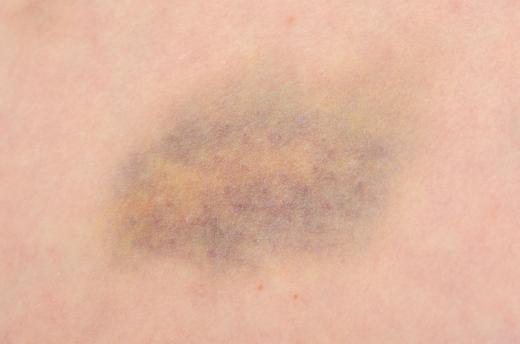 Ice therapy or cold compresses may be used for the first couple of days following injury to prevent or treat any swelling that may occur. After the first 48 to 72 hours, some people may prefer to use heat therapy, although a doctor should be consulted on advice for the individual situation.
A back brace or crutches may be recommended for those with a bruised back, especially if the damage is severe. These supportive devices can help to protect the injured muscles and other tissues from further injury and may help the patient participate in light physical activity. While these devices can prove to be helpful for a limited amount of time, prolonged use can actually weaken the muscles of the back.
Rest is essential when recovering from a bruised back, although complete bed rest is rarely recommended. As soon as possible, the patient is typically advised to slowly resume normal activity in order to avoid muscle weakness and promote healing. The supervising physician will advise the patient on any individualized activity limitations.
As a bruise is caused by internal bleeding, the development of blood clots is possible. In the most extreme cases, surgical intervention may become necessary in order to remove the blood clots or to stop excessive bleeding. This complication is relatively rare, and screening by a health care professional will usually allow the doctor to detect any problems before they become severe.


By: Marc Dietrich

An ice pack, which can help with a bruised back.

By: Gennadiy Poznyakov

A posture back brace may help alleviate back pain.

By: roblan

Bruises are caused by internal bleeding.

By: april_89

Bed rest may be recommended for some people with a bruised back, although others will be encouraged to continue low impact exercise.

By: Geo Martinez

An over-the-counter pain reliever like ibuprofen can lessen the discomfort of a bruised back.

By: belahoche

Back braces may be recommended to help healing from a bruised back.