How do I Treat a Coccyx Fracture?
The coccyx, or tailbone, is the broad section of about four vertebrae at the base of the spine. It is very strong and highly resistant to breaks, though a severe fall or an especially difficult childbirth can lead to a coccyx fracture. When a coccyx fracture occurs, pain and tenderness can be nearly unbearable. A doctor can prescribe painkillers and suggest self-care techniques to relieve symptoms and shorten the healing time. Most injuries get better in two to four months by following doctors' instructions; surgery is only needed in rare cases where vertebrae fail to heal together correctly.
Most coccyx injuries will heal on their own, given time, without aggressive treatment. Doctors generally suggest taking anti-inflammatory medications and applying ice to the tailbone several times a day to reduce pain and swelling. Over-the-counter drugs such as aspirin and ibuprofen are sufficient for most people, but an especially painful coccyx fracture may require a prescription painkiller. If pain becomes debilitating, a physician can inject a corticosteroid directly into the lower back. Steroids provide immediate but temporary inflammation relief, and a patient may need to return to the doctor for another shot every few days.
It can be difficult to avoid putting pressure on a sore coccyx, but certain steps can be taken to minimize impact of the bone. A person may want to invest in a firm, cushioned pad or an air-filled doughnut tube to ease strain on the tailbone while sitting. Most pharmacies sell over-the-counter pads and doughnuts, and a hospital might even be able to loan one for a few months at no cost. Another option is using a backless stool or sitting on top of a telephone book on a hard chair, which allows the coccyx to hang over the back edge. A soft, cushioned chair may feel comfortable for a few minutes, but it tends to put excess strain on a coccyx fracture when a person needs to stand up.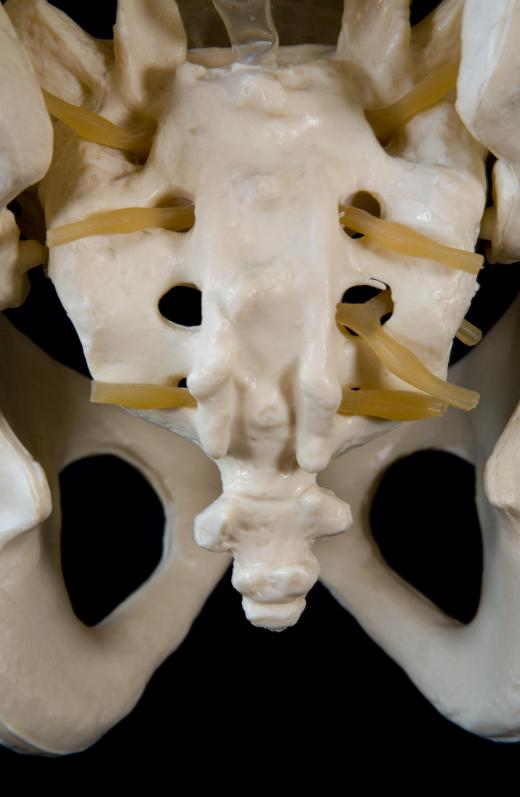 Once the tailbone starts feeling better, a person can slowly build up to normal activity levels. Light stretching exercises, such as lunges and squats, can help rebuild flexibility in the hips and lower back. Most people are able to return to regular activity in about four months.
A patient who continues to have pain after trying to treat a coccyx fracture at home may need surgery. An orthopedic spine specialist can review x-rays and conduct a physical exam to determine the exact size and location of a fracture. Vertebrae that become separated may need to be fused together in an open procedure. If many pieces of bone are shattered, the entire coccyx can be removed. Patients who undergo surgery typically need at least six months of rest and physical therapy to recover.
AS FEATURED ON:
AS FEATURED ON:

By: James Steidl

Most coccyx injuries will heal with time and don't require any additional treatment.

By: photoBeard

The coccyx is the broad section of four vertebrae at the base of the spine.

By: Photographee.eu

Painful coccyx fractures may require prescription painkillers.

By: WavebreakmediaMicro

Physical therapy may be used to treat a coccyx fracture.

By: Olesia Bilkei

An especially difficult childbirth can lead to a coccyx fracture.

By: ArTo

The pain associated with a coccyx fracture may be unbearable for some individuals.

By: Geo Martinez

Over-the-counter pain medicines, such as ibuprofen, can be used to treat a coccyx fracture.