How Do I Treat a Rash from Antibiotics?
A rash from antibiotics will usually resolve on its own with no treatment, but it can be a good idea to discuss the rash with a doctor and receive an evaluation for allergies. Antibiotic rashes can be common, especially in children, and they are not always the result of an allergic response. A doctor will need to look at the patient to determine the origins of the rash and decide whether any additional treatment is necessary. For patients experiencing discomfort, medications are available to address the itching and soreness.
If a patient notices a rash from antibiotics, it is advisable to keep the rash clean and as dry as possible. Patients should wash with warm water and mild soaps, and pat dry. Cleaning the rash also provides an opportunity to check for any changes. If the rash spreads rapidly, starts blistering, or appears to be associated with symptoms like difficulty breathing, the patient should call a doctor immediately. These more severe rashes may be allergic in nature and the patient could need treatment.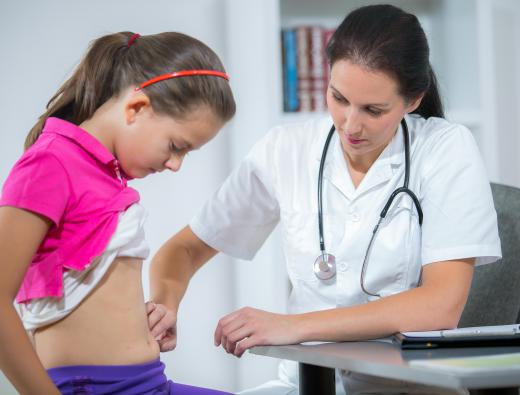 Waiting and watching is usually the best treatment for a rash from antibiotics. If the patient experiences discomfort, over-the-counter skin creams can help soothe irritation. A doctor can prescribe more aggressive medications if the rash becomes more intense. It is important to keep taking the antibiotics unless a doctor directs the patient to stop, as the drugs are still working, and it is important to treat the bacterial infection. When the course of drugs is over, the rash from the antibiotics should clear up.
Patients with rashes tend to be more sensitive to sunlight and other irritants, including tight and itchy clothing. Wearing loose, comfortable clothes should help patients feel more comfortable. If the rash is severe, it may be necessary to bandage it to reduce the risk of infections and provide some padding so pressure from sitting and other activities will not exacerbate the rash.
The nonallergic nature of most rashes means that the patient can take the antibiotics again in the future without worrying about a severe allergic reaction. Allergic rashes tend to onset quickly, while normal rashes may emerge after several days. When allergies are the cause, the patient can also experience more severe side effects. A doctor can evaluate the patient and check for any other possible explanations such as food allergies, adverse interactions between medications, or exposure to toxins. If a doctor believes a rash from antibiotics is allergic in nature, he will add a note to the patient's chart to make sure no one prescribes that drug in the future.
Can You Get a Rash From Taking Antibiotics?
Many antibiotics can cause rashes as a side effect. These rashes can affect teens and adults of any age, but they're especially prevalent in children. Two types of rashes can appear when taking antibiotics: urticaria and maculopapular rash.
Urticaria, or hives, look like red or white areas of the skin that are swollen. This rash often itches or burns. Irritated areas are typically large and can appear anywhere on the body. They often show up on the chest, back, legs, arms, face or ears.
A maculopapular rash looks like many small red bumps or patches spread out around the skin. These rashes can appear anywhere on the body, but they're most common on the chest, stomach and back. They may cover the entire front of your chest and stomach with small welts.
How Long Does a Rash From Antibiotics Last?
Rashes from antibiotics involving hives usually last anywhere from a few hours to about a day. After that, the rash should gradually fade. This type of rash is more worrisome because it usually indicates some level of allergic reaction.
Maculopapular rashes often act differently. They tend to have a delayed reaction (though not always), appearing anywhere from 4–12 after beginning the antibiotics. These rashes can spread to other parts of the body over a few days and sometimes take weeks to clear up completely.
What Causes Rashes From Antibiotics?
There are several possible causes of rashes from antibiotics. Sometimes, a rash is the result of an allergy to the antibiotic. In these cases, the body's immune system responds aggressively to certain antibiotics, viewing the medications as "invaders."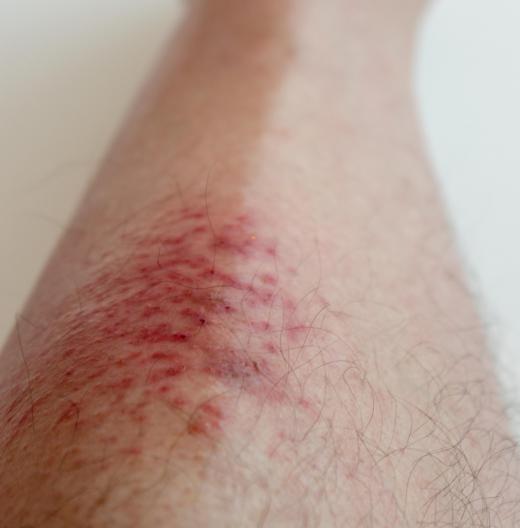 The level of the allergic reaction varies significantly: Some people only experience a minor rash while others have life-threatening anaphylactic shock (what happens with bee sting allergies). Fortunately, severe allergic reactions are rare. Most people only experience mild or moderate symptoms, such as itchiness and discomfort.
Other times, a rash from antibiotics isn't considered a true allergy. Immune cells that aren't related to an allergic response can cause temporary hypersensitivity to the antibiotic. Doctors aren't sure exactly why this happens, but it's possible the combination of illness and medication confuses the immune system and causes a short-term reaction that triggers the rash.
When Should You Call a Doctor About a Rash From Antibiotics?
It's a good idea to call a doctor anytime you notice a rash related to antibiotics. This is because the initial rash isn't always the only effect. Seemingly mild rashes can get worse as the hours go on. Often, a quick phone call to your physician can help you know whether to visit the hospital or wait for the rash to fade on its own.
What about rashes from antibiotics in kids? If your children develop an antibiotic-related rash, you should take them to the doctor before giving them any more doses of the antibiotic. While severe allergic reactions are rare, they're serious enough to make a doctor's visit worth it.
If you notice other symptoms of a dangerous allergic reaction (anaphylaxis), call 911 or take your child to the emergency room immediately:
What Helps a Rash From Antibiotics?
There are a few over-the-counter products that can help with the itching and burning of a rash from antibiotics. Benadryl is commonly used and so are hydrocortisone creams.
That said, if you notice hives or other allergic symptoms, and especially if the reaction happens soon after starting the antibiotics, it's best to get a doctor's recommendation before turning to OTC solutions. The doctor may change your antibiotic or prescribe antihistamines to help you.
Here are a few natural ways to alleviate the itching and pain of a rash:
Use a cold compress or damp cloth
Taking a cool shower
Dissolve oatmeal in a warm bath and soak for 30 minutes
Rub aloe vera gel (without additives) on irritated skin
Apply some apple cider vinegar to small itchy patches
What Type of Antibiotics Can Cause a Rash?
Any medication that lists skin rashes or urticaria as a side effect can causes rashes. Rashes related to antibiotics are relatively common with drugs related to the penicillin family:
Ampicillin
Dicloxacillin
Nafcillin
Oxacillin
Piperacillin
Ticarcillin
Of these, amoxicillin rashes are especially prevalent in kids. Roughly 5–10% of kids that take this antibiotic develop some type of skin rash. The good news is that most of these rashes are related to the illness and not an actual allergic reaction.
Another class of antibiotics called cephalosporins can also trigger rashes. Cephalexin and cefepime are some of these drugs. The majority of these rashes are of the less serious delayed-reaction type.
AS FEATURED ON:
AS FEATURED ON:

By: jovanmandic

Antibiotic rashes are common in children.

By: photodsotiroff

Skin creams may help relieve skin irritation associated with rashes.

By: bhofack2

Prescription antibiotics.

By: darkhriss

Allergies may manifest as skin rashes.

By: defun

Patients with rashes tend to be more sensitive to sun and other irritants.

By: ArTo

It is important to keep a rash that has developed as a result of antibiotics as clean and as dry as possible.