How do I Treat Coccyx Pain?
Coccydynia is a medical term given to pain and inflammation involving the coccyx, more popularly referred to as the tailbone. Coccyx pain can be caused by traumatic injury involving the base of the spine, but in most cases, the exact cause is never found. Treatment is aimed at providing pain relief and helping the patient to regain normal mobility as quickly as possible. Some treatment options include rest, lifestyle changes, and medications. Occasionally, surgical intervention may become necessary, especially in the event of a traumatic injury to the area.
The first step in treating coccyx pain is to avoid sitting for prolonged periods of time if possible. Unfortunately, it is usually relatively easy to follow this advice because sitting generally causes the pain to be greatly increased. When sitting becomes necessary, the chair should be well padded to help cushion the tailbone. There are various types of tailbone cushions available, and the patient may have to experiment to see which type works best.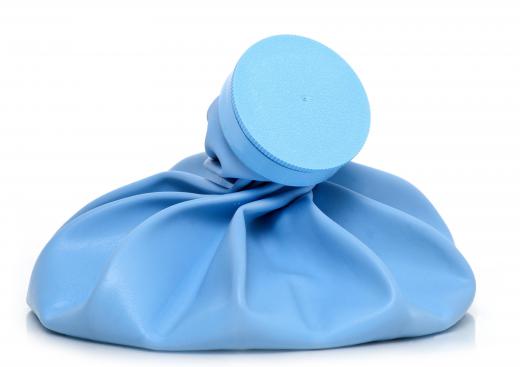 Doctors often differ concerning the advice given regarding the use of heat or ice therapy for the treatment of pain and inflammation. There have been reported successes with each method of treatment, so it is often recommended that the patient use the method that is most comfortable. Whether using heat or ice, it is typically recommended to use this type of therapy for no more than 15 minutes at a time, repeating the application three to four times per day.
Non-prescription pain medications such as ibuprofen or acetaminophen may help to relieve the severity of coccyx pain. Many patients prefer ibuprofen due to its anti-inflammatory properties. In some cases, prescription medications may be used to help to combat the pain. Steroid injections are sometimes given in an effort to provide long-term relief from coccyx pain.
A massage therapist or chiropractor may be able to help provide some relief for coccyx pain. The massage therapist can massage the muscles surrounding the tailbone, often resulting in some relief. A chiropractor, on the other hand, may help by performing internal manipulation. This is done by placing a gloved finger into the anus and manipulating the tailbone from the inside of the body. If there has been significant damage to the coccyx, especially as a result of a traumatic injury, surgery may be necessary in order to repair the damage to bones, muscles, or nerves in the tailbone region.
AS FEATURED ON:
AS FEATURED ON:

By: Kimberly Reinick

An ice pack, which can help with coccyx pain.

By: Lisa F. Young

A chiropractor may be able to manipulate the coccyx from inside the body, giving relief from pain.

By: James Steidl

Coccyx pain means an injury to your tailbone at the base of the spine, usually caused by trauma.

By: Geo Martinez

Ibuprofen may help relieve coccyx pain.

By: Remains

Surgical intervention may be used as a last resort to cure coccyx pain.