How do I Treat Toe Joint Pain?
To treat toe joint pain properly, you should first find out what condition or injury is causing your discomfort. There are many ailments which could be to blame, the most common being injury and arthritis. Toe joint injuries are most common in those who participate in sports, although injuries can occur in anyone at anytime. A proper diagnosis must be made by a doctor or foot specialist before the correct treatment can be identified. In most cases you will be given medication, bandages or wrappings, or a combination of the two.
An important thing to consider when attempting to treat toe joint pain is to stay off the foot as much as possible, or at least avoid bending the toe. This will allow injuries to heal more effectively and keep arthritis at bay until other therapies can take effect. Serious injuries, such as fractures, will likely be wrapped in a cast or splint to keep the joint from moving any more than necessary. Sprains or bruises on the joint may or may not be wrapped in bandaging.
If pain is severe enough, you may be given a prescription pain medication. Arthritis sufferers often take medication long term to treat toe joint pain and to prevent a flair up of alleviated symptoms. Minor injuries may require no medication, or a milder over the counter version like acetaminophen.
Toe joint pain is usually not serious or life-threatening and can usually be minimized or alleviated entirely by following doctor's instructions. You should be mindful, though, of some severe complications that may occur. If your pain is the result of an injury, especially one that is accompanied by open wounds or sores, you should be mindful that there is a slight risk of infection. Redness, heat, tenderness, fever, chills, and nausea are all signs of an infection and should be taken seriously. Also look for red streaks near the wound site, as this could signal infection of the blood, or sepsis.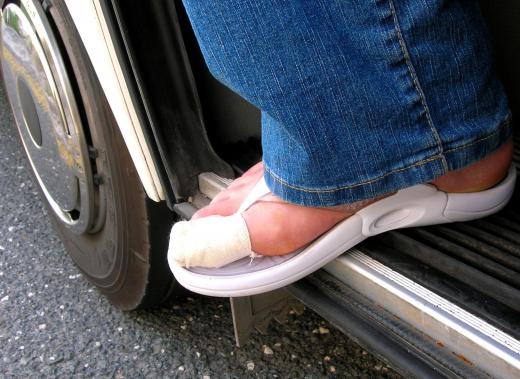 In the event that toe joint pain does not lessen after a week or two of proper treatment, consult your doctor to make sure that healing is taking place. Arthritis and other chronic conditions which cause joint stiffness and pain may not go away entirely with medication, but can be managed. Further methods to treat toe joint pain may be needed if you experience long-term or worsening pain. This may result in a new medication or new dosing requirements for your current prescription.
AS FEATURED ON:
AS FEATURED ON:

By: evasilchenko

A physician might recommend anti-inflammatory medications to treat toe joint pain.

By: Julija Sapic

Toe joint pain caused by a sprain may be treated with bandaging.

By: erika8213

If toe injuries are not treated properly, there is a risk of infection.

By: MAST

Generally speaking, people who have toe joint pain should stay off their feet to the degree possible.

By: p6m5

Toe joint pain caused by gout may be treated by reducing the amount of purine in the diet.