How do I Use Cod Liver Oil for Arthritis?
Speak of cod liver oil for arthritis, and you are likely to be met with a blank stare, because many people are more familiar with this fish liver extract as a nutritional supplement that their mother recommended than as a pain reliever. It has been discovered, however, that the essential fats from this cold-water fish can, in fact, ease pain — specifically, the pain associated with rheumatoid arthritis. Previously considered a nutritional supplement for children because of the rich supply of vitamins A and D, research suggests that elderly adults who suffer from rheumatoid arthritis might also benefit from cod liver oil in either its natural form or a gel capsule. You can use cod liver oil for arthritis simply by taking two-thirds of a tablespoon (10 g) of it each day.
Millions of elderly adults around the world are affected by rheumatoid arthritis. Though associated with aging, it has also been found in children, when it is referred to as juvenile arthritis. Those who have rheumatoid arthritis find it painful to eat or write, and disability in the lower joints makes it difficult to walk or move about easily. Cod liver oil for arthritis has been found to be an effective means of treating the pain associated with this disease and is often considered to be a much better choice than steroids, because it is a natural solution with none of the side effects commonly associated with anti-inflammatory drugs.
Extracted from the liver of the cod fish, cod liver oil is prepared by first steaming the livers and then decanting them. It should not be confused with fish oil, which is a result of cooking the entire fish to extract oil from the tissues. Cod liver oil can be taken in either the form of a soft gel capsule or natural oil. Although the capsule form will eliminate the taste of the oil, individuals who have difficulty swallowing pills often prefer it in its natural liquid state. Those who purchase cod liver oil gel capsules should keep in mind that it is necessary to take a larger amount of capsules in order to receive the recommended daily dosage.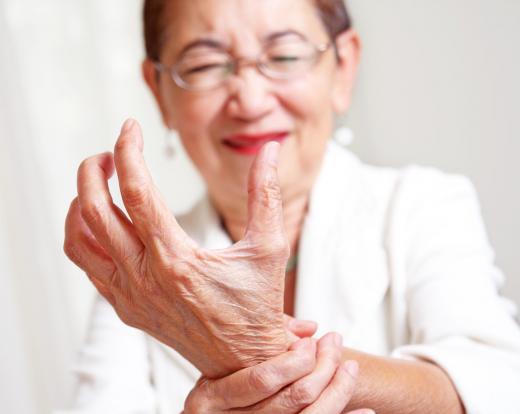 It's not just anecdotal evidence that supports taking cod liver oil for arthritis. Research has shown that two-thirds of a tablespoon (10 g) of cod liver oil for arthritis can reduce the pain from the disease by nearly one-third. Studies suggest that the supplement should be taken daily, and researchers even believe that the cod liver oil might help delay the need for joint replacement surgery.
AS FEATURED ON:
AS FEATURED ON:

By: ia_64

Research suggests that elderly adults who suffer from rheumatoid arthritis might also benefit from cod liver oil either in gel capsule or liquid form.

By: maska82

Arthritis causes pain and inflammation in the joints.

By: Stephen VanHorn

Fish oil supplements, including those made from cod liver, are rich in healthy fats, such as omega-3 fatty acids, eicosapentaenoic acid and docosahexaenoic acid, commonly called DHA.