How do I Use Witch Hazel for Hemorrhoids?
You can use witch hazel, a popular herbal astringent, for hemorrhoids by applying compresses soaked in it to the affected area. Many people soak a cotton ball in liquid witch hazel and apply it to the anal region. Often, this provides at least some symptom relief right away and helps reduce swelling within a few days of treatment. Some people also use witch hazel for hemorrhoids by chilling liquid witch hazel and using it to make cold compresses.
As an alternative to soaking cotton balls with witch hazel, you may decide to purchase witch hazel pads for this purpose from a local pharmacy or grocery store. You can apply witch hazel pads to the affected region to help relieve discomfort right away. Some people wipe with them after a bowel movement to prevent discomfort and provide quick relief from post-bowel-movement irritation.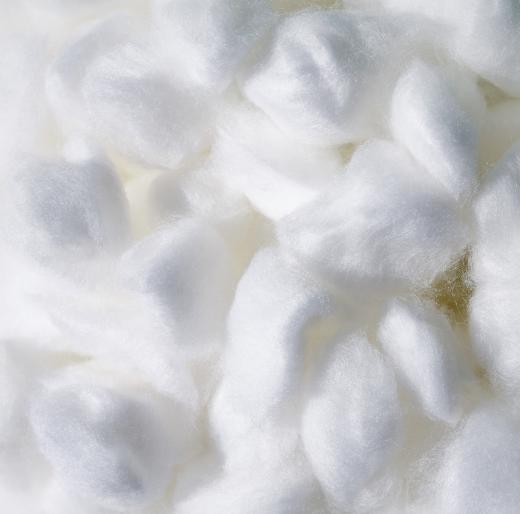 After a bowel movement, you may find it helpful to apply more than one witch-hazel-soaked cotton ball to your hemorrhoids. For example, you may place a cotton ball on the affected area and hold it in place for a couple of minutes. Then, you may discard that cotton ball and start with another. Repeating this process several times may help provide relief from hemorrhoid discomfort.
While many people appreciate the post-bowel movement relief possible when using witch hazel for hemorrhoids, you may also find it helpful to apply the herbal remedy to the affected area throughout the day. Using witch hazel at regular daily intervals may help keep hemorrhoid discomfort at bay and gradually reduce swelling. Some people also use astringent before going to bed each night.
Creating a cold compress out of witch hazel may also prove helpful for dealing with the discomfort of hemorrhoids. To do this, you may chill liquid witch hazel in your refrigerator before pouring it onto a clean cloth and applying the cool compress to the affected area. You can keep the compress in place until it no longer feels cool, then start over with a new cloth and some more chilled witch hazel. If you'd rather not place a bottle of witch hazel in your refrigerator for this purpose, you can chill it by placing the bottle in a bucket of ice instead.


By: Alila Medical Media

A chart demonstrated internal and external hemorrhoids.

By: dianamower

Witch hazel.

By: Vibe Images

A cotton ball can be soaked in witch hazel.

By: Sylvie Bouchard

The overuse of laxatives by a person with an eating disorder may cause hemorrhoids.

By: Elenathewise

Liquid witch hazel may be chilled in a refrigerator.