How Effective Is Cortisone for Psoriasis?
Cortisone for psoriasis is most effective when it is used in combination with other treatments and its use is limited. Steroids like cortisone can come with significant side effects, which makes them a poor choice for long-term therapy if another medication would be more appropriate. For short term therapy to address specific outbreaks, however, cortisone can be highly useful to treat psoriasis, especially in patients with mild forms of the disease. People with this condition may want to work with a dermatologist who specializes in treating it in order to access the most treatment options.
Patients can use topical cortisone creams to treat an outbreak. The medication suppresses the immune response and can decrease the inflammation that causes itching, pain, and swelling. Creams of varying strengths are available and it is important to use one that will be appropriate for the given outbreak. If the patient has only mild irritation, a strong cream wouldn't be advised.
Another option is cortisone injections at the site of the outbreak. This form of cortisone for psoriasis delivers a small dose of powerful steroids to suppress the inflammation. Dosing is kept low to reduce the risk of side effects, and this option isn't recommended on a regular basis. Over time, side effects can grow worse and the patient's psoriasis may increase in severity. Using steroids sparingly in treatment can ensure that they will be effective when the patient needs them.
Concerns with long-term use of cortisone for psoriasis can include skin thinning, color changes, and the increased risk of more severe outbreaks. Studies on the use of steroid medications for this skin condition indicate that short-term use in combination with drug therapy and lifestyle changes can be appropriate. The patient may, for example, use dietary means to attempt to control psoriasis, and can consider other medications to limit the occurrence of outbreaks. As the intensity and severity of outbreaks declines, the patient can apply cortisone less frequently, allowing it to be more effective.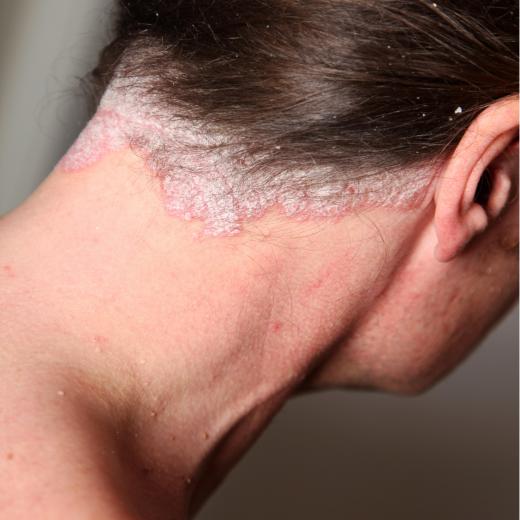 Side effects while taking cortisone for psoriasis can be discussed with a health care provider. Some patients experience bad reactions and shouldn't use this steroid medication at all. They may need to switch to other options to control outbreaks. People who notice issues like skin thinning, cracking, or extreme redness can report them to determine if they are reactions to the cortisone or an indicator that the psoriasis is not responding to treatment.
AS FEATURED ON:
AS FEATURED ON:

By: Andres Rodriguez

Individuals who experience side effects while taking cortisone for psoriasis should consult with a healthcare provider.

By: Tinga

Cortisone cream is often used to treat psoriasis.

By: Farina3000

When used with other treatments, cortisone can be effective against psoriasis.

By: Farina3000

Psoriasis is a skin condition characterized by itchy, red patches of skin that are often scaly.

By: Jasmin Merdan

Psoriasis on the scalp may produce unsightly flakes.