How Effective Is Tretinoin for Wrinkles?
Using tretinoin for wrinkles can be effective if the use is consistent. Tretinoin is a form of vitamin A that works by stimulating a quicker turnover of skin cells. It is usually available by prescription and comes in three different strengths. When using tretinoin to reduce wrinkles, it is important to use it for at least six months to a year.
Since tretinoin causes skin cells to turn over at a faster rate, it is also used to treat acne. Side effects, such as excessive redness, irritation and peeling, are usually seen in the first month of use. During this stage, it is vital to continue using the product since short-term use produces little benefit. Depending upon the individual, improvement may not be seen until six months of steady use.
In order to use tretinoin for wrinkles, a prescription will usually need to be obtained from a licensed medical practitioner. A less potent form of the chemical, retinol, is widely available in over-the-counter treatments in some countries. Retinol essentially produces the same effects as tretinoin, but may take longer and will not be as noticeable. Deep set wrinkles may take up to a year to respond to tretinoin or may need additional treatments, such as Botox®.
When using tretinoin for wrinkles, it is vital to comply with the dermatologist's or doctor's instructions. Most patients will start with the lowest available concentration since the medicine can cause severe irritation. A typical regimen instructs the patient to apply a small amount 20 to 30 minutes after cleansing the skin at night. Those with sensitive skin may begin with applications every other night until their tolerance is built up.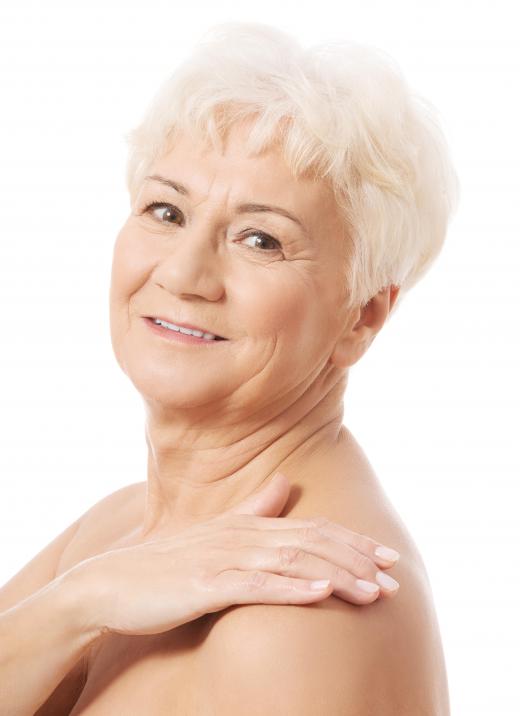 Most individuals who use tretinoin for wrinkles will first notice an improvement in fine lines and the skin's texture. Uneven pigmentation may be reduced and the skin may take on a smoother appearance. While sun damage is often reduced or even reversed with the use of tretinoin, it is important to reduce exposure. With treatment, the skin becomes more photosensitive and can burn within minutes.
Tretinoin can become more effective if used alongside other antioxidant treatments, including vitamin C. Before combining treatments or using other over-the-counter creams, it is recommended that the patient check with his doctor. Even certain types of soaps and cleansers can aggravate the side effects of tretinoin. While the medicine also works by stimulating collagen production, it can make the skin more sensitive to scarring from the use of abrasive exfoliants.


By: biancia

It is important to use tretinoin for at least six months in order to reduce wrinkles.

By: yevgeniy11

Tretinoin may be used to treat acne.

By: ipag

Tretinoin should be used in conjunction with a regular skincare routine.

By: Piotr Marcinski

Most individuals who use tretinoin for wrinkles will first notice an improvement in fine lines and the skin's texture.