How Safe Is Anise in Pregnancy?
Small amounts of anise in pregnancy can be safe, but patients should avoid anise essential oil and other concentrates. Patients with high-risk pregnancies also may be advised to avoid anise altogether to reduce the chances of going into premature labor. It is also important for people to be aware that anise (Pimpinella anisum) and star anise (Illicium verum), sometimes also called Chinese star anise, are two different herbs that should be handled differently. Chinese star anise comes with some additional risks.
Anise or aniseed (Pimpinella anisum)
Anise is a food ingredient used in a variety of things to add a slightly licorice-like flavor. It's common in sweets and can also be used in main courses to make the taste more complex and interesting. Plain anise seeds as used in small amounts in herbal teas and cooking are generally safe in pregnancy and breastfeeding because exposure is relatively low. Essential oil and concentrates, however, are more dangerous, and should be avoided because of concerns that they might trigger contractions.
Anise can cause early labor and premature birth
Patients who use anise in pregnancy could develop uterine stimulation which might cause early labor. This could result in pregnancy loss in the early stages of the pregnancy, and might cause complications for more progressed pregnancies. Premature birth carries a number of risks for both mother and child, and should be prevented if possible. Avoiding concentrated anise while pregnant, along with other herbs known to promote contractions, is advisable.
A dessert bread made with anise.
With Chinese star anise, there is cause for additional concern. Some sources of this herb use a related product, Japanese star anise, that is actually toxic and not safe for either culinary or medicinal use. If patients do not have a pure source of the herb, they could be at risk of exposure to the more toxic form, which could cause illness and complicate the pregnancy. For safety reasons, it can be advisable to avoid Chinese star anise in pregnancy, unless a source is known and verified as safe.
Pregnant women may be advised to avoid products containing anise extract because it can stimulate uterine contractions.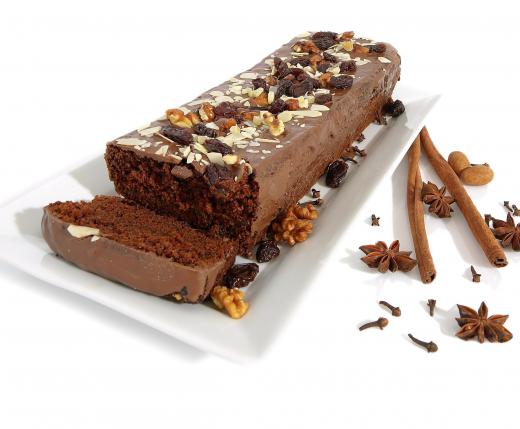 Any questions about the use of food ingredients and herbal preparations in pregnancy can be discussed with an obstetrician. Much of the research on these subjects is incomplete because it is difficult to perform clinical trials without running into ethical problems, since scientists don't want to endanger expecting mothers and their babies. Regulatory agencies may indicate that anise in pregnancy is of unknown safety, reflecting a general lack of data. An individual health care provider might have opinions for a patient based on experience or medical history.
Anise occurs in traditional foods
Anise is a common flavoring in traditional foods. But it is an herb not commonly used in dishes, so it may be hard to determine which foods contain anise and which foods you should watch out for if you are trying to avoid anise. Generally, the licorice flavor of the anise seed is utilized in liqueur flavorings and desserts to add a dull sweet taste.
Since pregnant women may need to cut out sugar from their diet, awareness of how anise seeds occur in food can help them avoid potentially toxic foods. Some traditional desserts like Pan de Muerto and baklava include anise as a star ingredient.
Generally, cuisines that are likely to use anise seeds are German, Mexican, Italian, Middle Eastern, and Indian. Anise seeds are most prominently used in traditional Italian biscotti recipes but are also in other desserts of Middle Eastern, Indian, and western European origin.
Healthy amounts of anise are generally small
The use of anise dates back ages in many different cuisines. Anise is a great nutrient since it contains many secondary minerals that the body needs, like manganese, iron, and phosphorus.
Anise also tastes sweet without having any fattening sugar compounds within it. Many who frequently use the herb claim that it enhances every food due to the naturally umami sweet flavor it adds. Therefore, it is a good herb for those looking for sugar-free desserts to be aware of.
While anise can have adverse effects on the body, these studies used concentrated dosages of anise seeds or anise oil that were typically 100 or 200mg. Many dessert recipes that feature anise only include around 20mg (4 teaspoons) at most, which is double the serving size of anise seeds.
Anise boasts several health benefits
Anise has several health benefits that make it a good nutrient to use when not pregnant. Anise is great for those with indigestion or chronic intestinal pain like Irritable Bowel Syndrome. One study found that constipated uses of anise experienced an increased colonic transit time, meaning there is evidence for anise as a safe alternative and effective for laxatives.
Anise also has preventative properties that can help the human body. Anise is a natural sweetener like licorice, so eating it in moderate quantities can balance blood sugar levels due to a chemical within the seed. Additionally, evidence exists that anise can reduce inflammation and lower rates of depression in humans.
Anise is also known as an alleviator for respiratory illnesses and topical issues like scabies and psoriasis.
Effects of anise on the menstrual cycle
Anise is most notable for its effects on the female menstrual cycle, and those effects are what make it a potential risk for pregnant women. The herb was used for years as an estrogenic agent and linked to increased milk secretion, menstruation promotion, and birth facilitation. Studies show that anise can alleviate symptoms of menopause like hot flashes and menstrual cramps. 
Estrogenic agents are foods, ointments, or medicines that stimulate the production of estrogen-like compounds. The body then uses the synthetic estrogen as if it was naturally produced estrogen. This leads to hormone leveling which can cause menstruation, induce labor, and help with lactation.
However, the effects of anise as an estrogenic agent have not been fully explored. Therefore, pregnant women are encouraged to avoid anise since it could cause complications during pregnancies.
Allergic reactions and intestinal issues
Adverse effects of anise can cause allergic reactions and intestinal issues. For those trying new foods, asking to see the ingredient list can help identify possible exposure to new ingredients.
While it is rare, some people are allergic to anise and can see a variety of symptoms. Topical anise allergies lead to redness, itchiness, and swelling in some cases. Respiratory allergy symptoms can cause wheezing and shortness of breath. Alimentary anise allergies can also lead to nausea, vomiting, and stomach pain.
Due to its estrogenic effects, anise can also conflict with people with hormone-sensitive conditions like pregnancy. If after eating anise, nausea or vomiting, respiratory difficulties, or a rash develops, you should consult your doctor immediately. Additionally, any increased cramping, bleeding, or pain while pregnant should also be reported to a doctor immediately.
AS FEATURED ON:
AS FEATURED ON:

By: pressmaster

Small amounts of anise are typically considered safe in pregnancy, but women are advised to talk with their doctor regarding any food ingredient concerns.

Anise or aniseed (Pimpinella anisum).

By: Aleksey

Anise can cause early labor and premature birth.

By: Nightman1965

A dessert bread made with anise.

By: Bert Folsom

Pregnant women may be advised to avoid products containing anise extract because it can stimulate uterine contractions.

By: Milissenta

A pregnant woman should always consult her gynecologist for a list of common foods that mothers-to-be should avoid.